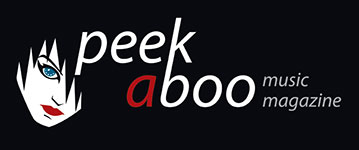 like this interview
---
TEMPERS
We only will move forward with a song if we have a kind of rushed feeling, if it sounds subversive...
30/11/2013, Philippe BLACKMARQUIS
---
Tempers is an electronic post-punk duo based in New York and consisting of Jasmine Golestaneh and Eddie Cooper. This year, they have released two 7' singles on the famous PENDV SOUND label and their potential is huge. Think of the gothic-dark emotion of Chelsea Wolfe combined with shoegaze sounds à la The KVB, plus a minimal postpunk feeling reminiscent of The Kills and you get a fantastic recipe, which I could call "Shoe-wave"... On 20 November, they played at the Nijdrop in Opwijk, Belgium, together with Eraas. Peek-a-boo Magazine took the opportunity to have a chat with them.
You can watch the video interview or scroll down for the transcript.
What about "Tempers": why did you choose this name?
Jasmine.: I guess the music is quite emotional and I think 'Tempers' reflects a wide palet of feelings. In the broad sense, it depicts the nature of the sound.
It's the word "temper" in the meaning of 'feeling'?
J.: 'Tempers' is like 'to have a temper', like 'to have a rage', etc. Then 'temper' sounds like the word 'tempest', 'storm' or like 'temperance'...
To be moderate...
J.: Yes. The music is about feeling, expressing things that you would be afraid to articulate, that you would want to hear in music.
Eddie.: There's an ambiguous feeling in our songs between warmth and cold and it takes the other sense of tempers which is sort of restrained or limitation.
You have released two singles, "Eyes Wide Wider", then "Strange Harvest" and recently "What Isn't There". For "Eyes Wide Wider", you also did a video, I think?
J.: Yes, for our first show, we played at an art festival and the person who curated it liked our performance and asked if she could do a music video with us. I wanted to do a video in which I could pole dance but not in a conventional way...
Not like a strip-show...
J.: No (laughs) I wanted something artistic and beautiful, empowering, kind of crazy and so I had this idea that I should pole dance near a waterfall.
It was like a dream, an image that you had in your head?
J.: It was actually the director who had this idea and I though it was great! I wanted to do something completely unconventional. So she found a waterfall and we rented a free standing pole. We climbed to the waterfall at 6 in the morning and set it up, put dry ice in the water and have fog machines and I somehow managed to pole dance near the waterfall... (laughs). And then we set up another location on the top of the mountain. It took a lot of work, bringing all the equipment. We were only the four or five of us.
As a visual artist, you give a lot of important to this...
J.: Yes, to the aesthetics... The sound is very visual: it creates a world and so if you can complete the world by having the music video, the atmosphere of the show, etc., then you get a complete experience.
Do you think about compositions in a visual way?
J.: It's very intuitive, in the way songwriting is. You get a vision of what seems to be right.
Do you start with the music?
E.: We kind of work both ways. For some of the songs, Jasmine has written words and melodies on her own and sometimes we work on the music together and she'll do vocals.
Do you play instruments, Jasmine?
J.: Yes, I play guitar, keyboards and bass. We write together and improvise together. Live, I just sing because I want to be free to move... But the sound comes from a creative alchemy we have as people. There's a sort of telepathic understanding on the sound that we want to have and also on the transmission of energy that we want to achieve. When we're writing, something will overtake us and we'll have this stirring spark. And we'll say 'this is it'. So, we only ever will move forward with a song if we have a kind of rushed feeling, if it sounds subversive... If we have created something that is greater than the sum of its parts.
You're very complementary, I suppose? A bit like the ying and the yang... Eddie, you are the more shoegaze, guitar element of the band?
E.: Actually not really.
J.: I probably wrote most of the darker, melancholy aspects.
E.: And you bring the dissonance. The elements that are a bit more difficult, more...
Not out of tune...
E.: No, I mean more dangerous,...
More edgy?
J.: Yes, I always have this word 'subversive'. If it doesn't sound subversive, I'm not happy. I guess the word 'subversive' has a kind of feeling in my body. So, when we're playing and that what we're doing has a subversive feeling, I say 'yes!'...
It must trigger something...
J.: Yes.
That's why you like the Swans so much?
J.: Yes, exactly.
How did you decide to do this cover of "Killing For Company", which is really great? Somebody said that you made this song 'danceable'...
J.: I went to their show and I was so blown away... It was unbelievable. It makes you remember what music is about. It was a shamanic experience. I couldn't function for about two weeks afterwards. Shortly after we did a photo shoot and I was telling the photographer how much I loved this show and he put on Swans. When "Killing For Company" came on, I thought 'Oh my God'...
And the way you play it, it really sounds like one of your own tracks... You really have adapted it to your own style...
E.: Yeah, it came very naturally..
And the vocal harmonies at the end are amazing.
J.: It came together very fast. We did it in two days.
And what about Belgium? I saw that you selected Front 242 and Trisomie 21 in one of your mixes...
E.: I chose those two songs. I really like the sort of eighties Belgian music, new-beat and the more industrial bands like Front 242,...
Do you have other names?
E.: Are Skinny Puppy Belgian?
No, they're Canadian. Snowy Red, The Klinik?
E.: The Klinik, yeah!
Neon Judgement?
E.: Yes! The Fashion Party!
You have to see the movie 'The Sound of Belgium' about the evolution of electronic music in Belgium.
E.: That's cool! I'm also influenced by Carl Craig, the house musician, who spent a lot of time in Belgium in the 80s and I listen to all of the music he's influenced by so...
If you had to choose one album that is your main influence, what would it be?
J.: I guess it would have to be Nirvana or... Leonard Cohen,...
E.: An album that influenced me is the Kraftwerk album "The Mix", the later remix album on which they reworked a lot of their songs in the early 90s. The way they updated them was with a very solid, very stable low-end and this is something we try to build into our music as well. It was one of the first electronic music albums I ever listened to and...
It's a good reference!
J.: I guess Joy Division. I listen to them when I was 17 and it really blew my mind. With Nirvana, I really love 'Bleach', their first album, and then Leonard Cohen, 'Songs Of Love And Hate'...
Your album will be released beginning of next year, I think?
E.: Yes. We have almost all the songs, we just have to tie them together. We wrote them over a long period of time so we have to make sure they live in the same world. (...)
J.: There will be more acoustic songs on it. Because postpunk and synths are good to communicate energy but there are also other musical genres that are equally as provocative. Genre is not important to us, it's really more about communicating an idea. To have some acoustic folk songs to counter-balance the more electronic songs makes it a more interesting album...
Great! A very expected album! We're looking forward to it! Thank you!
J.-E.: Thank you!
Check our review of Tempers' two first singles.
Check the pictures of Tempers in Opwijk by Xavier Marquis here.
Accrediation via Nijdrop in Opwijk, Belgium.
Philippe BLACKMARQUIS
30/11/2013
---