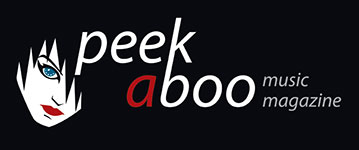 like this interview
---
SHIV-R
SHIV-R is a way to push ourselves constantly, either with bigger and badder aesthetic and epic photoshoots, or more intense live shows, or just making constantly better music!
11/12/2013, Filip VAN MUYLEM
photos: © Matthew Burgess & Opaque Impressions
---
After reviewing the DWA 100 remixes album and after hearing some more remixes made by Pete Crane and SHIV-R it seemed logic to have an interview, as I really loved every note that they produced... Pete also took Ben Lee Bulig in for this as they'ree clearly a duo...
My classic opener is about the name, but I think it's comes pretty close to the ideology behind the band, no? Any extra's about using this name?
Pete: The name is about feeling and getting an emotional reaction. Music can either be boring and mainstream and fit into a cultural norm, or it can make you shiver and give you goosebumps. As a musician, why bother making music that doesn't try to make you feel?
Ben: I would like to add it has nothing to do with any Indian gods. We thought we had the band name pretty well thought through, easy to remember, google friendly and so on... but we clearly didn't think of Indian deities. Forever more we are doomed to having dirty hippies think we are some kind of spiritual dirty hippy types also. It is quite unfortunate.
How did you decide on the whole concept of Shiv-r?
Pete: Shiv-r exists as a way for Ben and I to collaborate on music. That's the reason we started and the reason we keep going. It's also a way to push ourselves constantly, either with bigger and badder aesthetic and epic photoshoots, or more intense live shows, or just making constantly better music. We are workaholics and Shiv-r is our main creative outlet.
Ben: We didn't actually sit down and work it out as a concept at the beginning. We just sent little bits of music to each other and let it flesh out naturally. I believe that is really the way things ought to be done. Guys that talk about concepts or visions or missions or anything like that are guys that never actually get anything finished.
Somehow I think more about Scandinavian people rather than Australian people when I listen to the music, it has something cold and doesn't sound as the heat of Australia? How do you see it?
Pete: When we started the project neither of us were living in Australia; I was living in London and Ben was (and still is) living in Bangkok. Both quite harsh, unwelcoming and violent cities in their own way, though we have had a love of dark and aggressive music for many years before this. It is quite common to hear extreme metal in Australia which is what we listened to a lot when we were younger, and then the even darker sounds of industrial such as :wumpscut: and Skinny Puppy found us all the way out here. We love dark music no matter where it comes from.
Ben: Just like any other country, Australia has both its well founded, and also misguided stereotypes. For one, it can be really, really cold at times. Not that I'm going to say that Australian winters have much to do with our music, but I think the same idea can be applied to the rest of the country. As Pete said, there is plenty of dark and experimental music happening in the country. I don't think we really sound out of place at all.
Pete: If it just comes down to the weather, I guess Scandinavians make great music because they spend their time inside away from the snow. But we spent all our time inside making music to escape the sun. It has the same effect :)
I love Surgyn, I had a nice interview with them and saw them on stage, can you say something more about the collaboration ('Blood Rose' for ex)?
Pete: Previously we had done some collaboration tracks (e.g. "Zeitgeist" feat. Preemptive Strike 0.1) and we thought we'd try and make lightning strike twice and do another collaboration. Surgyn was an obvious choice since a lot of people said there are a lot of similarities between projects, so instead of being territorial and fighting against them, we decided to join forces to make an even stronger movement together. When we played in Glasgow this year (where Surgyn are from) I got to jump into the crowd and sing Blood Rose with the Surgyn lads which was really awesome.
AR12 is so far unknown by me (but who am I?), can you say something more about them?
Pete: Really cool band from Australia. It was another logical choice since I like what they do and I thought they could contribute something cool musically, especially in the bassline-area.
When I read this announcement, I was happy, so sit down/: The EP also includes a fistful of high-powered remixes by Noisuf-X, SAM, Skyla Vertex, Distorted Memory and Sigue Sigue Sputnik electronic. How did you get them to work on it?
Pete: Some of them, we had done remixes for and now it was their turn to "return the favour"  It was also a long-term dream to get Noisuf-X and SAM to do remixes since their club tracks are so damn solid and something I always spin when I DJ. Sigue Sigue Sputnik is probably the biggest name on there and it was really cool to work with them. I remember getting the e-mail from them out of the blue asking if we could remix them – I couldn't believe it. But they were really cool and loved our work when we remixed then and were happy to do a remix for us in return.
I suppose you already performed together with one of the artist I named in the questions before? How was it?
Pete: I did join Noisuf-X onstage for guest vocals when we both played at WGT this year. We were both on the same night @ Werk II, with Noisuf-X headlining and us just before them, so I came back out and did the guest vocals for them for their remix of "God is Art". That was a really cool moment for me since I'm a big fan of them. Then the next day I got on a train and went to Kassel to be tattooed by Daniel Meyer of SAM, so I got to hang out with the stars of the EP 2 days in a row (big smile).
What can you say about the DWA 100 remixes compilation? It must have been a lot of work for all the artists & lots of fun? For example The Detroit Diesel remix of 'Open my Vein' & The Cedigest remix of 'Incision'?
Pete: I haven't heard of that compilation. I love Detroit Diesel though, since their first EP and debut album they are really punchy and refreshing.
Ben: Never heard of it either. Thanks for letting us know we were on it.
I have to thank DWA for letting me know and thanks to that I run into you and Freakangel. How did it work out between you and Freakangel? As I know the distance between both of you I suppose it all went through the internet?
Pete: Actaully I first met Dmitry in person back in 2008 – I did a show in Estonia with my other band The Crystalline Effect and his other band Suicidal Romance was playing after us. It wasn't until we started Shiv-r and Dmitry started Freakangel that we became good friends though – I guess we come from very similar projects and backgrounds and we realise we have a LOT in common. We're the similar age, have a similar style and we both love Marilyn Manson (big smile). So we will collaborate as much as possible. I joined Freakangel onstage at Summer Darkness in the Netherlands in 2011 for guest vocals and have done a couple of guest vocals for Dmitry's records.
If you just had to send a mail to get the right to do a remix from your dream band, can you drop the name and title and tell us why this one?
Pete: A friend just suggested I try and contact Gesaffelstein for a remix. That would be amazing!
Ben: Well, as long as we are in fantasy land, I'm just going to stick it out there and say The Neptunes. Because reasons. Mostly money reasons.
Who would be on the other side the dream band or person to do a remix for you, why this one?
Pete: I'd love to score an official remix slot on a Manson record – that's definitely something on my list.
Ben: As a complete capitalist slut, anyone whoever pays the most can have a slice of my succulent programming skills.
Did you like Freakangel's work on 'Dead Eyes'? I personally loved it. Is it possible that you will work again with these nice Estonian folks? I feel like more is possible?
Pete: Like I said, more collaborations with Freakangel will definitely happen!
Can you tell us more about the ideology behind the new EP?
Pete: The Shadow Between Worlds EP is already quite a few months old. But it has to do with the progression from our previous album "This World Erase", which dealt with the destruction or barriers and norms that our society is made up of. Shadow Between Worlds represents a void of creation with no restrictions. The void between identities and the shadows to confront along the way when you break down the default images.
What is Devil's night' about? Nice clip, BTW!
Pete: It is simply a stream-of-consciousness. Some of my lyrics are about specific topics, but not this one. So, take your own meaning from it please!
Is it easy to get the lyrics for new songs? What inspires you?
Pete: Usually it comes from a certain feeling or situation that I want to expand on. For example, a long-time friend who was also a junkie finally died of an overdose. His family and friends did everything to help him, but he wouldn't give it up. In my opinion it is because he romanticised the addiction – he saw that stars like Nick Cave and Sid Vicious were junkies and therefore associated abuse with being a rockstar, but forgot about the actaul talent and hard-work part. Songs like Blood Rose are about that romanticisation of abuse.
How did the clip got worked out? Who came up with the idea? Love the little tribal passage in it!
Pete: It was a cool opportunity to work with the performers and cinematographer involved. That's one of the best parts about what we do – we can work with really talented, creative people. We let the performers do their thing, since they are professionals and know what they're doing. It was all just shot in one long, creatively-fuelled day and came together really damn well.
'God is art' is a real statement, but how do you see this statement?
Pete: The full passage is "God is art, and it's all crack to make us feel a bit better". Basically saying that religion, as well as any creative pursuit, is an opiate to refresh us before we go and be productive in society. It's as nihilistic as I can possibly be because not only do I say that religion is meaningless, but also that art is meaningless. Anyone can say religion is meaningless, but those people always have a superiority complex because they are usually self-professed artistes and think they are "ubermensch" because they make art while others go to church. But I'm saying it's all the same bullshit. The struggle is that even though I realise that everything is meaningless, that there is no metaphysical world and no afterlife to look forward to, to try and find beauty in the world still. That is my fight every day.
Ben: I remember a first year philosophy major question at university. If a guy paints pictures in a cave in a mountain and then destroys the pictures before anyone else sees them, is it still art? So the idea is you debate whether art is self expression or communication. This is relevant to the song in terms the people who listen to it, and the people who make it, in this case us. I don't really feel I have a definitive answer to the question and all its implications. However, not only do I enjoy making music, I also enjoy that other people enjoy listening to it.
For as far as I could see the artwork and the set up of the new EP: i loved it! How did you worked it out? It must have taken a lot of time to get ready (body painting for ex.)?
Pete: We had 7 make-up artists working for 6 hours to make the body paint! It was an incredibly long day with a lot of effort. And of course Vlad McNeally aka Kallisti Design did the final graphic artwork which adds a lot to the overall image. Like I say, we work with very talented people and I'm very grateful for this!
Ben: On that long cold day, remembering Australia can be very cold, they forgot to feed us. Seriously. Nearly 24 hours without food. I think that is the longest I have ever gone without food. Also, that body paint was hard to wash off. I think we were both scrubbing for days.
Pete: Not as bad as not being able to drink coffee otherwise we would smudge our lips. The shit we do for our art…
How is it to work with Infacted Recordings? How do they look at your work for DWA & Alfa Matrix?
Pete: Infacted are our primary label and it was our goal since the beginning to sign with them. They also license to Metropolis Records in the States which is a cool bonus for us to be associated with another renowned record label. Signing to Infacted is still the biggest personal achievement of my career because it was something I set my sights on. DWA was just another licensing arrangement that Infacted arranged for the Asia-Pacific region, so we only work directly with Infacted.
Any new upcoming videoclips (love the previous ones I found on Youtube)?
Pete: Always! There will be ones for our next album.
Any big gigs that are already known for the future?
Pete: Check us out!
Jan 24 2014: Das Bunker, LA
Jan 25 2014: El Real Under, Mexico City
Feb 6 2014: The Church, Dallas
Feb 7 2014: Livewire, Chicago
Feb 8 2014: Mechanismus, Seattle
What is your big dream for the future, to close this interview?
Pete: We need to figure that out! Our first big goal was to be a band signed to a big German record label, playing the main European festivals and getting lots of club play. Now that we have achieved all that we need to set our next goals and then knock them over. For now we're concentrating on finishing our third full-length album which will be released in the first half of 2014.
and here is the famous DWA 100 remixes review:
and the review of Freakangels album:
and my interview with them.
a video for the fans:
http://www.youtube.com/watch?v=VYQL4LyDT88&feature=youtube_gdata
They will play in Mexico, 25/1/2014, here's the link:
https://www.facebook.com/events/177157465824741/?ref_newsfeed_story_type=regular&source=1
Filip VAN MUYLEM
11/12/2013
---