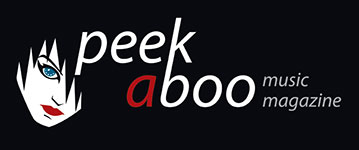 like this interview
---
SHIV-R
...Because in the worst case scenario you will come off as insincere and nobody will like your music, and in the best case scenario you will hit the glass ceiling of that scene.
24/05/2016, Britta Tabrit
---
Britta Pirkko talked to Pete Crane and his bandmate Ben Bulig of the Industrial project Shiv-r during their Mexico tour!
Thank you guys for this interview! Let us start with the year 2016. 2015 has been quite a busy year for Shiv-r. But 2016 is going to be even busier. So far, you have been to e.g. Switzerland, Germany, the Baltic States or Sweden supporting bands such as Nachtmahr, Hocico or Aesthetic Perfection. So tell us about your personal highlights!
Pete Crane: It has been a great year so far, starting by headlining Club Antichrist in London, which is a famous goth/fetish crossover event that gets 1000 attendees. Playing with Nachtmhar at Matrix in Bochum, Germany was great because I wanted to play that venue for years. The crowds in Sweden were great as well, so it's easy to pick a few highlights!
You're now touring Mexico and soon Finland, Warcelona Festival in Spain, Austria and the Netherlands. What can your fans expect?
Pete: That's right I'm currently in Mexico City writing this from my hotel in the Roma area, which is a very hip area of Mexico City. I'm still jetlagged from the flight from London, so it's ridiculously early in the morning right now. This week we will play Queretaro, San Luis Potosi and Mexico City here in Mexico. These will be stripped down shows with my buddy Kervin from Mexico City (who I've known since myspace days with his project Stacy 16) acting as my live keyboard player. Last time SHIV-R played in Mexico (in January 2014) was my favourite live experience with the most energetic crowd ever, so I'm really looking forward to these shows and they will be long sets covering a lot of material. Our upcoming show in Finland will be the first time we headline a day at a festival, so this is a goal we won't take for granted and we will play a 75min set headlining the Friday night of the 3-day festival.
And what do you expect?
Pete: Not sure about expectations, but I'm hoping for a cool crowd in Mexico because our music is more known here. Hoping to win some new listeners in Finland, Spain and Austria. And hoping to grow a bit as every gig makes for a minutely better performance and there is always some small revelation with every live experience.
Will there be something else, coming soon like new tracks, videos…?
Pete: We're a bit gun-shy of releasing EPs and singles in between albums, because people don't pay much attention to them. I know some people would rather see more regular EPs than wait 3 years between albums, but most people have a limited budget for music and will only buy full-length albums. Personally, I only buy full-length albums unless it is for my DJ sets in which case I just buy single tracks from Beatport (and only if they are 100% club material). I also see so many bands releasing really short albums, with maybe 10 tracks that include an instrumental intro and outro, and some instrumental interludes, so you end up with like 4 good songs. I just got the new Rob Zombie album and it's only 32 minutes long. That works for some people, but hey, this is all about personal preference, and since we're in control of our own music, we prefer to pack a bit more in there! We are working hard on our fourth full-length album and a new filmclip for release in 2017.
Name one artist you'd like to work with and tell us why!
Pete: There is no one I'd rather work with musically than my bandmate Ben Bulig. No one else gets sounds like him.
Pete, you're also DJing a lot as DJ Virul3nt. When and how did you start with it?
Pete: This was something I started doing many years ago, around 2004. Since I was always the guy from xyz-electronic band (e.g. The Crystalline Effect was my known project at the time), people asked me to DJ at clubs fairly regularly. I think the promotors assumed I could DJ, since I made electronic music, so it was never something I actively tried to get into. I like to play brand new tracks instead of hits and always mix in tracks from other genres. 10 years ago, I crossed psytrance (Meglopsy, Shift, Dark Soho) with industrial; 5 years ago, it was hard dance (Nomad, Wragg & Log:One) and these days it's electro house (Kannibalen Records, Huoratron, A*S*Y*S) that I mix with the industrial stuff. Shit, I just gave away all my DJ secrets….
It's an often discussed topic nowadays: Do you think the Dark Electro scene has changed during the last couple of years to the better or to the worse? What do you think?
Pete: I don't think we should think about it in these terms. The "dark electro scene" is just people, and we are all individuals. As musicians, I don't think we should ever pander to what we think a "scene" wants to hear, because in the worst case scenario you will come off as insincere and nobody will like your music, and in the best case scenario you will hit the glass ceiling of that scene. My favourite artists have a more individual approach but are picked up by various scenes, like IAMX - he is at the top of the goth festivals, but he is not part of the goth scene. Or Deadmau5 making quite unique music that goes darker than NIN at times, but still is received well by the electro house scene. Yes, the European goth scene festivals have an ageing (if not dwindling) attendance base, but this doesn't scare me, as people will still make great music, and people will still find others with whom they resonate, and people will still express themselves visually and culturally. Same with any scene, if you exist purely within its parameters, then there is a ticking clock above your head. I've seen metal singers thank the crowd for "keeping the spirit of metal alive", and that is so ridiculous - it's like saying "I lack self-belief in my own creative message, so I will hide behind this scene". F*** scenes; be yourself.

Ben Bulig: I would say that the discussions in our scene are identical to the discussions in any scene outside of the mainstream. I spent my formative years in both the classical and jazz communities, and the reaction is the same as in dark electro. There is jealousy and cattiness towards other artists, there are unrealistic expectations about what making music can bring into your life financially or socially, and there is a constant bemoaning over the scene being somehow worse than it was before and that the general public doesn't appreciate whatever genre enough. So, I think that kind attitude is not unique to dark electro, and it is always meaningless and unproductive.
Imagine you're hiking in the woods and a gnome appears. It offers you the possibility to change one thing in your past. What would it be?
Pete: I don't think I would change anything for better or worse! I would not be sitting here in Mexico City right now if it wasn't for the literally astronomical amount of unique factors, circumstances and choices, within and beyond my control, that have occurred to bring me here right now. Like Morpheus says in the Matrix: "What happened, happened for a reason, and couldn't have happened any other way".

Ben: Same as Pete, I wouldn't change anything. Decisions and consequences are far too complex to predict, so even reversing a regrettable episode in your life could ultimately turn out for the worse in the same way. Besides, Schrodinger's cat...
Please, choose your favorite TV snack: peanuts, popcorn, chocolate chip cookies, ice cream or potato chips
Pete: Chips (or crisps as they call them in the UK). I was offered the toughest decision of my life on the plane yesterday: do I want ice cream or crisps? I took the crisps.
Ben: Under the duress of the question, chocolate chip cookies. I am fairly neutral about chocolate chip cookies, but actively dislike the other options. I am also too disorganised in my life skills to ever actually have snacks in my home, so it's all a bit too abstract a question for me anyway.
At the end of the interview, could you please tell us your life motto!?
Pete: I have a few! But lately my life motto comes from a memory I had as a kid reading a Warhammer novel in which the protagonist walks through a woodland area filled with monsters and says to himself: "There is nothing in this forest more dangerous than me". You could also follow Walter White and say "I am the danger; I am the one who knocks", and I think things worked out pretty well for him, haha! But right now, I am writing this from Mexico City which people call "the most violent city in the world", but what is the point in being fearful? Fear leads to inaction and inaction is disgusting. I am not a natural singer or conventionally great-looking, but why be too scared to become a frontman and do photoshoots and all the rest of it? No one is born entitled to do this shit; the only thing that can stop you is yourself.
Ben: I don't have one, so I just found this great quote on the internet, attributed to Mark Twain; "If man could be crossed with the cat it would improve man, but deteriorate the cat". Nice.
And, of course, some words to your fans out there, please!?
Pete: If you want to hear more of our ideas and opinions, they're all on our albums, so go buy them at shop.shiv-r.com hahaha!
Britta Tabrit
24/05/2016
---