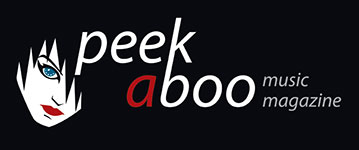 like this interview
---
COMBICHRIST
People seem to forget where this scene came from in the early 90's. This is not me walking away from the scene, this is me evolving to keep it alive, and not let it drown in its own repetitive boring vomit.
16/05/2016, Britta Tabrit
---
Between the release of the new album and two tours starting right away, Britta did a short interview with Andy LaPlegua of Combichrist. The band will do an European tour, including one gig in Belgium on June 10 in Kortrijk.
Thank you for taking some time out for an interview with Peek-A-Boo! There are lots of things happening for Combichrist at the moment, so let's pick out the most important events. Let's start with a simple one: how did the year start for Combichrist when it comes to live shows? Where have you been and could you please point out some highlights for our readers!
The year started in Berlin at the Out Of Line-Weekender. It was amazing as always. I love Berlin, it's like a second home!
In the middle of May, you're heading to South America for a short tour, supported by the guys of Hocico. Which cities are planned and what are your feelings on this tour?
We're playing Argentina, Colombia, Chile and Peru. Looking forward to it, it will be a great tour! I can't wait to see the guys from Hocico, they are blood!!!
After South America comes the "Make Europe Great Again" tour in June/July which is supposed to be super huge! More than 20 shows throughout Europe with Lord of the Lost, Filter and Rabia Sorda as support. Explain the meaning of the name, please. I know some people were quite surprised because of the name choice.
Haha, well, most people who pay attention know that we just stole the title from Donald Trump. It's a crazy political climate out there right now and maybe people need to wake up a little bit and pay attention!
What can people expect from the tour? Special treats planned?
We are doing VIP meet and greats as always, and that's always a good time!
So summer is coming soon. But is there time left for festivals this year?
Yeah, we are doing Deichbrand and Mera Luna.
Let's talk about your new album This is Where Death Begins, which will be released on June 3 via Out Of Line. The album will be available in several different versions. What can we expect?
There will be a regular album CD version, a deluxe double CD which contains a bonus CD with an old school industrial set that I performed live at Complex, LA. Furthermore, there is a double-color-vinyl which includes the album CD in a slipcase and, most importantly, there is a limited fan set which contains the deluxe double disc, plus a recording of our full-band rock show at last year's Summer Breeze festival on CD and DVD.
The album is produced by Oumi Kapila (Filter) and Andy LaPlegua and mastered by Vlado Meller who worked with famous artists such as Red Hot Chili Peppers, Pink, Michael Jackson and Oasis. When you look back at previous albums, how did e.g. studio life change? Does it feel different now, maybe more professional? Or doesn't it matter at all who you work with?
In the end what matters is the result and if you have a good work flow with the people you work with. It could really be anyone, and no matter how professional and big an artist is, it wouldn't matter if he does not have a creative flow with them. Oumi and I had a really good connection in the studio, so it was very smooth.
I was lucky and had the chance to pre-listen to the whole album. It's very possessive, it overruns you like an avalanche. But it's very rock 'n roll, heavily metal influenced, drums seem to be henpecking. Fans of electronic music might miss something here. Does the style of an album happen by chance or do you exactly plan the outcome?
I always have a vision for the album I'm working on. This is definitely 100% exactly how I wanted it. People seem to forget where this scene came from in the early 90s. This is not me walking away from the scene, this is me evolving to keep it alive, and not let it drown in its own repetitive boring vomit.
Do you still suffer from buck fever when performing new songs on stage?
No.
Imagine an airline loses all your equipment for a show and you can't replace it at short notice. What would you do to make it an unforgettable night for your fans?
Drink. Have done it before (laughs).
Besides "come to our shows and buy our album", please, give our readers something to take along.
Come to our shows and buy our album :) and theeeen, come and drink with us. Honestly, I couldn't do it without the fans. You are our spine!!!
Click here for the tour dates: http://www.combichrist.com/tour/
Britta Tabrit
16/05/2016
---