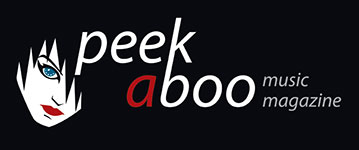 like this interview

---
FACTICE FACTORY
The final outcome of our sound is in fact the global influences and tastes each one of us have.
13/04/2016, Stef COLDHEART
---
Factice Factory is a name that probably doesn't say much. The band is driven by a trio, featuring François Ducam, Fabrice Lefebvre and his son Theotime Lefebvre. Among the few guest singers who joined in, there's Jeanne Lefebvre (the wife of Fabrice and mother of Theotime). I was intrigued about the involvement of Fabrice and Jeanne Lefebvre who are better known as the creative 'spirit' behind the ethereal/tribal French band Rajna. I did not expect Factice factory would deal with elements of cold-wave and post-punk music.Their second album Nada has been released a few months ago and that is a good reason to catch up with the band.
Your second album Nada has been released a few months ago. What do you keep in mind after writing and recording this opus and how would you describe this work?
François: After the first album, we didn't really know what would come next and how our music would evolve... There is a certain continuity of our first album The White Days, even if we have not searched for it or tried to make it happen... This second album came to life in a very spontaneous way actually and it is only now that we recognize a link to our first opus... All we do is of course influenced by what we listen to, discover and live, all these influences finally end up in what we are doing. We had also in mind that we would play live, so we wanted songs we would loike ourselves during a concert...
When we play live it may sound more like rock with and aggressive touch, all those songs of the second - and even of the first album - got a new and more powerful treatment, there is a constant evolution and that makes us happy because songs are not made to remain sterile, but to evolve and take new shapes...
Your influences clearly are 'old-school' and inspired by the 80s. What fascinates you in the new wave/cold wave of the 80s and how do you transpose these elements in the sound of Factice Factory?
François: Of course our influences have the essence of the 80s, but we have a lot of various influences. I'm a child of the 80s and 90s; I grew up with cold wave, bat cave and post-punk, so of course something remains. Fabrice has also been influenced by ethereal and heavenly voices. Theotime is a lot into experimental, post-rock, ambient and industrial sounds. All this makes the actual sound of Factice Factory.
We do not identify with post-punk or goth, we known these scenes for a very long time and so they have an impact on us, but important to our sound are global influences and personal tastesand fortunately we are all complementary in this creative process of making songs and music...

Nada has been released in all imaginable formats: CD, vinyl and even cassette! At the other side, the album is also available on streaming and download platforms. Tell us a bit more about your approach and how do you explain the resurrection of cassettes?
François: Yes, we are very happy that like our first album, "Nada" is available in all possible formats... Because in the end it is up to the audience to choose the format it prefers... We ourselves are very much attached to vinyl because we grew up with it, it has remained a sacred object, not only a simple audio support but much more... There is something magic to vinyl. To put it on the record player, to listen to the cracks it sometimes has, to discover the layout and esthetics of the sleeve, all this to us is like a religious ritual...
Cassette is again an object of interest and we definitely think that people who like tapes, should be able to find our music on tape... Our friend Dimitri from Wool-E shop in Ghent has released a fine and subtle selection of artists on tape, and I do believe that sooner or later all his releases will become collector's items, so we are very happy to have both our albums on Wool-E Tapes...

I was surprised to learn that the Rajna 'family' contributed to this band. How did the switch from Rajna to Factice Factory happen and how does it feel to work as a family?
François: As far as I am concerned and not being a part of the family (even if all Lefebvre's are like a family to me), I think that this project emerged from a deep and long friendship between us and mutual inspirations and experiences... Rajna had come to a level where it needed a break and wanted to try out something different to what it was doing.
One summer back in 2013, we found ourselves together and did a couple of songs just for fun to see what would come out of it... We were so happy about the result, that we decided to do a new project together and that is how it actually all started...
Stef COLDHEART
13/04/2016
---