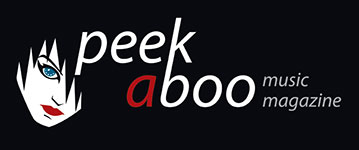 like this interview
---
ROBIN PROPER-SHEPPARD (SOPHIA)
This new album just has a sort of color that gives it a more happy feel.
19/04/2016, Didier BECU
---
Peek-A-Boo was invited by PIAS to have a chat with the charming Robin Proper-Sheppard of Sophia who just returns with a brand new album after seven years. During 30 minutes we got the opportunity to ask the man everything we wanted!
Hello Robin. This year you celebrate the 20th anniversary of Sophia. When people ask me what springs to mind when mentioning Sophia, I think of a loyal fan base. I guess it was very important for you, not?
For sure, yeah. To be honest, it's actually the only reason why I put out another record now. It's not a huge group of people, but without those dedicated people it wouldn't have been possible. Even in times when I wasn't making music, they still wrote me mails. Some fans are indeed very loyal, for some of them holiday means seeing Sophia everywhere.
About those fans. You needed seven years for your new album. I won't ask you why it took so long, because you answered that a million times, but weren't you afraid that people could have forgotten Sophia after all these years?
I really was, after all, those venues we played at were very small and it was not that we had like 1000 fans in each city. So yes, I really was worried about that. I am getting older, many fans are getting older... some are even from The God Machine-days. Also the position of my fans changed a lot, I notice that when I'm doing this promo tour now. A lot of things have changed now, as there is something called Facebook these days. And in a way I'm still old school, you know, now I do interviews with journalists that I already met seven or eight times! I guess artists like me just have to find the right balance between old and new school.
The new record is described by you as a "not sad sad record". I hope you don't mind me saying so, but for me it really sounds as a cynical album.
Definitely. There's more anger in the songs, especially in California or St. Tropez/The Hustle. A track like Baby Hold On is about my daughter. There's certainly a lot of melancholy and love in there. St. Tropez/The Hustle is indeed a cynical one, but It's Easy To Be Alone is actually one of the most positive songs I ever have written. You know that I have an album out called Holidays Are Nice and I noticed people don't really listen to the lyrics. They were just thinking: oh Robin is writing happy songs now... you know, holidays are nice. I knew when I wrote Baby Hold On that there was a new direction for Sophia. Well new, I mean it's not sad-sad.
I tried a lot of times, but I really don't understand the title: As We Make Our Way (Unknown Harbours). Can you, and what's the meaning of that anchor on the sleeve?
There are two elements in the title, that's why I put two titles on it. As We Make Our Way originally was named As I Make My Way because I'm not allowed to stay in Belgium, in the UK or even in Europe. The reason why I changed it in "our" way is because I noticed that a lot of my friends are in a similar situation. Everybody's life is changing so much these days, or friends who have a relationship of 20 years and now certainly realize: oh, where are we going from here? Unknown Harbours is because we all are wondering where it's going to be. Nobody, including myself, has a clear vision where it will end.
Every artist will say that his newest album is the best. I guess you will say it too, but I really heard that you're looking for new directions on this one. I mean a track like California is very uncommon for Sophia, not?
It is. A song like You Say It's Allright was like a teaser track and a lot of people said it was like The God Machine, and so they thought it was great. But actually I don't think it is, as the textures are different, but it has indeed the same hypnotic kind of trance
California is like the most indie track you ever made...
Exactly. It's different than all the other songs I ever wrote.
Do I offend you if I say it's actually a poppy album?
No, I am so glad you say it, as it is actually true. This album just has a sort of color that gives it a more happy feel.
You have recorded your new album in three cities: London, Brussels and Los Angeles. Recently Joe Jackson did the same for his newest album as he thought every city has a different atmosphere. Is this also the reason why you did it?
To be honest, the main reason I did this was because I was deported from Belgium. I couldn't stay in Brussels, they gave me seven days to leave and also I couldn't stay in the UK as I didn't have a work permit over there, so I really was forced to record this album in three different cities. But the good thing is that a track like St. Tropez couldn't have been written if I wasn't kicked out of Belgium. You know, I wasn't in California since my mother passed away. It has been fifteen years ago, and I was basically a kid when I was in California the last time. But now I've been there, it was like a cultural shock for me as human nature changed so much.
So you lived in Brussels. What do you think of that city?
Well, I still have an appartment in Brussels. The thing is, I love Brussels, it is one of the least expensive capital cities in Europe. It's the center of everything, I see all my friends here during gigs at the AB or at the Botanique. And the main reason why I choose Brussels was for my daughter as she lives in London and thanks to the Eurostar she can come over here in 2 hours time.
I always linked Sophia with the DIY ethics. From the early beginning you released everything on your own label Flower Shop Recordings. I guess the DIY thing is very important to you, not?
You know the managing director of PIAS was actually the guy who ran Bang! Records and he released the first recordings of The Flower Shop Recordings, so in a way I still am working with the same people. We're sitting here at this lovely building of PIAS, and I just can say that it feels like a testament to the people who work here. I myself had to stop with releases from other bands as it's so hard. I mean for smaller labels it's definitely hard, but for smaller companies like City Slang, Domino or PIAS it's different. They still can have big success if they're smart. Big companies don't have any passion, for them it's just the same if they sell perfume or dog food. Look over here, we see posters of Nick Cave, The Young Gods or Daan who is a good friend of mine. On my label I did 18th Dye, Ligament or Swervedriver. I really do think that I will put out again singles, and I'm not saying this because it's Record Store Day soon. I just want to try that big atmosphere back.
Your former band The God Machine is completely cult now. These days people ask insane prices for your releases on Discogs, but back then The God Machine was rather small.
It doesn't surprise me to be honest. The reason is because there are a lot of our fans who want to have these releases. And I'm smart enough to know that there are also record collectors who just watch those prices and want them in their collection. An EP that originally cost £2.99 pounds is now like £100. That's indeed insane as Sophia never was in a mag like Record Collector.

Maybe it was because The God Machine was also popular among shoegazefans?
Sure, and now bands like Slowdive reformed. In fact, it's kind of funny as we all saw them in venues with 50 people, just like Chapterhouse or Ride. The God Machine is similar with Sophia as you can't categorize it. We were too heavy for the indie crowd, and we were too indie for the heavy fans. We were kind of right in the middle. A lot of time we got asked to support bands that have nothing in common with us. Do you know that our record deal with our American company fell apart because we refused to play with Soundgarden and Slayer? We said: that's not our scene, let us play with PJ Harvey or so, but they didn't understand us and simply dropped us.
Sadly we have to end, so I want to ask you something I was always wondering. I always compared your music with Adrian Borland as he's a lonesome troubadour as well. Does this make sense?
Who, you say?
Adrian Borland of The Sound.
No, but a good friend of mine said it to me as well and told me that I had to check him out, but I never got the chance to listen it. Didn't they have all those reissues out?
Yes, it's them.
Were The Sound big in the UK?
No, but quite big outside.
Well, then we surely have something in common, right?
Sophia will play at 21st October in Brussels at the AB.
Didier BECU
19/04/2016
---