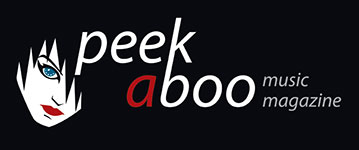 like this interview
---
CHRIS DUPONT (MRDTC, NORDARR, KLEQQ, THE NEGATIVITY BIAS)
Don't believe in everything you read on the internet or in the newspaper or what you see on TV. Ask, be skeptical and get informed.
17/04/2016, Britta Tabrit
---
Britta had a chat with Chris Dupont
Chris, could you please introduce yourself to our readers. Who are you, where are you from and what is your musical background?
I was born in the beautiful city of Potsdam and around the turn of the century I quit playing the bass guitar and dedicated myself to electronic music. Of course, I grew up with 80s music, but also with punk, wave and techno.
You have several projects running at the moment. Let us go through all of them one by one. Let us start with MRDTC which is a project together with Tino Claus (Amnistia, Neukampf). First of all, try to describe the music of MRDTC.
In the songs of MRDTC, we bundle up everything we are, everything happening around us or what we are a part of. Tino can completely emote himself, whereas I can draw my sounds.
You are currently working on your 6th album. What can you say about it and are there any live shows planned?
Again, it will be an album with its own color and a certain direction. Whether it is going be as dark as Straight From Nothington or not, that is something I cannot tell yet. But it will be real for sure! On 18th June we are playing in Frankfurt/Main, more shows are not planned for 2016. After the last album, we needed a short break and distance to our own material.
Your second band is NordarR. What' is the story behind NordarR and what can we expect?
I got to know André through his previous band Proceed. I rate him highly for what he reached with this project, so I could not refuse his request to form NordarR in 2010. We are almost done with the fifth release. This time it will be totally spaced out: wild analog basses and serious themes expressed by André's strong shouts as a hybrid made of old school EBM and punk. And that is exactly what we want. Therefore, we successfully changed our way of working completely. Thanks to YouTube and so, it takes a bit longer, but it is more fun. Despite our critical sounds and lyrics, our music will bring fun, both during the production and while listening to it.
Next comes Kleqq. So who is Kleqq? And has the name a special meaning?
The name does not have a real meaning. It reads well when written down. Kleqq is the unbelievable Nick Jonath of MC1R and me. It was our aim to combine his love for details and melodies with my rhythms and samples.
Kleqq did a DJ edition on the NCN Festival in Deutzen last year. Tell us about that event!
That was a funny thing to do and we will do it again this year. We tried to put music into 50 minutes of exciting mash-ups and new interpretations. Among others, we rearranged Deutschmaschine by And One and mixed Yazoo's Don't Go with Eurodance. This year we will rage ourselves out more in the 80s and 90s, so please come to the NCN Warm Up Party on Thursday!
I read your 4th project, The Negativity Bias, is about techno of the 2000's. Give us some more information on that.
With The Negativity Bias I have finally found a musical field that excites me deep inside. I mix techno from recent years with rhythms from industrial music. As a result, I produce tracks of trance-like work. Simple structures with much space and rough aesthetics. The album is almost ready and I am looking forward to have it finally see the light of day.
My interviews are known for the multiple choice question at the end. So here is yours: Imagine you are sitting in a plane to New York City and you can only choose one music artist for the whole flight. Which one would it be and why? Phil Collins, Madonna, Britney Spears, Elvis Presley, Beethoven or none of them – I'm going to sleep anyway
The funny thing is that we are really going to New York City this year. I would take Beethoven. Maybe he can explain the mystery of melody and harmony to me.
At the end, would you please send some words to our readers!
1. Don't believe in everything you read on the internet or in the newspapers or what you see on TV. Ask, be skeptical and get informed.
2. Buy music and become part of the releases, the freedom of art and the artists instead of just listening to it.
3. Let us have a look in the mirror. In case you see a good human being, make sure you are not voting for AfD next time. That is the best for all of us. Thank you.
Britta Tabrit
17/04/2016
---