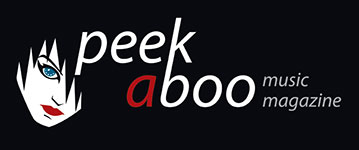 like this interview
---
TERROLOKAUST
TERROLOKAUST means vision, hatred against all fascist dictatorships, history and reality of humanity!
13/12/2013, Filip VAN MUYLEM
photos: © Marquis(pi)X
---
I run into them after the DWA 100 remixes album and thru Freakangel and as Terrolokaust will play soon in Antwerp it was time to interview Javi Ssagittar...
How did you choose the name of the band and what is the philosophy behind it?
I had a time of my life where I felt really attracted by what happened in the Second World War, was practically obsessed with books, videos and all the elements of that time, but inside me, I felt so much hatred and horror by the Nazis, I decided to start with the project, and that "better" name, TERROLOKAUST means vision, hatred against all fascist dictatorships, history and reality of humanity. Currently we focus on other things, obviously, but these were the real beginning ethics of the band.
Can you say something about the Spanish music scene? I honestly don't know anything about it.
There really is a big difference with the rest of other countries, the Spanish scene is virtually nonexistent, and there are few negatives associated with this event. Even in cities like Madrid or Barcelona, its events are always very poor in terms of public numbers, the difference in bands that often fill clubs in Germany: 1000 or even 2000 people. Well, here in Spain they only manage to attract 300 people. You see, the difference is very exaggerated, except for all the really great bands like Rammstein, etc...
How hard is it nowadays to produce music the way you do, coming from Spain & I believe you also have a regular job, no?
Spain is going through one of the most difficult times in many years and the economic system is affecting cultural and alternative events in general. We all do things other parallel to TK, but since then, our passion is always focused towards music.
How good is 'Spit the poison out' running?
About our new album, I can only say that "Spit The Poison Out" is an album that will be the talk of the "scene". The concept of the album is pain, wounds and lived social discrimination in a world corrupted by microbes of ignorance, hence the title.
"Spit The Poison Out" is a way to spit all the accumulated crap and frustration. They are personal experiences and assumptions moments of your life from which you suffered, laughed and agonized, feelings of freedom and anxiety, talk about the potential of life, which must be the time of reflection and personal cry. We live in society that's manipulated, corrupted and of course, we lived completely misled by senior officials of the company whore. From religion to politics, is a dark world filled with hate. I consider it the best album ever made...
I hope it will have a good impact and can be produced in all parts of the world. We are very happy with the result, it has been a really hard job to do, "God Love The Violence" was a highly acclaimed album and we had a responsibility to do something unique. Our intention is to continue offering our best album after album. In my humble opinion, I think that is the most mature album we've done, I think there are some very emotional and passionate, and very extreme and violent moments. Looking forward to "STPO" see the light and see the answers.
To refer to one of your songs: do you have scars that never heal?
Too many scars, but that is what gives me strength to many things...
What do you think of the DWA 100 remixes compilation, are there any others that you would have done yourself if you could? Did that compilation opened a few doors for you?
DWA is a real machine for special editions, today we are where we are because of them. Of course, the compilations are always positive, but always things you wish to do but logistics, etc... never just completed. From what we can be proud of is the many doors that have been opened by DWA.
My personal love goes to 'Your F**king drugs', Detroit Diesel remixed it in a great way, any comments about the mix of Detroit Diesel (have you actually ever met the band)?
I'm very happy with the remix, last year we went on tour with them for several countries, they're highly educated and simple people.
A band that seems to be fitting in well with your sound is Freakangel, they did a great job remixing 'Exposed to the Wrath' (is in the top 3 of most popular on Spotify). You contributed on their song 'into the fire'. How was it to rework it? Any feedback from the band or from Alfa Matrix? I read that you are very happy with it. Any chance you do more things together? How do you see it?
Yes, Dimitry is my longtime friend, is a great guy, I like his music, it's different and original! In the past we worked together for some remixes, and one day he asked me to sing on the song "Into The Fire", extracted from the album "The Ones to Fall", that is a complete and powerful album, and of course it was an honor to sing that song. I am willing to fly to Russia this week to meet again, we'll 2 performances Terrolokaust and Freakangel, it will be great to meet him again and spent some time together!
Cygnosic did a great thing on 'Evolution of tomorrow', again one of my favorite ones on this compilation. What do you think about their rework of your song?
I love everything that makes Georg Psaroudakis in their works, and of course our remix. He's like my Greek brother and I wish him all the best! We've really met almost all the bands we have worked in many aspects, it is nice to have that closeness throughout Europe and worldwide.
I loved the remix of Alien Vampires 'Far away' the most, any comment about it? For me it was perfect to get to know more bands (outside of the normal stuff I get on my desk) so I can imagine it's great for others to get to know it?
Alien Vampires is a band we met personally in the past Resistanz of Sheffield, as you point out, we had already worked with his remix for "Far Away" and it was really fun to add our audios, are a really weird live project, but very good people and very nice.
How is the shooting of the video clip for the song "The Way It Must Be" going?
It was really hard work, but we have worked with very good professionals for this video, so we're looking forward to seeing all the end result. I hope everyones likes it too.
'Just one Fix' seems to be the most popular song on Spotify, any explanation for it?
Unsolved Mysteries...jajajaja!
Can you tell us something about the passage in Russia?
We're really excited, it will be our first time in Russia, we know we have many fans there, which is why we have to fulfill this task very well and make it unforgettable.
Soon you'll play in Belgium are you looking forward to it? Will it be your first time?
Belgium is another country we love, and we were gigging in Antwerp last year at the Vampire Party and it was amazing, we also have many fans there, which is why next year we'll be back with Aesthetic Perfection and Faderhead. I just hope I can see the faces of old friends and enjoy the incredible Belgian beer.
What are the plans for the future? Any other big festivals coming up? New remixes? What is your ultimate dream (to end this interview)?
Much work to do and some surprises that I even can't reveal for next year! For the rest: the tour with AP and Faderhead, remixes and more between multiple dates to be confirmed.
On the other hand, I want to thank you for your support and that of all the people who have always trusted Terrolokaust. Thank you guys!
For the fans, here is the DWA 100 remixes album review (+ link to actually listen to it):
And the review of Freakangel's album:
Review of the newest EP:
http://www.peek-a-boo-magazine.be/en/reviews/terrolokaust-scars-that-never-heal-ep/
the other interview, with the co-headliner:
http://www.peek-a-boo-magazine.be/en/interviews/aesthetic-perfection/
and the other co-headliner:
http://www.peek-a-boo-magazine.be/en/interviews/faderhead/
Filip VAN MUYLEM
13/12/2013
---