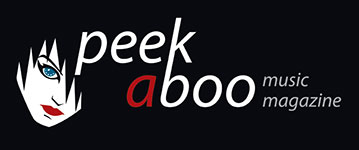 like this interview
---
AESTHETIC PERFECTION
2014 will be a long year of touring. I'm always creating new music in the meantime. We'll see where it goes!
19/12/2013, Filip VAN MUYLEM
photos: © Marquis(pi)X
---
Aesthetic Perfection is one of the finest bands I saw during the Vampire party live 2013! I was so happy that they came back to Antwerp, so making this promo interview was fun, joined by a lot of friends...
My classic starter: why this name? Who choose it?
Everything having to do with Aesthetic Perfection, including the name, came from me. AP will always be a solo project. I'm just too much of a control freak. There is no sharing. Perhaps it's because I'm an only child.
What kind of gear are you working with?
Same as everyone else. A computer. Some software. Some hardware. A guitar. A bass. I think gear lust just gets in the way of creativity. I work with a small amount of equipment so I know it inside and out, and can create what I want within that limitation, which always breeds something new and unexpected.
Been looking at what song is the best know and seems like 'antibody' & 'Spit it out' are almost as popular and gets more than 250K of plays. Are you happy with that? Any more comment about it?
I knew "Antibody" would be a hard sell, but I didn't realize how difficult it would be! It's a different kind of song, AP is a different kind of band now. At this point in my life "Spit it Out" isn't a song I would write. But that's the rub, isn't it? I work with the same passion now as I did in 2007 when making "A Violent Emotion" and I think that no matter how difficult it will be for some people to accept that change, most will inevitably recognize that passion hasn't been lost. I'm happy to see people embracing the new songs as much as the old, even if it was a bit of a fight to get them to do so!
What do you consider the biggest achievement of the band since it's startup?
I don't know. I don't think about that. Every victory is just a step towards the next challenge.
Daniel, you also have a side-project of your own (a bit more futurepoppy) Necessary Response. So far with only 1 album in 2007. How come? How was it to work it out and create another sound?
The original version of the first Aesthetic Perfection record "Close to Human" contained many Necessary Response songs. My labels rejected that version of the album saying that it was impossible to release an album with such a varied sound. They told me to create a new project for the "pop" songs and leave the heavy stuff to AP. Since then I've slowly merged the two sounds together. That's why there will never be another NR record, because I don't need one. AP represents it all. Heavy, soft, happy sad. That's what I always wanted.
How is the 'Big bad Wolf' song doing it in the US and the rest of the world?
Very well. So much anger, so much love, nothing in the middle. That's how I gauge success now. "Does it make people have a strong reaction in any direction?" Yes, it does. Perfect.
How do we have to see the US underground scene, are there also big festivals like in Germany? Can you tell us more about your local scene?
North America has one dark music festival called Kinetik. It's in Montreal. It's a great festival but nothing like M'era Luna or WGT. The scene is smaller, less professional, but the crowds are no less passionate. And that's why we do this, to play music for people. No complaints here.
Was it fun to make the video ('Big Bad Wolf')? How long did it take to make it?
I made the "Big Bad Wolf" and "Antibody" videos during a 5 day period in May. "Big Bad Wolf" took 3 days and "Antibody" took 2. Making videos is always fun. It's extremely exhausting, but it's fun and rewarding.
There are a lot of bands with similar sounds... How do you yourself want to profile you amongst those others? Why is A.P. different?
I don't WANT to be different, I only mean to express myself in the way that feels most natural. When you strive to be something that you're not, you WILL fail. All I want is to be myself, if that sets me apart from everyone else, fine. But it's not my motivation. It never will be... not again anyways.
I saw your gig at the last Vampire Party live in Belgium and it was really filled with energy. The crowd really loved it. Can you say something about it?
I love playing in Belgium. It's a beautiful country, great crowds, great beer. What else should I say? It's awesome.
It was apparently also the last edition (I admit: I was really down after hearing the news). It's something you hear more and more, so how hard is it for you to live it and to get still enough gigs to have an interesting tour?
It's always a challenge. AP is not a huge band, tours don't come together easily. But we do it because we love it. Not for money or fame. I couldn't get that anyways. I'm not against making money, but I'm realistic. This is all a labor of love. I'm ok with that.
'Reading the Violent Playground Industrial forum is like watching 3rd graders attempt calculus' (a quote from your facebook). What's happening over there? I also read that XP8 was complaining about it?
To be fair, internet forums are not a breeding ground of intelligent conversation. It's mostly a bunch of bored, middle aged white men with too much time on their hands and a lot of anger. I shouldn't waste my time there, I'm trying my best to stay away. Honest.
In this tour you are working together with Faderhead, how is it to work with them?
Faderhead supported us on our US tour in 2011. We got on great. We figured this time we'd do it again in Europe!
Another band that you take with you on stage are the nice people from Terrolokaust, any chance that you will do something on stage with them or with Javi?
I HATE having guests onstage. I HATE being a guest onstage. It's hard to explain, but I need to have control over the stage or I lose my focus. Bringing out new people or going out onto someone elses stage is just... not for me. They're all great guys, tho!
You are known for doing a lot of great remixes (last one I heard is Ludovique Technique 'Dead Inside') I suppose there are more upcoming?
No remixes for me, at the moment. For once, I've got a time of time to rest before the insanity of 2014 begins!
Another great and epic thing is the DWA 100 remixes, can you say something about it? How did it work for you?
What's DWA 100 remixes? I have no idea. Haha. I mean I've done remixes for DWA bands but I don't know about this release.
Who would you love to remix you (and which song) and why?
Anything musical. I hate having to remix power noise or techno or anything totally unstructured. It feels pointless. Give me a good pop track and I'm happy.
Can you already say something about 'Til death'?
"'Til Death" is Aesthetic Perfection like you've never heard before. I am so proud of this album, more than anything I've ever made. And I promise it will be the source of countless internet fights!
What will 2014 bring for you, new work, great gigs? A new US tour together with …?
US tour is being planned with.... I can't tell you that yet. But it's going to be good. 2014 will be a long year of touring. I'm always creating new music in the meantime. We'll see where it goes!
What is your ultimate dream for 2014?
$1,000,000. What do you think? Can I make it happen!?
Here's the review of their new cd:
http://www.peek-a-boo-magazine.be/en/reviews/aesthetic-perfection-till-death/
review of their gig at the last VP live:
http://www.peek-a-boo-magazine.be/en/reviews/suicide-commando-soman-aesthetic-perfection-sam-xp8-c-lekktor-surgyn-vampireparty-live-6-4-2013-petrol-antwerpen-belgium/
ON TOUR 2014:
Amphi 2014, check it out:
www.facebook.com/amphifestival
and the E-troppolis Festival 2014:
https://www.facebook.com/events/363095883811177/?source=1
and the interview with the opening band:
http://www.peek-a-boo-magazine.be/en/interviews/terrolokaust/
and the co-headliner:
http://www.peek-a-boo-magazine.be/en/interviews/faderhead/
Filip VAN MUYLEM
19/12/2013
---