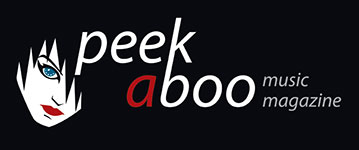 like this cd review
---
AESTHETIC PERFECTION
'Till Death
Music
•
CD
Dark Electro
•
Electro Rock
•
Gothic Rock
•
IDM (Intelligent Dance Music)
•
Synth Pop / Electro Pop
[90/100]

Metropolis Records
01/02/2014, Filip VAN MUYLEM
---
Finally, a time to review their newest one! Just before the start of their European tour. So a good time to find out about the mix between Trent Reznor and Depeche Mode... just read further...
'Happily ever after' starts like a neo folk song, including drums, bells and a scary voice! This one doesn't sound at all like a wedding song, more like one is announcing his death... The nice electro tunes come back with 'Antibody' a song that most of the fans already know. It's a great song that will start the party! I love the sound and the computer voice! This one is just a smashing hit! Love the melancholic voice and the sing a long moments! This is somehow how Trent Reznor could sound like anno 2014 (without his actual bad attitude)!
'Lights out (ready to go)' sounds also like a party song with nice and very creative little noises (gives it a nice retro 80's sound)! Once again the vocals are really great! This song might become the one song you listen to before going out and have fun for the night! It might also be the party starter... dadada (just as the last tune is presuming, taken from that song …).
'Death Rattle' starts with some high tone vocals, not what I expected when I read the title. After a while the outburst comes and gives it a higher potential!
Who doesn't already know the great roaring of 'Big Bad Wolf'? It has already reached a lot of people! Love the melancholic voice and the roaring guitars with the nice spooky effects and the high tone in the voice at some point! The vocals are really great on this one, just as the vocal exercises on this one! One thing is very clear: this is a very well worked out song with big hit potential (and has already been proven) Yeah, yeah, yeah!!!
'Showtime' is in a weird way some kind of an electronic ballad/waltz, filled with anger and some Depeche Mode influences (including the trembling voice)... Love the little organ-like sound and was there even a harp in it? Love the more eclectic end!
'Oh, Gloria' starts a bit like a Manson hit, but soon turns into a more electro minded song. Somehow this one is the one I like the least as I tend to forget fast about this song. Somehow it gets better after some more of listening to it... After a while I even think it might be a great song for a concert...
There is no bigger difference than listening afterwards to the bumping and roaring beats of 'The Dark Half', this is really my style and will rock a lot of people out of their socks! This is great IDM! Listening to it with your headphones on makes you want to get them off and dance! It's really impossible to stand still during this one! What a killer song!
'The New Black' is a great end song! Love the beats, love the vibe! It has the pathos needed to bring it in the perfect way! It's a short cd, but I absolutely adore it and can't wait to see them back on tour! Love the little tunes in between, just as the computer voice and the nice chorus! In the end one could almost get tears in the eyes, don't ask me why! It's just so good! Pure gold!
But 'Lovesick' is the last song, a dark ballad and again with some Depeche Mode influences (for sure on the vocals). The title is a bit strange if you think this is a romantic cd, but it isn't, right? Love ain't forever... One day it dies... and you have to hold on to this last grasp... At least, I think that is the message coming from this song...
After the bad behavior of Trent Reznor lately, I'm pretty sure that we have a new GOD in the swimming pool! So kick Trent out and let Aesthetic Perfection Reign! I also know that some fans hate it, but I also know that some bands keep on producing the same fat beats, so I can only say in a very humble way: thumbs up! This is really first class!
Your Kingdom has come!
review of their gig at the last VP live:
http://www.peek-a-boo-magazine.be/en/reviews/suicide-commando-soman-aesthetic-perfection-sam-xp8-c-lekktor-surgyn-vampireparty-live-6-4-2013-petrol-antwerpen-belgium/
and here's the link to listen to the new cd:
http://www.revolvermag.com/news/exclusive-aesthetic-perfection-premiere-new-album-til-death.html
or on YouTube:
Filip VAN MUYLEM
01/02/2014
---