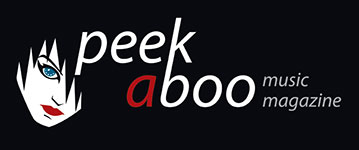 like this ep (digital) review
---
NFD
Trinity
Music
•
EP (Digital)
Gothic
•
Gothic Rock
[82/100]

Gothic Citadel Records
25/04/2023, Jurgen BRAECKEVELT
---
NFD last saw the light of day about a decade ago, formed from the ashes of first The Fields of The Nephilim incarnation and Sensorium, with Peter White as the singer, Chris Milden as guitarist and Luca Mazzucconi as drummer.
For the first time since 2014, the band is resurfacing … with an brand new EP with new material and a number of remixes by some musical heroes.
Their music lies somewhere between Gothic-Rock and Gothic Metal and the remnants of the ashes of The Fields Of The Nephilim are clearly audible. In fact, NFD sounds very much like it.
So one knows know what to expect: drawn-out songs with many changing atmospheres and tempo changes.
'Surrender To My Will (The Demon and The Witch)' guarantees almost 9 minutes of enjoyable gothic rock entertainment at the outset. Out of the silence this song emerges with an nice intro. Synths and an entertaining synth melody roll out the red carpet for the pertinent guitars. Sturdy heavy guitars. What else did you expect? Peter's voice is also really reminiscent of TFOTN. Anyway: we are drawn into the song for nine minutes with guitar solos halfway that sound good and very technical. Towards the end of the song, all systems are go…. All the way. Relentless but so blissfully compelling. Even if there were 13 songs like this in a dozen, no one would mind.
Then follows 'To Find My Heaven'. A song with the same ingredients, resulting in the same kind of finger licking Gothic Rock. It sounds so recognisable and familiar and still it remains captivating. The guitars are a bit quieter at the start, only to take over control halfway through in yet another, over six and a half minute long, rocking song! Towards the end it even leaned towards Melodic Metal. The song undergoes a musical metamorphosis, again finger-licking good, especially for fans of Gothic Rock with drawn-out guitar solos! And even more epic lashes with 'Static On My Soul', which is a great dragging song. Perfect for smoke-shrouded dancing people with pointed boots. Again good for about 6 minutes entertainment, Wide-spun, extremely dark and with dangerously roaring guitars. Towards the end they fold back to a kind of Gothic Metal in terms of rhythm guitars. And no matter how classic the structure of the songs might seem, it doesn't get boring. The variation, changing rhythms, strong passages alternated with more subdued fragments: it works!
NFD has also included two alternate versions of 'Surrender to My Will: the No Mercy version' as well as the 'Original Sin' version. Nice guitar song but in my opinion not adding much value to this release. The same goes for the alternative version 'To Find My Heaven' that is only captivating because of the great guitar solo work. Nothing more, nothing less …
However the two remixes are more fascinating. One version is by Mark Gemini Thwaite. The man who provided his musical services to The Mission and Peter Murphy, amongst others. The MGT remix of 'Surrender To My Will' sounds more bombastic not least due Thwaite's virtuoso additional guitar playing.
Ben Christo (guitarist with Sisters Of Mercy – Night By Night and Diamond Black, amongst others) remixed the same song. He makes a slightly more sluggish sounding version of it. The guitars are more melodic and sound a bit edgier.
NFD is back! NFD breathes Gothic rock of the best kind. When they release their fully-fledged album and appear on festival posters, this boy will be there!
Jurgen BRAECKEVELT
25/04/2023
---
NFD ontstond een tiental jaar geleden uit de as van The Fields of The Nephilim en Sensorium. Peter White is zanger, Chris Milden gitarist en Luca Mazzucconi is drummer.
Voor het eerst sedert 2014 laat de band op nieuw van zich horen. Een EP met nieuw materiaal en een aantal remixes van muzikale helden.
Hun muziek houdt het midden tussen gothic rock en gothic metal. De restanten van de as van Fields Of The Nephilim zijn duidelijk hoorbaar. NFD neigt er wel erg naar.
En dan weet je wat je mag verwachten: uitgesponnen nummers met veel wisselende sferen en tempowisselingen.
Surrender To My Will (The Demon and The Witch) is meteen goed voor een kleine 9 minuten vermakelijk gothic rock entertainment. Vanuit de stilte ontluikt de song met een intro. Synths en een synthmelodie rollen de rode loper uit voor de stevige gitaren. Wat hadden we anders verwacht. Peters stem doet ook echt wel denken aan Fields. Anyway: 9 minuten lang worden we op sleeptouw genomen. Halfweg guitaarsolo's die onderhoudend en technisch heel lekker klinken. Naar het einde toe gaan echt alle registers open. All the way. Meedogenloos maar zo zalig meeslepend. Als er van dit soort songs 13 in een dozijn zouden zijn, het zou niemand vervelen.
Dan volgt To Find My Heaven. Dezelfde bouwstenen, de gothic rock waar je duimen en vingers bij aflikt. Het klinkt zo bekend en vertrouwd. En het is en blijft beklijvend. De gitaren zijn wat rustiger bij aanvang, om dan halfweg (de weer ruim 6 en een halve minuut durende rocksong) de zaak weer in de hand te nemen. Naar het einde toe zitten we in melodieuze metal. De song ondergaat een muzikale metamorfose. Zeker voor de liefhebbers van gothic rock met uitgesponnen gitaarsolo's is dit fingerlicking good!
Nog meer epische uithalen bij Static On My Soul, een echte sleper. In rook gehulde dansvloeren bevolkt met puntlaarzen. Wéér goed voor een dikke 6 minuten. Breed uitgesponnen, uitermate donker en vervaarlijk ronkende gitaren. Naar het einde toe gaan die weer de toer op van de gothic metal qua ritmegitaren. En hoe klassiek de opbouw van de songs ook is, het gaat niet vervelen. De variatie, wisselende ritmes, stevige passages afgewisseld met meer ingetogen flarden: het wérkt.
NFD heeft ook twee alternatieve versies gemaakt van Surrender to My will: de No Mercy-versie en de Original Sin-versie. Leuke gitaarsong, maar daarvoor hoef je deze schijf niet aan te kopen. Ze hebben ook een andere versie van To Find My Heaven opgenomen die enkel boeiend blijft door het geweldige gitaarsolo-werk. Voor de rest weinig meer over te zeggen.
De twee remixes zijn dan wel boeiender te noemen. De ene is van Mark Gemini Thwaite. De man verleende zijn muzikale diensten o.a. aan The Mission en Peter Murphy. De MGT remix van Surrender To My Will klinkt bombastischer. Het virtuoze gitaarspel van Thwaite zorgt daarvoor.
Ben Christo (o.a. gitarist bij Sisters Of Mercy, Night By Night en Diamond Black) remixte dezelfde song. Hij maakt er een iets gezapiger klinkende versie van. De gitaren zijn melodieuzer en klinken iets scherper.
NFD is terug. NFD ademt gothic rock van de beste soort. Als ze nu met een volwaardig full album uitpakken en affiches kleuren, is deze jongen van de partij.
Jurgen BRAECKEVELT
25/04/2023
---