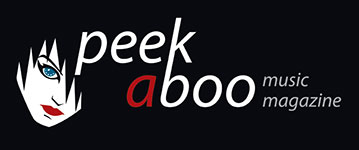 like this digital review
---
MONICA RICHARDS & ANTHONY JONES
AESTUARIUM
Music
•
Digital
Ambient Pop
•
Dreampop
•
Fantasy
•
Folk / Ethnic / Tribal
•
Gothic Rock
•
Indie
•
Melodic Rock
•
Neofolk
•
Pop
•
Synth Pop / Electro Pop
•
world music
23/11/2019, Tom PLOVIE
---
October 31st, 2019. It's Halloween. A perfect day for the release of a new album. At least that's what the gothic duo Monica Richards (Faith and the Muse, The Eden House) and Anthony Jones (Monastic) were thinking. Together they released 'AESTUARIUM'. The title means water with one or more rivers or streams flowing into it that flows out to the open sea. A nice metaphor for their unique collaboration or the fusion of two talents.
As a Faith and the Muse fan, Anthony contacted Monica in 2016. He wanted to do a live gig with her in San Francisco. She turned out to be a fan of his work as well. So they clicked and it led to this highly appreciated duo project, for the time being without a common name.
I saw and heard them live in April at Black Easter in Antwerp. The third edition of this festival was organised as a tribute to founder Ward De Prins (1969-2018). He was the one who introduced me to the work of Monica and Faith and the Muse. I saw them for the first time ten years ago at The Steeple in Waregem. The theatrical and exciting show made a huge impression. I was hooked. I only got to know Anthony's music earlier this year. To hear his phenomenal voice live: hooked again!
The solo cd's of Anthony Jones (including 'Guardian of the Wolf', 'If the Moon Could Sing' and 'Once and Forever More') bring the mix of an old set of instruments (such as the harmonium) with darkwave synths and beats topped with some exoticism. The solo work of Monica Richards shows great similarities with it. For their first European show together, at the Wave Gothic Treffen in 2018, the EP 'SYZYGY' was released. A fine selection of 6 tracks and artwork by Casey Castille and Daniel Foerste. This time the title has its origin in astronomy and refers to the straight-line configuration of three or more celestial bodies in a gravitational system. Most of these songs are new versions of existing tracks from both their solo work. I always find it interesting and fascinating to hear and compare new edits.
'AESTUARIUM' goes further on that momentum. Their goal remains to create a new sound. The album opens with the new song "Avalon", written by Anthony Jones. Avalon is a mystical place "hidden in the fog" that is mentioned in the Arthurian legend. It is only accessible with a magical boat. The sword Excalibur is said to have been forged there. "But those who rule by the blade shall fail in their violent pursuit of the unholy grail" reciting some of the lyrics. A nice start, but a bit too much dreampop to me.
On "We Are the Migthy, Remember!" we hear a mix of "The Mighty" (Richards) with "We're the Vikings, Remember?" (Jones). Richards' whispering monologue, taken from 'Naiades', fits perfectly on Jones' music, from 'Guardian of the Wolf'. It works wonderfully: enchanting and mystical, with a subtle beat. Jones' dramatic vocals are well balanced.
The contraction of titles continues with "In the Dominion of the Furies" (from Jones' "Into My Dominion" and "The Chorus of the Furies" by Faith and The Muse). It's about a lost love and the desire to dominate Love. Jones' lyrics end smoothly into the familiar sounding rhythm sections from Faith and The Muse: "HA!", and the furies are let out. Great climax!
A highlight on 'SYZYGY' is undoubtedly "Temple of Branwen". The song gets a new title on this full-length album: "Branwen in the Temple to Burn". Dark clouds and thunder gathers, the harmonium draws long held notes and Monica sings in a kind of old English. Once again it's based on a F&TM classic. Jones echoes the repetition of the chorus ("Loneliness, Patience, Wisdom, Happiness") and then introduces his "Left in the Temple (to Burn)". The sober oriental drumming soon turns into the dramatic chorus: "You should have left me in the temple to burn." Its simple melody turns out to be surprisingly catchy. The song ends with a mix of both choruses. I have a vision of the open sea ​- set at dawn - with a burnt-out and still smoldering temple on the coastline...
The full potential of Jones' voice can be heard on "Lureinlay Lament", which originated out of "Oceanfront Lament". Like a true shaman he casts a spell with his hypnotic sounding lamentation. Enforced with stronger beats as on the original, this version has more body to it.
"End & Begin" is a song I certainly prefer the new version to the original. It comes from Richards' 'Naiades'. On "Aestuarium" it's been taken to a higher level. It's another cooperation with Brandon Hayes. His guitar playing deserves full credit. It gives the song a certain western sound. Very cinematic and epic. The revelation of the album!
On the tones of "The Colder Sun as My Guide" we enter a commune. The rather new age-like lyrics ("Guide me to your galaxy where your star shines brightly" and "We are Divinity - we choose to be") are set on a repetitive but lovely folk melody. It's a three minute interlude (that tambourine!) that compels you to rock back and forth while sitting in lotus position. I highly recommend to get an incense stick and lit it while listening.
Album closer "Petrichor" is, like the opening song, a completely new track. Wondering if the title meant something, I found this on Wikipedia: it is the smell that arises when rain falls on dry ground. Originating from ancient Greece, it is also the blood of the gods. The song needs some time to grow. Yet, it clearly has the signature of both musicians: lyrics that refer to the elements of nature, a natural blend of two lovely voices, some exotic drumming and an overall mystical and dreamy sound.
In many ways this is a successful project. Both musicians know how to fuse like multiple rivers towards an open sea: the perfect metaphor indeed. It all feels like a very natural process and logic collaboration. The artwork deserves praise too with the beautiful cover: a colorful portrait of both (painting by Louise Patricia Crane and graphic editing by Monica Richards).
Both will perform in San Franciso's Church of Saint John the Evangelist on November 24th. A very suitable place to hear and see them perform live. In Europe too there are many (and empty) churches that could be used for a nice concert with two excellent voices. I'll light a candle to that, or two if needed.
Tom PLOVIE
23/11/2019
---
31 oktober 2019, het is Halloween. Een ideale dag voor de release van een nieuw album. Dat dacht het gothic-duo Monica Richards (Faith and the Muse, The Eden House) en Anthony Jones (Monastic). Ze brengen samen 'AESTUARIUM' uit. De titel duidt op de monding van één of meerdere rivieren in de open zee. Een mooie beeldspraak voor hun unieke samenwerking of de versmelting van twee talenten.
Als Faith and the Muse-fan nam Anthony in 2016 contact op met Monica. Hij wou samen met haar een live show voorzien in San Francisco. Ook zij bleek fan van zijn werk. De klik was er dus meteen en leidde tot dit zeer geapprecieerd duo-project, voorlopig zonder gezamelijke naam.
Ik mocht ze in april nog live aan het werk zien op Black Easter in Antwerpen. De derde editie van dit festival kwam er als eerbetoon voor oprichter Ward De Prins (1969-2018). Hij was diegene die mij het werk van Monica en Faith and the Muse leerde kennen. Ik zag haar voor het eerst tien jaar geleden in The Steeple in Waregem. De theatrale en opzwepende show maakte grote indruk. Ik was verkocht. De muziek van Anthony leerde ik pas dit jaar kennen. Zijn fenomenale stem live horen, opnieuw: instant verkocht!
De soloalbums van Anthony Jones (o.a. 'Guardian of the Wolf', 'If the Moon Could Sing' en 'Once and Forever More') brengen de mix van een oud instrumentarium (zoals het harmonium) met darkwave synths en beats overgoten met wat exotisme. Het solowerk van Monica Richards vertoont er grote gelijkgenissen mee. Voor hun eerste Europese show samen, op het Wave Gothic Treffen in 2018, werd de EP 'SYZYGY' uitgebracht. Een fijn kleinood met 6 tracks, voorzien van passend artwork van Casey Castille en Daniel Foerste. De titel komt uit de astronomie en benoemt de configuratie van hemellichamen waarbij deze zich in een rechte lijn ten opzichte van elkaar bevinden. Het gros van de songs zijn bewerkingen van bestaande tracks uit hun solowerk. Persoonlijk vind ik het altijd boeiend om nieuwe versies te horen én te kunnen vergelijken.
'AESTUARIUM' gaat dus verder op dat elan. Hun doel blijft om alsnog tot een nieuwe sound te komen. Openen doet het album dan ook meteen met een nieuw nummer: 'Avalon', geschreven door Anthony Jones. Avalon is een mystiek oord "in nevelen verborgen" dat o.a. in de Arthurlegende vermeld wordt. Het is slechts bereikbaar via een magische boot. Het zwaard Excalibur zou er ooit zijn gesmeed. Maar regeren met het zwaard leidt vaak tot de eigen ondergang. Het is een erg poppy en ietwat zweverig begin.
Met 'We Are the Migthy, Remember!' horen we een mix van 'The Mighty' (Richards) met 'We're the Vikings, Remember?' (Jones). Richards fluisterende monoloog uit 'Naiades' wordt netjes op de muziek van Jones, uit 'Guardian of the Wolf', gelegd. Het werkt wonderwel: bezwerend en mystiek, met een spaarzame beat. Jones' dramatische uithalen zijn perfect gedoseerd.
De samenvoeging van de titels gaat verder met 'In the Dominion of the Furies' (afkomstig van Jones' 'Into My Dominion' en 'The Chorus of the Furies' van Faith and The Muse). De zwanenzang van een verloren liefde en de hang om deze toch te domineren is hier het leidmotiv. De tekst van Jones mondt uit in het steviger ritme dat we kennen van Faith and The Muse: "HA!", en de furies worden uitgelaten. Heerlijke climax!
Een hoogtepunt op 'SYZYGY' is ongetwijfeld 'Temple of Branwen'. Op deze langspeler krijgt de track een nieuwe titel: 'Branwen in the Temple to Burn'. Donkere wolken en dondergeluiden verzamelen zich, het harmonium trekt lange noten en Monica zingt in een soort Oudengels. Opnieuw is dit gebaseerd op een F&TM-klassieker. Jones echoot de herhaling van het refrein ("Loneliness, Patience, Wisdom, Happiness") en leidt er zijn 'Left in the Temple (to Burn)' vlotjes mee in. Het bescheiden oriëntaals getrommel gaat al vlug over in het dramatische refrein: "You should have left me in the temple to burn". De eenvoudige melodie blijkt verbazend catchy te zijn. Eindigen doet het nummer met een mix van beide refreinen. Ik zie de open zee voor me -bij ochtendgloren- met een uitgebrande en nog smeulende tempel op de kustlijn.
'End & Begin' is een track waarbij de nieuwe versie mijn voorkeur geniet t.o.v. het origineel. Terug met medewerking van Brandon Hayes wordt dit lied uit 'Naiades' op een hoger niveau getild. Hayes' gitaarwerk verdient daarbij alle lof. De song krijgt er een zekere western sound door. Heel filmisch en episch, met een passende opbouw. De verrassing van het album!
Op de tonen van 'The Colder Sun as My Guide' zijn we in een commune beland. Met een nogal new age-achtige tekst ("Guide me to your galaxy where your star shines brightly" en "We are Divinity – we choose to be") op een repetitieve folkmelodie is het een drietal minuten heerlijk wiegen. Het wierookstokje mag u er zelf bijnemen.
Afsluiter 'Petrichor' is, zoals de opener, een volledig nieuw nummer. Benieuwd of de titel iets te betekenen had, vond ik dit op Wikipedia: het is de geur die ontstaat wanneer regen op droge grond valt. Afkomstig uit het Oudgrieks is het ook het bloed van de goden. Het nummer moet wat groeien. Toch heeft het onmiskenbaar de accenten van beide muzikanten: een tekst met verwijzing naar de natuurelementen, een passende samenzang, exotisch getrommel, mystieke en hypnotiserende klanken,..
In veel opzichten is dit een geslaagd project. Dat beide muzikanten zich als een rivier weten te vermengen richting open zee is dus beeldspraak op zijn plaats. Het voelt en overtuigt als een natuurlijk proces. Achteraf beschouwd stond deze samenwerking in de sterren geschreven. Lang genoeg kijken en dan valt het op zijn plaats. Alsof het altijd zo is geweest, of had moeten zijn. De bijzonder mooie cover, een portret van beiden (schilderij van Louise Patricia Crane en grafische bewerking door Monica Richards) verdient tot slot een speciale vermelding.
Op 24 november treden beiden op in San Franciso's Church of Saint John the Evangelist. Het lijkt me het perfecte kader om hen live te zien. Ook in Europa staan veel (lege) kerken die een fijn concertje, met twee uitstekende stemmen, kunnen gebruiken. Ik brand alvast een kaarsje, of twee.
Tom PLOVIE
23/11/2019
---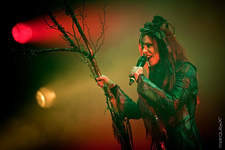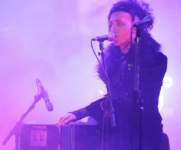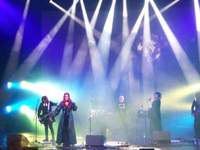 ---