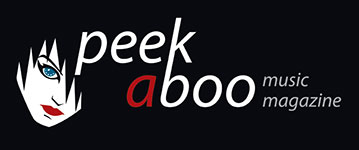 like this cd / vinyl review
---
HACKEDEPICCIOTTO
Menetekel
Music
•
CD / Vinyl
Avant-garde
•
Dreampop
•
Experimental
•
world music
[95/100]

12/04/2019, Dimi BRANDS
---
Hackedepicciotto is a contraction of two artists Alexander Hacke and Danielle De Picciotto. Two musical legends we can say. Of course we know Hacke as one of the original members and bass player of Einstürzende Neubauten. We might also know him from the excellent documentary 'Crossing The Bridge' (2005) in which he shone a light on the very exciting music scene in Istanbul.
De Picciotto moved from New York to Berlin in 1987, became singer of the band Space Cowboys, co-founder of the Love Parade and participated in the Ocean Club, the project of Gudrun Gut (Malaria!).
Now Hacke and De Picciotto are not only musically linked but also they have been married to each other for more than ten years.
Both welcome us to their imaginary home, imaginary because the couple left their earthy home in Berlin in 2010 and are since continuously on tour all over the world. This knowledge gives the dream pop sounding of opener 'All Are Welcome' a somewhat melancholic feel when Danielle opens up her heart and the doors of her house for us.
Even more dreamy sounds on 'Dreamcatcher', how could it be any different with such a title. The fact that Hacke masters throat singing well suits this house and forms an amazing contrast with Danielle's more heavenly sound.
In addition to throat singing, Menetekel (which refers to "the writing on the wall") also includes less conventional instruments such as hurdy hurdy, autoharp and kemençhe (a string instrument that is popular in the Pontus, northeastern Turkey).
Trumpet sound announces 'Jericho', also quite appropriate. After all, we know from the Bible the walls of this city were destroyed after shofars (ram's horns) were blown and the people would be cheering. Around the walls of the city, for six days long and once a day, their besiegers ran a tour, blowing the seven rams trumpets, as we read in the book of Joshua. On the seventh day the people of Israel walked around the city seven times; the rams' trumpets were blown and at the same time the people cheered. The walls collapsed and the besiegers took the city without a problem and killed all the inhabitants. Then Joshua and the people declared a curse upon the man who would rebuild Jericho: he would lay her foundation at the expense of his firstborn son and set up her gates at the expense of the youngest son. Later in history when the people of Israel had deviated from the Lord, this curse was fulfilled.
In terms of darkness, the Old Testament is unsurpassed in books, and the same threat can be found in this instrumental number, which immediately demands attention with its unusual instruments.
In 'Nosce Te Ipsum' (Latin for 'Know yourself') De Picciotto holds a mirror to us, and asks us who we see when we look into it: do we see ourselves or do we see her? Everything is perception, and the image that we have of ourselves is not just the image that others have of us. This last objection I came across in the book "Immortality" by Milan Kundera, also an artist who is adept in these kinds of philosophical issues.
Spoken words and experimental sounds battle each other for almost nine minutes, and give the slogan even more power by increasing power more and more.
'Pilgrim' also applies to the duo, and is again dark and melancholic, but in a way that might remind us of gypsy music.
Eastern and Western sounds come together as a whirlwind in the threatening 'Prophecy'. This song moves faster and faster to the ultimate climax: the transition to the magisterial closing track of Menetekel: 'Crossroad'. A rather minimalistic song with starring roles again for the sound of De Picciotto's spoken words and Hacke's throat singing.
The titles of Menetekel are pregnant, the symbolic and spiritual questions that they implicitly state give Menetekel an unusual depth and present the listener a universe with a very moving path for an hour on his human quest.
If you decide to get the double vinyl version of this release, you'll get the 20-minute 'The House Of Shadows With The Sound Of Light' as a bonus on the D-side. A recording of a sound installation the duo made in an old Austrian church. Their intention was to try and view the church as a child would. So without preconceived thoughts or answers, but just treating this space as the strange home of a giant who was not at home.
The duo projects our collective despair about what is happening on our planet today and this in a monumental symphony of sounds. Through a constant twisting and turning one comes with a result that is not weaned from biblical madness. At times, it even seemed as if Jarboe has sat down again to the side of Michael Gira, and if were listening to a Swans record of an extremely high level!
Hackedepicciotto will perform at Black Easter 2019, on 21 April @ De Casino- St. Niklaas, Belgium.
Other artist performing at Black Easter are Goethes Erben, Clan Of Xymox, Jo Quail, Evi Vine, Daemonia Nymphe, Monica Richards vs Anthony Jones, Sieben, The Breath Of Life & You Life On Hold!

More info: www.blackeaster.be
Dimi BRANDS
12/04/2019
---
Klik hier om de Nederlandstalige versie van deze review te lezen bij onze collega's van Dark Entries Magazine!
Dimi BRANDS
12/04/2019
---