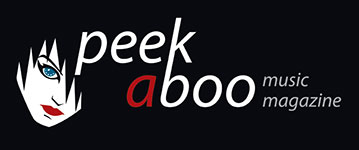 like this concert review
---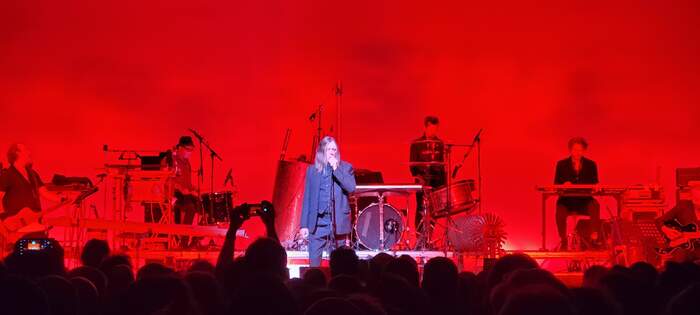 EINSTURZENDE NEUBAUTEN
40 Years Einsturzende Neubauten at Ancienne Belgique - Brussels - B (20+21.06.2022)
Concert
Avant-garde
•
Experimental
•
Industrial
05/07/2022, Yves VAN DER STRAETE
---
Alexander Hacke, Andrew Unruh, Jochen Arbeit, Rudolf Moser, Felix Gebhard, Blixa Bargeld. The Neubauten live anno 2022. The tour to celebrate their 40th anniversary … with a few years delay due to…
Those who came to hear their hits and older work came in vain. It was mainly all about their new album, which filled more than half of the set list. 'Alles Im Allen' is the name of their latest album, which is an absolute gem, especially the Phase4 box edition which contains the double vinyl LP version. Many were surprised by how much stronger the album sounds live, than on the actual record. Just like 'Lament', you have to see this live on stage. Only then everything falls in to place, now one can also see all the emotions, all the subtle sounds, Blixa's golden eyeshadow, Alexander's muscles when he plays his bass, Andrew skipping behind his snare drum, Jochen with vibrator on guitar, Moser who plays jazz drums on a steel plate, Felix who supplements the soundscapes with all kinds of knobs and keys (what is an enrichment for the band, that new guest!) Everything comes together when you hear, see and feel them play. Alles Im Allen!
A band that started off playing squats, slamming hammers on burning barrels, plays now, forty years later, dressed in luxurious tailor-made suits in the best halls of the world. Einsturzende Neubauten is the name of one of the most complex music groups ever. Their sound is rock hard in very soft melodies, romantic in hard beats. Alles Im Allen!
Their latest disc is about their city of Berlin, the neighbourhoods, the history, the atmosphere, between National Socialism, culture, history, decline and resurrection. All this brought with beautiful lyrics on heavenly music, with their typical industrial sounds coming from atypical instruments. Alles Im Allen, is Neubauten at their best.
Two show nights, twice more or less the same set list, twice a performance of their latest release with some older songs added. We were totally impressed by 'Sonnenbarke' which has never been performed live so well, and 'How Did i Die' from Lament which was a real highlight of the evening. But …luckily we didn't die!
Our trip across the river Spree in Berlin, the neighbourhoods and islands of the city from north to south was something of a rare beauty, so pure in text in music, with no light-show or video projections. The music stands for everything. Alles Im Allen! Also very cool to hear the song 'Rampe' twice, but each night in a completely different version, the version performed on Monday was perhaps one of their best live moments ever.
Somewhere along the road, someone told us it might be their last tour. If so, we can happily conclude they will go down in history as one of the best bands ever and that they are absolute the top notch, and not only in their genre. Everything one can wish for in a band, can be found within Einsturzende Neubauten. Mela-mela-mela....Alles Im Allen!
Yves VAN DER STRAETE
05/07/2022
---
Alexander Hacke, Andrew Unruh, Jochen Arbeit, Rudolf Moser, Felix Gebhard, Blixa Bargeld. De Neubauten anno 2022 live. De tour om hun veertig jarig bestaan te vieren met een paar jaar vertraging wegens…
Wie kwam om de hits te horen en vroeger werk was eraan voor de moeite. Het ging hier om hun nieuw album dat meer dan de helft van de setlist vulde. Alles Im Allen is hun laatste lp, die vooral in de Phase4 box versie (dubbel lp-versie) een absolute topper is.
Velen waren verbaasd dat dit album live op het podium veel sterker is dan op op plaat. Net als Lament moet je dit op de bühne zien. Dan pas komt alles los, alle subtiele klanken die je nu ook ziet, alle emoties die je ook voelt, Blixa's gouden oogschaduw, de spieren van Alexander als hij z'n bas aanraakt, Andrew die huppelt achter zijn snaredrum, Jochen met vibrator op gitaar, Moser die jazzdrumt op staalplaat, Felix die de soundscapes aanvult met allerhande knopjes en toetsen (wat een verrijking voor de band is die nieuwe gast!). Alles komt pas samen als je ze hoort, ziet en voelt. Alles im Allen.
Een band die begon in kraakpanden met hamers op brandende vaten en veertig jaar later in luxueuze maatpakken speelt in de beste zalen van de wereld. Einsturende Neubauten is de naam van één van de meest complexe muziekgroepen ooit. Hun sound is keihard in heel zachte melodieën, romantisch in harde beats. Alles im Allen.
Hun laatste schijf gaat over hun stad Berlijn, de wijken, de geschiedenis, de sfeer, tussen nationaalsocialisme, cultuur, geschiedenis, aftakelen en heropstaan. Dit alles op prachtteksten en hemelse muziek, met, jawel, hun typische industriële klanken op atypische instrumenten. Alles Im Allen, Neubauten op hun best.
Twee avonden, twee keer ongeveer dezelfde setlist, twee keer een voorstelling van hun laatste uitgave met een aantal oudere nummers. Wij waren totaal onder de indruk van Sonnenbarke dat live nog nooit zo goed gebracht is, en How Did I Die uit Lament dat een echt hoogtepunt was van de avond. We didn't die !
Onze trip over de rivier Spree in Berlijn en de wijken en eilanden van de stad van noord naar zuid was iets van een zeldzame schoonheid, zo puur in tekst in muziek, zonder lichtschow of projecties. De muziek staat voor alles. Alles im Allen. Heel tof om ook het nummer Rampe twee keer te horen in een totaal andere versie, de versie van de maandag is misschien wel één van de beste live momenten van hen ooit.
Iemand in de wandelpaden zei ons dat het misschien de laatste tour is. Als dit het orgelpunt is, dan kunnen we wel besluiten dat ze de geschiedenis mogen ingaan als één van de beste groepen ooit, en op de scene en niet enkel in hun genre absolute toppers zijn. Alles wat we goed kunnen vinden in een groep vinden we terug bij de Einsturzende Neubauten. Mela-mela-mela....Alles Im Allen.
Yves VAN DER STRAETE
05/07/2022
---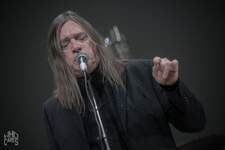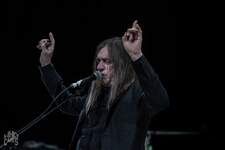 ---