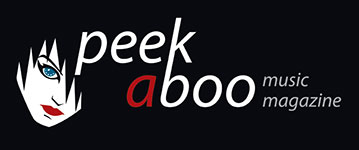 like this concert review
---
STAATSEINDE
Staatseinde live @Kinky Star - 14 mei 2022
Concert
EBM
•
Electro
•
Electro Wave
•
Synth Wave
•
Synthpop
24/05/2022, Jurgen BRAECKEVELT
---
On Saturday 14 May 2022, a spacecraft from the Netherlands landed in the centre of the historical city of Ghent. Three male-like figures appeared in a hazy light, dressed in Mr Spock-like outfits. They turned out to be equipped with some hardware like drum computers and analog synths. They name themselves Staatseinde. Which is Dutch for something like "End of The State".
They were also equipped with their own beer, brewed during the Corona pandemic (of course, it is even quite a drinkable beer, being Dutch). I suppose it's always nice to enjoy a good sip of barley beer during rehearsals in the rehearsal room. These beers came with a nice bonus: if you bought one, you got a download code from these aliens, printed on the bottle's label.
Anyway, three years ago they also performed at the Kinky Star during the Genste Feesten. Back then, after a miscreant had tipped half a pint onto the mixing board, the trio was doomed to play their set in mono. Was it payback time today? Sadly, when they had to start, not so many found their way to the Kinky Star for this intergalactic performance, But by the halfway mark, the enchanting siren songs had lured in some more people, giving them a nice crowd. Nevertheless, it was one hell of a performance! And even that is an understatement.
As for the set: nice structure and a historical overview of what the synth and electro scene has to offer. Because that is what makes Staatseinde: Diversity. From minimal and modest songs to very sturdy, almost old-school EBM stompers, and just about everything in between.
They opened the set with 'Wir Leben Roboter'. A matter of not kicking-in too hard right away. This was followed by 'Ruimtevaart' and 'Vi Aker Dit'. An invitation to gradually increase movement in the shack.
A number of hefty stompers followed, such as 'Blaue Augen' and 'Darüber Reden Wir Nicht' and 'Babyboom Dictators' which blew the roof off. When you see Der Neo bouncing through the venue like a whirlwind, without embarrassment or inhibitions, singing lyrics in Dutch, English, German and I know a lot about the declamation: it can't get much crazier than this.
What stood out compared to their previous concert: the sturdiness. This performance was filled with heavy beats and rhythms. One sucker punch after another.
Afterwards, these gentlemen told me they looked back at their own sets and music, they had performed online during the corona pandemic, with a critical view. It was decided to omit the laptops, also to limit the hardware somewhat and to really go for the basics. And we must admit, it didn't do Staaseinde's sound and performance any harm. Quite the opposite! Sturdy, tight played, an experience full of joy. And yet musically so diverse! These gentlemen cover the spectrum from minimal to synth-wave to solid EBM so well.
As encore songs like the overwhelming 'Repa(rierbier)', that sounded noticeably stronger live, than the great synth/future pop version they delivered for the compilation album Wave Earplug n°2.
To conclude, a swipe from the Holy Scriptures of Staatseinde: 'Eigen Werken Des Des Duivels'. Where I myself, and others in the audience, were laid on of hands, to feel and be released of our sins by them. Or maybe the opposite? Well, anyway, I was permeated by the Spirit of Staatseinde. I hope it was the demonic divinity that inspired me.
If I were asked to sum up this performance in one word: complete! Music-wise, show-wise, sound-wise and a great selection from the rapidly growing oeuvre of these sympathetic Dutchmen, it was all top notch! They simply rocked the house, and above all, they seem to do so with such a pleasure, one can feel their music resonate into the smallest fibers of your exhausted danced-tired body.
After the gig they drank another beer and hurried back into their spacecraft to fertilize other planets with their musical psychosis. A trip without a mess. Give this trio a place on your stage. Make them land again and again all over the place and enthrall the audiences, only then can they continue to conquer the musical universe. If someone deserves and is allowed do this, then it certainly is Staatseinde!
Jurgen BRAECKEVELT
24/05/2022
---
Op zaterdag 14 mei landde in het centrum van de historisch belangrijke stad Gent een ruimtetuig uit Nederland. In een wazig licht verschenen drie op mannen lijkende gedaantes, getooid in een Mr Spock-alike outfit. Bleken ze op de koop toe voorzien van wat hardware in de vorm van drumcomputers en analoge synths. En ze noemen zichzelf Staatseinde.
Met tijdens de coronapandemie door de band zelf gebrouwen eigen bieren (jawel, Néderlands goéd drinkbaar bier!). Niet in het minst om in het repetitielokaal tijdens rehearsels zelf te kunnen genieten van een flinke teug gerstenat. Met een fijne extra: als je er ééntje dronk vond je op het etiket een downloadcode voor een song van de aliens.
Drie jaar geleden speelden ze op de Genste Feesten ook al ten dans in de Kinky Star. Doordat een onverlaat een halve pint op het mengpaneel had gekieperd, was het drietal toen gedoemd om te spelen in mono. Payback -time? Anyway: bij aanvang vonden een 12-tal mensen de weg naar de Kinky Star voor dit intergalactische optreden. Tegen halfweg hadden de bezwerende sirenesongs toch nog een aardige groep extra mensen binnen gelokt. In elk geval was het een dijk van een optreden. En zelfs dat is nog een understatement.
Wat de set betreft: een mooie opbouw en een historisch overzicht van wat de synth- en electroscène te bieden heeft. Want dat is wat Staatseinde lééft: diversiteit. Van minimal en eerder ingetogen songs tot heel stevige bijna oldschool EBM en zowat alles daartussen.
Ze openden de set met Wir Leben Roboter. Kwestie van niet meteen té hard toe te slaan. Daarna volgden Ruimtevaart en Vi Aker Dit. Een uitnodiging tot toch stilaan wat beweging in de keet.
Een aantal stevige stompers zoals Blaue Augen en Darüber Reden Wir Nicht en babyboom Dictators zorgden ervoor dat het zaakje ontplofte. Als je Der Neo als een gek doorheen de zaal ziet vliegen als een wervelwind, zonder gène of remmingen, teksten in Nederlands, Engels, Duits en weet-ik-veel-wat declamerend: het kan al niet veel gekker worden dan dit.
Wat opviel ten opzichte van vorige keer dat ik hen aan het werk zag: de stevigheid. Dit optreden stond bol van heel stevige beats en ritmes. De ene punch na de andere. Naderhand vertelden de heren me dat ze tijdens corona, na een aantal online optredens, hun eigen sets en muziek door een kritische lens hadden bekeken. Er werd gekozen de laptops achterwege te laten, de hardware wat te beperken en echt te gaan voor de basis. Wel: dat heeft de Staaseinde die ik te zien kreeg geen windeieren gelegd. Stevig, zuiver gespeeld, een beleving van jewelste, plezier. En Muzikaal zo divers! De heren dekken het spectrum van minimal tot synthwave en stevige EBM.
Als bis-nummers kwam het overweldigende Repa(rierbier) dat ook hier live weer merkelijk steviger klonk dat het bovenal geweldige synth-/futurepopnummer dat ze leverden voor de plaat Wave Earplug n°2.
Om af te sluiten een veeg uit de Heilige Schrift van Staatseinde: Eigen Werken Des Duivels. Waar ikzelf in het publiek de hand kreeg opgelegd om mijn zonden te voelen en daarvan verlost te worden. Of net niet? Anyway: ik werd doordrongen van de Staatseinde Geest. Ik hoop dat het de duivelse godsheid was die me de bezielde.
Mocht mij de vraag gesteld worden om dit optreden in één woord te vatten: compleet! Muzikaal, qua show, klank was top, een waaier van het toch wel sterk groeiend oeuvre van deze sympathieke Nederlanders. Ze spelen het boeltje eenvoudigweg op een hoopje. En bovenal doen ze dat met een plezier dat voelbaar is tot in de kleinste vezel van het moe gedanste lijf. Ze dronken nog een biertje en kropen ijlings terug in hun ruimtetuig om andere planeten te gaan bevruchten met hun muzikale psychose. Een trip zonder troep. Geef dit drietal een plaats op alle podia. Laat hen keer op keer landen en het publiek in vervoering brengen, om dan verder het muzikale heelal te gaan veroveren. Als iémand het verdient, dan is het Staatseinde wel.
Jurgen BRAECKEVELT
24/05/2022
---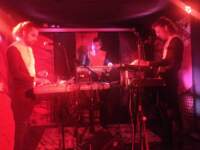 ---