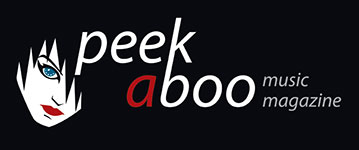 like this vinyl review
---
STAATSEINDE
Neue Zyklus
Music
•
Vinyl
Minimal
•
Synth Wave
[91/100]

Enfant Terrible
16/11/2017, Jurgen BRAECKEVELT
---
Dutch minimal synth-duo Der Neo (synths, vocals) and Andy Dufter (synth, programming, vocals) have already implemented various musical attacks on the 'electro-world'. 'Neue Niederländische Welle' music, they call it. In September Neue Zyklus, their 6-song debut EP, will be released on Enfant Terrible. The EP will be limited to 250 copies only, and it's finger-licking good, so I would recommend to the lovers of cool Minimal Synth-Wave, order it fast! That's the only thing we can say after just a listening a couple of … or rather …. 10 times to it.
Min Min instantly sets the tone. Vocoder cuts-up vocals, a pounding drum machine mixed with some amazing retro sounding analog pleasure. It sounds retrospective as well as futuristic, sounds simple but it isn't, it sounds like a wall. Only some 4 minutes later, Kosmos drills a way towards your eardrums. Sung in German, the song sounds very poppy and retro and it reminds me a little of Welle:Erdball.
Then we will get a cover-version of I Would Die 4 You (from Prince), although under the name Darling. Taking-on a song of the godfather of pop and getting away with it, it works out pretty well for Staatseinde! A delicious eighties Synth-pop sound with a melange of synths really revives this song.
But enough melancholy, time for tempo and synth-pop of the better kind with Just Chaos. It's not very recognisable but the original is from Ace Of Base! Don't let the song title misguide you … this is beautiful, melodic, well-sounding synth-pop that flashes you back to the eighties.
And then again, it's back to Welle:Erball sounds with Volar. Although I don't think the Commodore 64 was taken down from the shelves, it surely sounds like that. Almost a sing-a-long if you hear the catchy melody. It makes you feel happy while sliding with wiggling hips across the foggy dance floor.
Unfortunately, we have to make do with these only these 6 tracks on this EP. So, Yedo is the closure song and proves once more this band can do it all. It's up-tempo, hooky, strong and slamming... take all those ingredients together and you get damn close to EBM. Some more aggression in the build-up, though it is still the synths that take the upper hand. In a near mythical atmosphere, the super dry rhythms continue to roll and thunder to the bitter end.
With this Neue Zyklus EP Staatseinde put themselves firmly on the electro-world map. The Dutch duo also included a fancy business card with a golden bow logo.
Jurgen BRAECKEVELT
16/11/2017
---
Het Nederlandse minimal synth-duo Der Neo (synths, vocals) en Andy Dufter (synth, programming, vocals) pleegde al verschillende muzikale aanvallen in electroland. De 'Neue Niederländische Welle', zo noemen de olijke Nederlanders hun muziek. Half september komt Neue Zyklus, hun 6 songs tellende debuut-EP uit op Enfant Terrible. De EP verschijnt op 250 exemplaren, dus er snel bij zijn is een must... en de liefhebber van kille minimale synthwave zal er de vingers bij aflikken. Dat is het enige wat we al met zekerheid kunnen onthullen na een luisterbeurtje of...10.
Min Min zet meteen de toon. Een vocoder doorklieft de stemmen, een machinale drumbeat wordt zwaar gemengd met geweldig retro klinkend analoog muzikaal genot. Het klinkt even retro als futuristisch, zit al bij al niet zo simpel in elkaar, maar klint als een dijk. En een kleine 4 minuten later boort Kosmos zich een weg richting trommelvliezen. De tekst is in het Duits. De song klinkt heel poppy en retro, en ik kan me niet van de indruk ontdoen een ferme scheut Welle:Erdball te horen.

Daarna krijgen we een cover van I Would Die 4 You van Prince, weliswaar onder de naam Darling. Een nummer van the godfather zelve aandurven en alle eer aandoen. Het lukt Staatseinde met bravoure! Een heerlijke eighties synthpop-sound laat deze song herleven in een melange van synths.

Genoeg melancholie, tijd voor tempo en synthpop van de betere soort met Just Chaos. Het zal onwaarschijnlijk klinken, maar het origineel is van Ace Of Base! De titel typeert het nummer, wel integendeel. Dit is een mooi melodieuze, lekker klinkende synthpopsoort die de eighties terugbrengen anno 2017.
Dan gaat het weer even de Welle:erdball-toer op met Volar. Hoewel ik niet het gevoel heb dat de Commodore 64 van stal werd gehaald, klinkt het toch zo. Een halve meezinger als je de aanstekelijke melodie hoort. Je wordt er vrolijk van, het doet je heupwiegen en tegelijk verder schrijden over een in witte mist gehulde dansvloer.

Jammer genoeg moeten we het wat deze EP betreft met 6 nummers doen. Yedo is de afsluiter en toontn dat de band van alle markten thuis is. Het heeft tempo, is hoekig, robuust, dreunt.... als je die elementen optelt kom je héél dicht bij EBM. Wat meer agressie in de opbouw van de song, hoewel het toch de synths zijn die de overhand houden. In een bijna mythische atmosfeer dondert de kurkdroge ritmesectie verder.
Staatseinde zet zichzelf met deze EP heel sterk op de kaart. Het Nederlandse duo bezorgt hier een visitekaartje met een gouden strik rond.
Jurgen BRAECKEVELT
16/11/2017
---
---