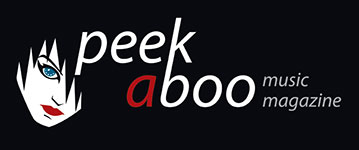 like this concert review
---
ILLUMININE
WOUTER DEWIT
Cultuurcentrum Mechelen

27.10.2017
Concert
Classical
•
Neoclassical
•
Post Classical
[90/100]

02/11/2017, Ward DE PRINS
---
Last Friday, Illuminine performed at the Cultuurcentrum Mechelen, preceded by a concert by Wouter Dewit.
Wouter is the pianist of Illuminine and he just released his own second album Still. And in Mechelen the presentation of that album took place with 4 musicians. Wouter himself on piano, accompanied by cello, violin & double bass. The spherical compositions allowed me to dream away while being submerged in Wouter's wonderful musical world, in which semi-repetitive post-class melodies create a beautiful melancholic atmosphere, similar to compositions of Nils Frahm or Illuminine, but with a strong entity of its own. The intensity & beauty of the compositions grabbed me and kept me entranced during the entire gig, overwhelming me intensely. And since it was a CD release concert, afterwards I could buy the album, which is now playing continously on repeat.
But my main reason for coming to this Autumn Falls event was of course Illuminine, for some years, one of my favourite Belgian groups. As in previous concerts, Kevin Imbrechts and his loyal musicians brought a total spectacle, intensely engaging. With the proper (scarce but sublime) lighting and projections, the compositions of both albums were supported & with the exception of one intermediate applause from the audience, this was pure enjoyment being immersed in a minimalist world in which it is allowed and even encouraged to enjoy slowness and pure beauty. And despite the fact that I've seen Illuminine performing a couple of times already now, they gave me (once again) some real goosebumps moments, and that's basically due to the beautiful compositions, but certainly also for a big part as a result of the empathy of the musicians who created a sublime soundtrack with piano, trumpet, violin cello, guitar and electronics.
As this was the last concert of 2017 for Illuminine, we will have to wait until 2018 for another chance to see & hear the magic music by Kevin and his companions. Luckily, it's almost 2018 !
Ward DE PRINS
02/11/2017
---
Afgelopen vrijdag trad Illuminine op in het Cultuurcentrum Mechelen, voorafgegaan door een concert van Wouter Dewit.
Wouter is pianist bij Illuminine en bracht net zijn tweede eigen album Still uit. In Mechelen gebeurde de presentatie van dat album met 4 muzikanten. Wouter zelf op piano, met begeleiding van cello, viool & contrabas. De sferische composities lieten me wegdromen en ingetogen mijmeren in Wouter's wonderlijke muzikale wereld, waarin semi-repetitieve post-klassieke melodieën een prachtig melancholische sfeer oproepen, gelijkaardig aan deze van Nils Frahm of Illuminine doch met een sterke eigen entiteit. Het hoeft dan ook geen betoog dat dit optreden me vastgreep en pas na een klein uurtje terug losliet om verweesd en verdwaasd achter te blijven na zoveel moois. (Al goed dat het een CD release was en ik nadien het album kon kopen, dat intussen al de hele tijd op repeat staat.)
Maar ik was in eerste instantie gekomen voor Illuminine, sinds enkele jaren toch wel één van mijn favoriete Belgische groepen. Net zoals op vorige concerten brachten Kevin Imbrechts en de schare trouwe muzikanten die hij steeds meebrengt een intens bekijvend totaalspektakel. Met de juiste (schaarse doch sublieme) verlichting en projecties worden de composities van beide albums ondersteund & op één tussentijds applaus van het publiek na was dit puur genieten en (een tweede keer) ondergedompeld worden in een minimalistische wereld waarin nog eens genoten mag worden van traagheid en pure schoonheid. En ondanks het feit dat ik Illuminine nu al een aantal keren live aan het werk heb gezien, slagen ze er steeds in om me een aantal ware kippenvelmomenten te bezorgen en dat ligt in eerste instantie aan de prachtige composities, maar toch ook zeker voor een groot deel aan het inlevingsvermogen van de muzikanten die met piano, trompet, viool, cello, gitaar en elektronica een subliem klanktapijt creëerden.
Aangezien dit het laatste concert voor 2017 was van Illuminine zal het even wachten zijn voor een volgend optreden, maar het is weldra 2018, dus hopelijk snel opnieuw een kans om Kevin en kompanen nog een keer live te mogen meemaken !
Ward DE PRINS
02/11/2017
---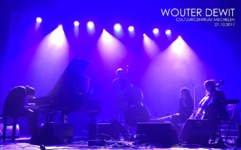 ---