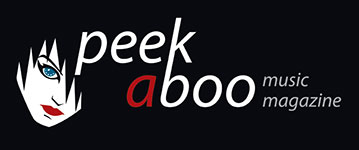 like this concert review
---
JO QUAIL
Jo Quail meets Barbara Hepworth in Remagen, 11.08.2016
Concert
Classical
•
Experimental
•
Neoclassical
•
Soundscape
•
Soundtrack
[90/100]

11/12/2016, Ward DE PRINS
---
From 22nd May to 28th August, the Arp Museum in Remagen organizes a retrospective of the British artist Barbara Hepworth. In that context, the British cellist Jo Quail was invited to give a concert in the museum, inspired by the objects of Hepworth.
The combination of those two brilliant women was hard to resist. Early in the afternoon, I went to the museum, of which the entrance is situated at the old train station of Remagen. Via an underground tunnel and a phenomenal elevator we entered the ultra-modern museum, with a stunning view over the Rhine.
Together with Tate Britain and the Kröller-Müller Museum, the Arp museum gathered over 100 works by Barbara Hepworth. Along with Henry Moore and Ben Nicholson, this sculptor was pioneering and innovative in the first half of the last century. And displayed in this beautiful museum, you get the perfect surroundings and time to see these art works up close and immerse yourself in the vision and wonderful creations of Barbara Hepworth.
Complete relaxed by this museum visit, enhanced with a nice meal at the old train station, I was ready for Jo Quail, who brought a performance divided in two sets.
The first set was entirely devoted to Five Incantations (her new album), presented in its entirety. Armed only with an electric cello and a looping station, Jo knows better than anyone to create a trance inducing soundscape in which you may and can lose yourself completely. All the actions, all the chords are allowed to grow harmonious compositions Beside the classic play, the cello gets also caressed, hit and strummed, or played with the back of the bow or even through the wooden frame of the cello, and all of that to create these magical sounds, like the waves of the sea or a hypnotic heartbeat. Perhaps it was this location, or the big picture of Hepworth above Jo Quail, or the magical view of the Rhine, but this concert was spot on and gave me goose bumps several times. Five Incantations is an absolutely brilliant album and live a delight for ear and eye.
After the first set, a short pause gave the audience the time to reflect on this music and immerse again in the atmosphere of Barbara Hepworth.
And then there was the second part. Jo began a new song, tentatively without a name and within a premature state, but as she said herself: such songs can only grow by sharing them and integrating the magic that is created with an audience. This song was based on a ruling by Barbara Hepworth (*), who found that her left hand wase presenting her thoughts, relaxed and sensitive, while her right hand carried out the instructions and thoughts. Likewise, Jo wanted to create a song that felt comfortable for the left hand, and was further supported by the right one. And even though this track is still very pure, without a lot of looping, you could hear and feel the atmosphere already very intensely. I'm curious how this number will evolve.
After this new song, three older songs were performed, which are – in my opinion - the most popular from her work. The upbeat Laurus, the slow but oh so melodic South West Night, and the mesmerising Adder Stone formed the brilliant end of a magical evening.
Arp museum : http://arpmuseum.org/
Jo Quail : http://www.joquail.co.uk/
(*) My left hand is my thinking hand. The right is only a motor hand. This holds the hammer. The left hand, the thinking hand, must be relaxed, sensitive. The rhythms of thought pass through the fingers and grip of this hand into the stone. It is also a listening hand. It listens for basic weaknesses of flaws in the stone; for the possibility or imminence of fractures. [Barbara Hepworth]
Ward DE PRINS
11/12/2016
---
Het Arp Museum in Remagen organiseert van 22 mei tot 28 augustus een retrospectieve omtrent de Britse kunstenares Barbara Hepworth. In dat kader werd de Britse celliste Jo Quail uitgenodigd om in het museum, geïnspireerd door de objecten van Hepworth, een concert te geven.
Een dergelijke combinatie van twee briljante vrouwen kon ik niet aan me voorbij laten gaan en dus trok ik ruim op voorhand naar het museum, waarvan de ingang zich aan het oude station van Remagen bevindt, via een ondergrondse tunnel en een fenomenale lift die je naar het ultramoderne museum brengt, en dat met een prachtig uitzicht over de Rijn.
Samen met Tate Britain en het Kröller-Müller Museum bracht het Arp Museum meer dan 100 kunstwerken van Barbara Hepworth bij elkaar. De kunstenares was samen met Henry Moore en Ben Nicholson in de eerste helft van de vorige eeuw baanbrekend en innovatief. Uitgestald in dit prachtige museum, kreeg je de tijd om de kunstwerken van dichtbij te bekijken en jezelf onder te dompelen in haar visie en wonderlijke creaties.
Volledig Zen door dit museumbezoek, uitgebreid met een relaxte maaltijd in het oude treinstation, was ik helemaal klaar voor Jo Quail, die een set in twee delen bracht.
De eerste set werd geheel gewijd aan Five Incantations (haar nieuwe album) en dit werk werd ook als één geheel uitgevoerd. Enkel gewapend met een elektrische cello en een loopingstation weet Jo als geen ander een trance opwekkend klanklandschap te creëren waarin je jezelf helemaal kan en mag verliezen. Alle acties, alle akkoorden zijn toegelaten om de harmonieuze composities te laten groeien, en zo wordt er naast het klassieke spelen ook gestreeld, geslagen en getokkeld op de cello, maar wordt ook de achterzijde van de strijkstok of het houten kader van de cello bespeeld om de golven van de zee of een hypnotiserende hartslag te creëren. Misschien was het dit kader, of de grote foto van Hepworth boven Jo Quail, of het magische uitzicht over de Rijn, maar dit concert ging door merg en been en bezorgde me ettelijke keren kippenvel. Five Incantations is dan ook een absoluut briljant album en live een streling voor oor en oog.
Na de eerste set werd een korte pauze ingelast, waarbij het publiek zich in het museum opnieuw kon onderdompelen in de sfeer van Barbara Hepworth, nagenietend van de vijf bezweringen.
En dan was er het tweede deel, waarbij Jo begon met een nieuw nummer, voorlopig zonder naam en in een premature staat, maar zoals ze zelf zei: dergelijke nummers kunnen enkel ontstaan en groeien door ze te delen en de magie die ontstaat met een publiek erin te integreren. Dit nummer was trouwens gebaseerd op een uitspraak van Barbara Hepworth (*), die vond dat haar linkerhand haar gedachten vormden, relaxed en gevoelig, terwijl haar rechterhand ze uitvoerde. Zo ook wilde Jo een song creëren die aangenaam aanvoelde voor de linkerhand, en door de rechter werd ondersteund. En ook al was deze track nog zeer puur, zonder veel looping, hoorde en voelde de sfeer al zeer intens aan. Ik ben benieuwd hoe deze compositie verder zal groeien.
Na dit nieuwe nummer werden er nog drie nummers opgevoerd, die volgens mij de meest populaire uit haar oeuvre zijn. Het opdwepende Laurus, het trage doch o zo melodieuze South West Night, en afsluiter Adder Stone vormden het briljante einde van een magische avond.
Arp museum : http://arpmuseum.org/
Jo Quail : http://www.joquail.co.uk/
(*) My left hand is my thinking hand. The right is only a motor hand. This holds the hammer. The left hand, the thinking hand, must be relaxed, sensitive. The rhythms of thought pass through the fingers and grip of this hand into the stone. It is also a listening hand. It listens for basic weaknesses of flaws in the stone; for the possibility or imminence of fractures. [Barbara Hepworth]
Ward DE PRINS
11/12/2016
---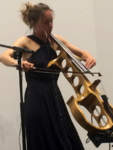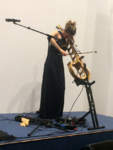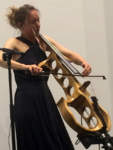 ---