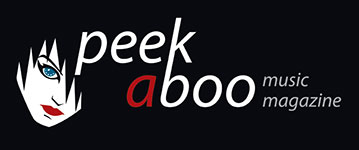 like this cd review
---
PANTSERFABRIEK
Krachtpatser
Music
•
CD
EBM
[80/100]

Hack Die Rübe
11/12/2016, Didier BECU
---
EBM is still alive, although the genre is pushed toward the underground these days. Out of these dark basements comes Pantser Fabriek, the one man band by Willem Witte, a man you also might know of his dark folk band Stryd Wolf.
The factory and the gear on the cover show it all: this is pure EBM. For Willem there are no language barriers and he sings in three languages: of course in German, English (with a funny accent) and Dutch. Dutch EBM is that possible? In all fairness, on paper it looks like a true horror, but in Willem's case you are in good hands.
The two openers Krachtpatser and Muren En Stekeldraad give the genre another dimension. Something you have not heard yet, unless you own the split release with Project 26 which is also released on Hack Die Rübe (a spin off label of Minimal Baby).
This is in EBM at its most diverse. EBM Girl has a beautiful melody, but there's also some rock 'n roll included. EBM And Rock 'n Roll could actually have been a great song by Sigue Sigue Sputnik, but it's done by Pantser Fabriek from the Netherlands.
Of course, an EBM record has to include some DAF beats and you get them on Feel The Steel. Not original, you think? Perhaps not, but Willem just wants to make EBM that explodes in your face, and it does!
Anything is possible for Pantser Fabriek, even the pretty messy (but catchy) industrial rock of Danger Zone.
On the energetic Jugendliebe, Willem gets the support of Stev Andres of the German underground band DFOW. Koos De Prater gives support on the DAF-like Du Meine Kraft (admit it, with such titles it is normal that we are think of Robert Görl and Gabi Delgado).
The lyrics of Fahrad Fahren can not be more simple: Fahrad fahren, ich möchte gerne Fahfrad fahren auf der Autobahn, is the only thing you hear, but it is fantastic!
Krachtpatser is a brilliant EBM CD, straight from the heart and even more straight from the throat.
Didier BECU
11/12/2016
---
EBM leeft nog, hoewel het genre meer en meer in de richting van underground wordt geduwd. Een project dat je in deze donkere kelders aantreft is het Nederlandse éénmansproject Pantserfabriek van Willem Witte, een man die je misschien ook kent van zijn darkfolkband Strydwolf.

Het fabriekje en het tandwiel op de hoes laten er echter geen twijfel over bestaan: dit is pure EBM. Voor Willem zijn er geen taalbarrières en hij zingt dan ook in drie talen: uiteraard in het Duits, Engels (met een sappig accent) en Nederlands. Nederlandse EBM kan dat? In alle eerlijkheid klinkt zoiets op papier als een ware verschrikking, in het geval van Willem ben je echter in goede handen.

De twee openers Krachtpatser en Muren En Stekeldraad geven het genre meteen een andere dimensie. Zoiets heb je nog niet eerder gehoord, tenzij je de splitrelease met Projekt 26 op datzelfde Hack Die Rübe (een spinoff-label van Minimal Baby) in je collectie hebt.

Dit is EBM in zijn meest diverse vorm. EBM Girl heeft een prachtige melodie, maar het mag ook best met wat rock 'n roll. EBM And Rock 'n Roll zou een uitstekende song van Sigue Sigue Sputnik kunnen zijn, maar het is wel degelijk Pantserfabriek uit Nederland.

Een EBM-plaat kan natuurlijk niet zonder de nodige DAF-beats en die krijg je in Feel The Steel. Niet origineel, denk je? Hoeft ook niet, Willem wil gewoon EBM maken die in je gezicht ontploft en dat gebeurt ook.

Alles is mogelijk bij Pantserfabriek, zelfs de vrij rommelige (maar aanstekelijke) industrial rock van Danger Zone.
Op het energieke Jugendliebe krijgt Willem de steun van Stev Andres van de Duitse undergroundband DFOW. Ook Koos Den Prater schiet ter hulp op het (tja) DAF-achtige Du Meine Kraft (geef toe, met zo'n titels is het normaal dat we het over Robert Görl en Gabi Delgado hebben).

Simpeler kan een tekst als Fahrad Fahren niet zijn: Fahrad fahren, ich möchte gerne Fahfrad fahren auf der Autobahn, is het enige wat je hoort, maar het is wel fantastisch!

Krachtpatser is een briljante EBM-plaat, recht uit het hart en nog rechter uit de keel.
Didier BECU
11/12/2016
---