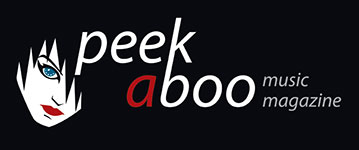 like this cd review
---
AIMAPROJECT
Di AimA Il Segno
Music
•
CD
Dark Folk
•
Dark Wave
•
Ethereal / Heavenly Voices
•
Folk / Ethnic / Tribal
•
Industrial
•
Martial
•
Neoclassical
12/10/2019, Tom PLOVIE
---
I recently introduced the Italian artist AimA to the readers of Peek-A-Boo, with her album and book 'Haiku Irregolari In Forma Di Musica'. It is a mystery to me why her previously released CD 'Di AimA Il Segno' (2012) never received a review on PAB. I want to make clear that this album belongs here by writing the following review. Thanks to Dimi Brands from Dark Entries for introducing me to this impressive project.
The nicely designed CD (digisleeve in black and white) with the nine Greek muses depicted in it -dancing in a circle- immediately explains the approach of the album. After many collaborations with various fellow artists, it was time for AimA to release a compilation. Some of those collaborations turned out to be one-off, others resulted in separate projects and or albums. It's quite amazing how coherent this compilation has become and how strong the songs sound both separately and together.
For the readers who would like to read some biographical material about AimA, I refer to the above-mentioned CD review.
The album opens with a real hymn to the sun. It is also an ode to classical antiquity because this poem originates from The Orphic Hymns: a collection of 87 short, religiously based poems on Orphism (6th century BC): a mystical cult with Orpheus as binding factor. Together with Pino Carafa (Camerata Mediolanese) she forms the duo Insula Lucis. On "'Eis 'Elion" AimA opens with evocative wordless singing and continues smoothly into Ancient Greek. The English translation is subtly recited by Christopher Wood. A promising start!
With Roberto Del Vecchio, AimA forms another duo: Les Jumeux Discordants. Their debut CD 'Sang pur Sang' was released in 2010 and five years later they released the phenomenal 'Les Chimères', largely based on the poetry by the French poet Gérard de Nerval (1808-1855). There are various comparisons to make with Diamanda Galàs: in terms of style, sound and theme. "Stanze" was the opening song on that CD and is provided with text by the Italian poet/translator Angelo Tonelli. The solid rhythms and somewhat industrial sound, in combination with AimA's reciting Italian, gives the song a good marching vibe.
The link with her album 'Haiku Irregolari In Forma Di Musica' (of which the title track can be found on DAIS too) becomes clear on the mystical and contemplative sounding "Lux". She recites one of her own written irregular haikus: accompanied by Tibetan bells and long, deep cello notes played by Annamaria Bernadette Cristian (aka DettY). Together with this cellist she forms Daimatland.
"Nacht" was created in collaboration with Gerhard Hallstatt from Allerseelen. He recites a poem about how mountain tops (!), reptiles, forest animals and even monsters from the deepest of the seas are struck by sleep. Hypnos has clearly done his job. There is a repetitive but energetic beat and cello support by DettY. AimA's wordless and ethereal singing offers a nice counterweight. Hallstatt can also be heard on "Serpentis Dorsa Marina" where he recites a German passage from another work by Tonelli.
Piano is present on the dreamy "Occhi di Notte", also based on a haiku written by AimA and in collaboration with Pino Carafa. It is a short, somewhat delicate but appropriate interludium.
There is not much time for contemplation. With "Neues Fortleben" she sings in German: a translation of another Italian poem by Tonelli. It comes from his 'Canti di Apocalisse ed Estasi'. And the imagery is quite apocalyptic indeed: beheaded children, a raven god, three demons (the Holy Trinity?), a plague epidemic... Supported by organ and martial drum (this time in collaboration with Im Einsatz) I hear striking similarities with the Italian neoclassical darkwave from Ataraxia. The cadence of different accentuation in the vocals gives the song an almost uncomfortable rocking character. It doesn't soothe at all.
An absolute highlight, to pick one, is also the longest track: "Homo Aureus", originated from the FEHU-project (2006). An oriental sound is evoked by the use of various ethnic instruments. They need to make a transcendal connection of the inner self with the universe (microcosm versus macrocosm). Calling for a trance requires little effort on this music. I imagine myself somewhere in the Middle East, at dusk in a mystical-looking courtyard, and viewing a ritual that I don't understand. The influence of Dead Can Dance is hard to ignore. Halfway through the song the percussion stops and there is only the sound of running water. AimA starts reciting a text written by Zosimos of Panopolis, a Greek alchemist (4th century AD). It explains the title of the track, which I translated with Google and found out it means "a golden ring". The mysticism is clearly present (the echo!) and gradually the instrumentation starts to play again. AimA as an ancient priestess, that's how the picture fits with this song. The Greek texts that have been used are printed in the accompanying booklet which shows the eye for detail and workmanship.
With "Horus" we can even go further back in time: the title refers to the Egyptian falcon god (son of Osiris and Isis) - also depicted in the textbook. It is again a track from Les Jumeaux Discordant out of 'Les Chimères'. This time we do hear a text written by Gérard de Nerval, sung in the original French. AimA opens the first two verses enchanting à la Galàs (with ritual gongs). The other two verses are sang in a totally different way: very ethereal à la Francesca Nicoli (Ataraxia). It shows how versatile this Italian singer is.
A second Orphic Hymn is "Thanàtou Thumiama" or the hymn to death. A video clip of this song can be found on YouTube (search for "Insula Lucis - Hymn to Death"). Four women, veiled in black, perform an occult choreography around a woman in white lying on the floor. A priestess (or personification of Death) with a mask and totally dressed in black comes and beholds the sacrifice, on black pointe shoes! Death spares no one. Again it is very ritual music with a catchy rhythm.
Wutanes Heer cooperates on two tracks: "Il Contemple la Lune" and "Il Matrimonio Del Cielo Con La Terrra". Both are musically a bit different compared to the other tracks: using very dark soundscapes, loud industrial beats, a lot of diffuse and atonal sounds. They are more intense and challenging to listen to, but that makes them more interesting too. AimA's vocals swing from a whispering parlando to high-pitched singing or irregular declamation and mesmerizing recitation.
The last track is a surprising cover of Jefferson Airplane's "White Rabbit", in an arrangement by Insula Lucis. This classic gets a real wave makeover that fits perfectly with the psychedelic lyrics based on Lewis Carroll's 'Alice in Wonderland'. 'Di AimA Il Segno' ends with a fitting crescendo on the dormouse advice: "Feed your head!". Ending with quite a bang.
Just when exploring this new musical adventure which is called Aimaproject, she entrusts me that no more musical collaborations will take place. "We don't know the future, maybe a miracle can happen" she texts me. It touches me deeply and makes me a bit sad. For now there's no alternative but to press the repeat button and enjoy this wonderful music again, and again.
Of the limited edition of 199 pieces, around 30 copies are still available. They can be ordered through her own website at www.aimalichtblau.com (feel free to ask her to sign) or via Show Me Your Wounds Production.
Tom PLOVIE
12/10/2019
---
Onlangs introduceerde ik de Italiaanse kunstenares AimA bij de lezers van Peek-A-Boo met haar album en boek 'Haiku Irregolari In Forma Di Musica'. Hoe het komt dat haar eerder verschenen plaat 'Di AimA Il Segno' (2012) nooit een review op PAB kreeg, is mij een raadsel. Dat dit pareltje hier een terechte plaats heeft wil ik met onderstaande bespreking duidelijk maken. Met dank trouwens aan Dimi Brands van Dark Entries om mij op dit indrukwekkend kleinood te wijzen.
Op de mooi vormgegeven cd (digisleeve in zwart-wit), met daarin de negen Griekse muzen afgebeeld -zwierig dansend in een kring- staat meteen de insteek van de plaat. Na vele samenwerkingen met diverse collega-artiesten werd het voor AimA tijd om een verzamelaar uit te brengen. Sommige van die collaboraties bleken éénmalig, andere mondden uit in aparte projecten en/of albums. Verbazend hoe coherent deze verzamelaar is geworden en hoe sterk de songs apart én tezamen klinken.
Voor de lezers die graag wat biografisch materiaal over AimA willen lezen verwijs ik graag naar de eerder aangehaalde cd-bespreking.
Met een heuse hymne aan de zon, zo opent het album. Het is meteen een ode aan de klassieke Oudheid want dit gedicht is afkomstig uit The Orphic Hymns: een bundel van 87 korte, religieus getinte gedichten die gebaseerd zijn op het Orfisme (6de eeuw v.Chr): een mystieke cultus met Orpheus als verbindende factor. Samen met Pino Carafa (Camerata Mediolanese) vormt ze het duo Insula Lucis. Op "'Eis 'Elion" opent AimA met evocatief woordloos gezang om vervolgens vlotjes in het Oud-Grieks verder te gaan. Het dwingende ritme bezweert instant. De Engelse vertaling wordt subtiel door Christopher Wood gereciteerd. Een stemmige start!
Met Roberto Del Vecchio vormt AimA vervolgens het duo Les Jumeux Discordants. Hun debuut-cd 'Sang pur Sang' verscheen in 2010 en vijf jaar later brachten ze het fenomenale 'Les Chimères' uit, grotendeels gebaseerd op de gelijknamige poëzie van de Franse dichter Gérard de Nerval (1808-1855). Daar vallen diverse vergelijkingen met Diamanda Galàs op: qua stijl, sound én thematiek. "Stanze" was op die cd het openingsnummer en is van tekst voorzien door de Italiaanse dichter/vertaler Angelo Tonelli. De stevige ritmes en ietwat industriële sound, in combinatie met AimA's declamerende Italiaans, zorgen voor een flinke mars.
De link met haar album 'Haiku Irregolari In Forma Di Musica' (waarvan de titeltrack ook op DAIS terug te vinden is) wordt duidelijk op het mystieke en contemplatieve "Lux". Daar reciteert ze één van haar eigen geschreven onregelmatige haiku's: heel passend begeleid met Tibetaanse belletjes en lange, diepe cello-noten gespeeld door Annamaria Bernadette Cristian (aka DettY). Samen met deze celliste vormt ze Daimatland.
"Nacht" ontstond in samenwerking met Gerhard Hallstatt van Allerseelen. Hij reciteert er een gedicht over hoe bergtoppen (!), reptielen, wouddieren en zelfs monsters uit het diepste der zeeën door slaap geveld worden. Hypnos heeft duidelijk zijn werk gedaan. Ook hier is er weer een repetitieve maar energieke beat én cello-ondersteuning door DettY. AimA's woordloze, zweverige zang biedt een mooi tegengewicht. Hallstatt is ook nog te horen op "Serpentis Dorsa Marina" waar hij een Duitse passage uit een ander werk van Tonelli voordraagt.
Piano is er op het dromerige "Occhi di Notte"; opnieuw gebaseerd op een door AimA geschreven haiku en in samenwerking met Pino Carafa. Het is een kort, ietwat frêle maar passend interludium.
Veel tijd voor contemplatie is er niet. Met "Neues Fortleben" waagt zij zich aan het Duits, in een vertaling van een Italiaanse gedicht van Tonelli. Het komt uit zijn 'Canti di Apocalisse ed Estasi'. En de beeldspraak is inderdaad best apocalyptisch te noemen: onthoofde kinderen, een ravengod, drie demonen (de Drieëenheid?), een pestepidemie,... Ondersteund door orgel en martiale drum (deze keer in samenwerking met Im Einsatz) hoor ik opvallende gelijkenissen met de Italiaanse neoklassieke darkwave van Ataraxia. De cadens van verschillende klemtonen in de zang geeft het lied een bijna ongemakkelijk wiegend karakter. Sussen doet het niet.
Een absoluut hoogtepunt, om er toch één te kiezen, is meteen ook de langste track: "Homo Aureus", ontstaan uit het FEHU-project (2006). Een oriëntaalse klank wordt opgeroepen door het gebruik van diverse ethnische instrumenten. Zij moeten de transcendale verbinding maken van het innerlijke met het universum (microcosmos versus macrocosmos). Een trance oproepen vergt op deze muziek weinig moeite. Ik waan me ergens in het Midden-Oosten tijdens valavond op een mystiek ogend binnenplein en kijkend naar een ritueel dat ik niet begrijp. De invloed van Dead Can Dance is niet veraf. Halfweg het nummer valt de opzwepende percussie stil en is er enkel nog het geluid van stromend water. AimA start het voordragen van een tekst geschreven door Zosimos van Panopolis, een Griekse alchemist (4de eeuw n.Chr.). Dat verklaart meteen de titel van de track, die via Google Translate op "een gouden ring" uitkomt. De mystiek spat eraf (die echo!) en langzaamaan komt de instrumentatie terug op gang. AimA als priesteres uit de Oudheid, zo klopt het beeld helemaal bij dit lied. Dat de gebruikte Griekse teksten netjes in het bijhorend cd-boekje afgedrukt staan toont het oog voor detail waarmee dit alles is gemaakt.
Met "Horus" kan er nog verder in de tijd worden teruggekeerd. De titel verwijst immers naar de Egyptische valkengod (zoon van Osiris en Isis) – ook afgebeeld in het tekstboek. Het is opnieuw een track van Les Jumeaux Discordants uit 'Les Chimères'. Nu krijgen we wél een gedicht van Gérard de Nerval te horen, gezongen in het oorspronkelijke Frans. Dat doet ze, na een korte intro, opvallend op twee verschillende manieren: de eerste twee strofen bezwerend à la Galàs (met gongslagen) en de volgende twee heel etherisch en zweverig à la Francesca Nicoli (Ataraxia).
Een tweede Orphic Hymn is "Thanàtou Thumiama" ofwel de hymne aan de dood. Er is een videoclip van dit nummer terug te vinden op YouTube (zoek op "Insula Lucis – Hymn to Death"). Vier in het zwart gesluierde vrouwen voeren een occulte choreografie uit rondom een vrouw in het wit, liggend op de grond. Een priesteres (of personificatie van de Dood) met masker en tevens strak in het zwart, komt erbij en aanschouwt, al dansend op spitzen, het offer. De dood spaart niemand. Opnieuw is het heel rituele muziek met een melodie die blijft kleven.
Wutanes Heer verleent de medewerking op twee tracks, "Il Contemple la Lune" en "Il Matrimonio Del Cielo Con La Terrra". Muzikaal springen zij er toch wat uit. Met zeer donkere soundscapes, harde industrieel klinkende beats en bij momenten erg diffuse en atonale geluiden. Ze behoren tot de meer intense, uitdagender nummers. AimA's zangtalent houdt daartussen goed stand: van een fluisterend parlando tot het orerend voordragen of net heel ijl zingend.
De verrassende afsluiter is een cover van Jefferson Airplane's "White Rabbit", herwerkt door Insula Lucis. Deze klassieker krijgt een heuse wave-makeover die uiteraard perfect past bij de psychedelische songtekst gebaseerd op Lewis Carroll's 'Alice in Wonderland'. Met een stevig crescendo naar "Feed your head!" wordt 'Di AimA Il Segno' netjes neergelegd. Spijtig, want meer van dat mocht er zeker zijn!
Ook jammer is het nieuwtje dat AimA mij wist te vertellen: ze stopt (even?) met muzikale collaboraties. "We don't know the future, maybe a miracle can happen." Het raakt me dit te moeten lezen. Er zit voorlopig dus niets anders op dan de repeat-knop in te drukken en opnieuw te genieten.
Van de gelimiteerde oplage van 199 stuks zijn nog een 30-tal exemplaren beschikbaar. Zij kan besteld worden via haar eigen website op www.aimalichtblau.com (vraag haar gerust te signeren) of via Show Me Your Wounds Production.
Tom PLOVIE
12/10/2019
---
---