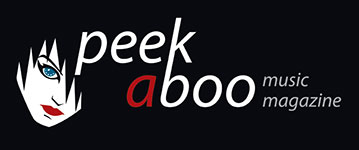 like this cd / digital review
---
300 000VK
Peter Paradox
Music
•
CD / Digital
Dark Dystopic Industrial
•
Dark Electro
•
Darkwave
•
Electro
•
Industrial
[85/100]

23/03/2021, Fred GADGET
---
Maybe 300.000VK or 300.000 Different Krawalle will not sound familiar to most of us out there, but it will certainly ring a bell among the Laibach adepts, because this project is also part of Laibach's Art Division NSK. With the release of their first album in 1996, composers Dejan Knez and Iztok Turk introduced a new genre: satanic techno. The album quickly gained cult status among connoisseurs. After 25 years, 300,000 Verschiedene Krawalle has finally released a new album entitled Peter Paradox.
The album contains nine songs, with lyrics written by Peter Mlakar, the head of 'Department of Pure and Applied Philosophy of the NSK' (Neue Slowenische Kunst).The theme of the album is the paradoxical phenomenon and behavior of the Absolute in the world - ie, the category defined by Mlakar as the concept of "Infinite Indeterminacy" or God.
The album opens modest and ominously with "Das Schöne, Das Gute, Das Wahre", in which Peter Mlaker's darkly narrative voice sets the tone of the new NSK piece of art. On "Paradosso Misterioso" it feels like hell will break loose at any moment while the singer / narrator tells his story in Italian this time. But only the last minute all hell really breaks loose. But what a hell it is! Immense! Now the right atmosphere is set, these gentlemen hit us hard with the extremely danceable "S+C".
"He's a great lover, the smell of sofa, the smell of Carpet, the smell of blood, he's a great lover". Let your fantasy work …
Most certainly one of the highlights of this album, and one that you will most likely hear again in the future. That is if you frequently can be found in the darker dance temples and caverns. "La Consaltione" (The Consolation) gives you just about one minute to recover from the previous track, before opening the gates of hell again, including ripping guitars and cutting sequencers. On "Smisel" (Slovene for Sense or meaning of …), it goes on little less rough but no less ominous. "Carnales Nihilimus" immediately makes us think of Rammstein for some reasons... But hey wait... Who was first the chicken or the egg? Laibach / NSK or Rammstein? Anyway case, this song will certainly appeal to the fans of the latter. A solid dragging rhythm, a sluggish German deep voice, female and male choirs and ripping guitars, Albeit a bit more background in this case. Definitely one of the highlights from this album. "Zona Erogena" is yet another one of those tracks that spends a full two minutes on a kind of impressive intro before erupting again in the last minute! G.R.E.A.T! The penultimate track "Beyond Death" immediately start's off with a solid 4/4 beat and rousing sequensers, "Tranquillize me / Mesmerize me" is chanted by our narrator throughout the song … and that is what this song almost literally does to us! Then the album closes like it started with "Dobro" (Slovenian for Good), a narrative deep voice accompanied by floaty synth and other sounds. Mesmerizing indeed … So if you were already familiar with Dreihundert Tausend Verschiedene Krawalle then I think don't need to convince you. If you like Laibach, NSK and / or heavy dark teutonic voices on equally dark and mysterious soundscapes? Buy this sh*t! You can't lose!
Fred GADGET
23/03/2021
---
300.000VK of 300.000 Verschiedene Krawalle zal velen niet veel zeggen maar zal zeker bij de Laibach adepten een bellen doen rinkelen want dit project maakt ook deel uit van Laibach's Kunst Division. Met het uitbrengen van hun eerste album in 1996 luidde componisten Dejan Knez en Iztok Turk, en een nieuw genre in: satanische techno. Het album kreeg al snel een cultstatus onder kenners.
Na 25 jaar heeft 300.000 Verschiedene Krawalle eindelijk een nieuw album uitgebracht, getiteld Peter Paradox. Het album bevat negen nummers, met teksten die geschreven werden door Peter Mlakar, het hoofd van 'Department of Pure and Applied Philosophy of the NSK' (Neue Slowenische Kunst). De rode draad van het album is het paradoxale fenomeen en gedrag van het Absolute in de wereld - d.w.z. de categorie gedefinieerd door Mlakar als het concept "Oneindige onbepaaldheid" of God.
Het album opent ingetogen en onheilspellend met 'Das Schöne, Das Gute, Das Wahre' waarbij de donkere grafstem eerder vertellende van Peter Mlaker de toon zet van de nieuwe NSK kunstwerkje. Op 'Paradosso Misterioso' lijkt de hel op elk moment te gaan losbarsten terwijl de zanger/verteller dit maal in het Italiaans zijn verhaal verteld. Maar pas in de laatste minuut breek de hel werkelijk los. Maar wat voor één! Heerlijk! Nu de sfeer er good in zit zetten de heren er ook de beuk in met het uiterst dansbare 'S + C'.
"He's a great lover, the smell of Sofa, The smell of Carpet, the smell of blood..."
Wellicht één van de hoogte punten van dit album, en eentje die u hoogst waarschijnlijk nog gaat horen in de toekomst als u wel al eens donkere danstempels en krochten frequenteert. 'La Consaltione' (De Troost) geeft uw welgeteld één minuut om te bekomen alvorens zelf de poorten van de hel open te zetten, inclusief scheurende gitaren en snijdende sequencers. In 'Smisel' (Sloveens voor Gevoel), gaat het er iets minder ruig aan toe, maar niet minder onheilspellend dit terwijl 'Carnales Nihilimus' ons meteen om één of andere redenen aan Rammstein denken … Maar wacht … Wie was er nu weer eerst? De kip of het ei? Laibach/NSK of Rammstein? In ieder geval zal dit nummer bij de fans van deze laatste genoemde zeker in de smaak vallen. Een stevig slepend ritme, een gezapige Duitse diep stem, en vrouwelijke en mannelijke zangkoren en scheurende gitaren die hier iets meer achtergrond staan weliswaar. Met stip weer een van de hoogtepunten van dit album. 'Zona Erogena' is weer één van die tracks die een volle twee minuten aan een soort indrukwekkende intro besteed om dan in de laatste minuut opnieuw total loos te gaan! Z.A.L.I.G.! De voorlaatste track 'Beyond Death' is dan weer van meet af aan voorzien van een stevige 4/4 beat en opzwepende sequensers, "Tranquillize me / Mesmerize me" scandeert onze verteller hier doorheen het nummer en dat is ook wat deze song haast letterlijk met ons doet. Het album sluit af, als het begonnen was. want op 'Dobro' (Sloveens voor Goed) blijven enkel de bijna vertellende zware stem en nog meer zweverige syth-klanken. Was u al bekend met deze Dreihundert Tausend Verschiedene Krawalle dan hoef ik u niet meer te overtuigen denk ik. Houdt u van Laibach, NSK en/of zware donkere teutoons stemgeluiden op al even donkere en mysterieuze klanktapijten. Kopen die handel! U kan niet gefopt zijn!
Fred GADGET
23/03/2021
---