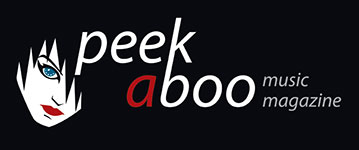 like this cd / vinyl / digital review
---
DER KLINKE
Facing Fate
Music
•
CD / Vinyl / Digital
Darkwave
•
Gothic
•
Gothic Rock
[91/100]

Self-released
06/08/2023, Jurgen BRAECKEVELT
---
The Belgian Der Klinke, rooted in West Flemish clay, have a new album out. Facing Fate. People who know the band know they guarantee a mix between Dark-Wave and Gothic-Rock. Facing Fate is the sixth studio album from a band that you just have to go and see live because they sound even stronger live than on their albums.
For 15 years now, Chesko (vocals - also active with Pesch and Bollock Brothers), Sam Claeys (bass guitar - also Red Zebra and Pesch, among others), Marco Varotta (guitar) and Sarah Parmentier (synths) have been providing us with very exciting musical moments. On Facing Fate they immerse us in a yet another fascinating musical story lasting 8 songs.
The opening song is of a kind that we don't often hear from Der Klinke. A very dark subdued and compelling song is based on Baudelaire's poem 'Recueillement'. Bombastic, bravura and big. A song that will give you goosebumps. Like the shocking smell when you open a tin can … this opening song surprises just as much. Not immediately ready to eat but after every listen more and impressive and more tasteful.
Despite this restrained opening track, the band is heated up and so we get the firmly rocking, with a greasy post-punk edge, 'The Shallow Shadows'. Sam thumping his bass guitar hard, while Marco subtly weaves his guitar playing over the electronic rhythms section, the whole supported by synthesizers that make the sound a bit sweeter. And now the chimneys are coughing up thick plumes of smoke, another shelf of coal can be thrown in. 'Dance Of Liberty' is a danceable New Wave/Dark Wave song. Chesko is using the lowest regions of his vocal chords while the synths take a prominent roll in this very nice uptempo (on their terms) song.
With a grave voice and a minimal-feel synth line, 'Closing' gets going only to emerge into a banging song that invites you to move. The backing vocals are by Martin Bowes (Attrition) who lends his special voice to lash together with Chesko. We are fans of that! For those who don't know yet: 'You're Looking Good In an Elevator'! Der Klinke has spoken! Pleasant tempo, fat basses, distorted guitars driven by a collection of pedals that pushes them forward. Der Klinke knows like no other how to build songs that you want to listen to on repeat. This is (as far as I'm concerned) one of them. And what about an 'All The Wright Wrongs'? An indie song in which Filip Heylens from the band Wegsfeer lends his voice. After three quarters the guitars tear the song mercilessly open … Screamy … Relentlessly and piercing it gives the song a huge boost. Versatility is a brand name when Der Klinke is concerned. They bring the best of several worlds together on every album. Several styles, call it "subgenres" of the "Goth scene." 'Absolutely Nothing' bares itself like an EBM song at the start, solid pumping bass drums and dark beats. Synths in the offensive line. And yet the track unfolds again in a great dark-wave song. But in a subtle way, without written laws. The title song 'Facing Fate' closes the album. It's a song that lets you dwell on a sound reminiscent of The Cure in their early days. In terms of rhythms you also detect some Joy Division influences with bass lines that do the trick and guitars that give you the chills. Even on a sweltering hot summer day it lets you physically experience an icy chill. Floating about 7 minutes in this pond of melancholy, heaviness and emotional weight, hidden in dark layers of mist. These are songs that you really need sit down to feel every nuance.
Facing Fate is only 8 songs long but for those who opt for the CD, get as an extra a remix of the song 'Who To Deny' by John Wolf. If you want the limited vinyl (at the time of writing this review, 37 of 200 were still available) you better rush like the devil to Der Klinke's bandcamp.
Conclusion: Yes, yes, YES! This iFacing Fate became another very strong album, for an equally strong band. A well-oiled music machine, assisted vocally on this album by a number of guest voices. Der Klinke has already a solid fan base in Belgium but they truly still deserve much more recognition! Musically they are top-notch, live they are strong. I hope, along with many others I think, many more albums and live gigs will follow!
Jurgen BRAECKEVELT
06/08/2023
---
Het Belgische en in West-Vlaamse klei verankerde Der Klinke heeft een nieuw album uit. Facing Fate.
Wie de band al enige tijd volgt, weet dat ze garant staan voor een mix tussen darkwave en gothic rock. Facing Fate is het zesde studioalbum van een band die je gewoon live moet gaan zien. Want het komt nog steviger en doorleefder binnen dan op album.
15 jaar lang al bezorgen de Chesko (vocals - ook actief o.a. bij Pesch en Bollock Brothers), Sam Claeys (basgitaar - ook o.a. Red Zebra en Pesch), Marco Varotta (gitaar) en Sarah Parmentier (synths) ons muzikaal heel opwindende momenten. Op Facing Fate dompelen ze ons 8 songs lang onder in een boeiende muzikale vertelling.
De openingssong is van een soort die we niet vaak horen bij Der Klinke. Heel erg donker ingetogen, (mee)slepend. De song is gebaseerd op het gedicht Recueillement van Baudelaire. Met veel bombast en bravoure. Groots ook. Een song die je kippenvel bezorgt. Je trekt een blik open en schrikt aanvankelijk van de geur. Wel, deze song verrast evenzeer als opener. Niet meteen hapklaar, maar na elke luisterbeurt impressionanter en smaakvoller dan ooit.
Ondanks een ingehouden opening, komt de band onder stoom te staan. Met onder andere de stevig rockende The Shallow Shadows. Met een vettig postpunkrandje. Met Sam die zijn basgitaar stevig laat rondhollen. Marco die subtiel zijn gitaarspel vlecht doorheen de elektronische ritmesectie, onder support van synthesizers die het geheel wat lieflijker laten klinken. En nu de schoorstenen dikke rookpluimen ophoesten, kan er nog een schep kolen bovenop. Dance Of Liberty is een dansbare newwave/darkwave-song. Chesko put uit de laagste regionen van zijn stem. De synths op de eerste rij in deze heel lekkere uptempo (voor hun doen dan toch!) song.
Met een grafstem en een minimal aandoende synthlijn trekt Closing in zich op gang. Om vervolgens te ontpoppen tot een tot bewegen uitnodigende knalsong. De backings zijn van Martin Bowes (Attrition). Die leent zijn aparte stem om in duo met Chesko een aantal keer uit te halen. Wij zijn daar fan van!
Voor diegenen die het toch nog niet weten: You're Looking Good In an Elevator. Zeg dat Der Klinke het heeft gezegd. Deugddoend tempo, vette bassen, overstuurde gitaartjes met een resem pedalen die ze voortstuwt. Der Klinke weet als geen ander songs op te bouwen die je op repeat wil beluisteren. Dit is er (wat mij betreft) zo ééntje.
En wat te denken van een All The Right Wrongs. Een indie-song waarbij Filip Heylens van Wegsfeer zijn stem in bruikleen geeft. Goed driekwart ver scheuren de gitaren genadeloos de song open. Schreeuwerig. Onverdroten. Priemend. Het geeft de song een enorme boost.
Veelzijdigheid is een merknaam als het Der Klinke Betreft. Ze brengen op elk album al the best of several worlds together. In stijlen, noem het 'subgenres' van de 'goth-scène'. Absolutely Nothing ontbloot zich bij aanvang als een EBM-song. Stevige pompende basdrums/darkbeats. Synths in de aanvalslinie. En toch ontvouwt het ding zicht weer tot een geweldig donkere darkwave song. Maar dan op een subtiele wijze. In geen wetten te vatten.
De titelsong Facing Fate sluit het album af. Het laat je verwijlen bij wat The Cure in hun beginperiode liet horen. Qua ritmes ontwaar je ook wat Joy Division. Baslijnen die het doén. Gitaren die je koude rillingen bezorgen. Die je zelfs op een broeierig warme zomerdag lijfelijk een ijzige kilte laten ervaren. 7 minuten lang zwemmen in deze in donkere lagen nevel verborgen vijver van melancholie, zwaarte en emotioneel gewicht. Dit zijn nummers waarvoor je je echt even moet zetten. Om elke nuance gevoéld te hebben.
Het album is maar 8 nummers lang. Wie kiest voor de CD krijgt er één remix bij van de song Who To Deny door John Wolf. Wie die de gelimiteerde vinyl wil: bij het schrijven van deze review waren er nog 37 van 200 beschikbaar. Rep je dus naar de bandcamp van Der Klinke.
Conclusie: ja, ja, JA ! Dit is weer een heel sterk album. Van een sterke band. Muzikaal, een geoliede machine, op dit album vocaal geholpen door een aantal gaststemmen. Der Klinke heeft intussen ook een stevige fanbase in Belgenland, maar verdient oprecht meer erkenning dan dit! Muzikaal is het af, live is het af. Ik hoop dan, samen met velen, dat er nog vele albums en livegigs volgen.
Jurgen BRAECKEVELT
06/08/2023
---