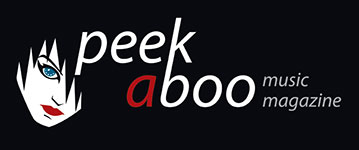 like this digital review
---
TERMINAL SERIOUS
Gift For You
Music
•
Digital
Darkwave
•
Post Punk
[86/100]

Self-released
14/06/2022, Jurgen BRAECKEVELT
---
Luigi Buonaiuto (based in Florence, Italy) kept busy during the Corona pandemic. In March 2021, his first album Love Was Lies was released. Now, a bit more than one year later, he has just released the EP, Gift For You.
Terminal Serious' sound is a mix of postpunk and darkwave. This latest EP is again a gem and is hard to categorise. I got a gift for you, but I can't give it to you... razor-sharp bass lines, catchy guitar riffs and the 'typical' dark voice. Postpunk has been rather popular over the last years and whereas I was enthusiastic about his first album, I'm now even more excited about this one.
Ductape's singer Çagla Güleray also contributes with her light ethereal voice. Without being it such a huge added-value, it still adds to the more than excellent song Nobody Sees Us. Luigi's impressive deeper voice gives an extra touch to the duet with Çagla.
Besides dark songs there's also room for some more smooth sounding songs like Not A Grain, which reminds me of Simple Minds in the intro. With piano as an ally, the bass guitar makes a robust backbone and drives as a lifeline throughout the song.
Twisted Man closes this 5 song EP. Postpunk style with a melody that reminds me of a sort of nursery rhyme. Could be a sing along song. Could be a drink brotherhood song. But it's also 'just' a great no-nonsense postpunk song.
Once again, Terminal Serious delivers an EP where the love for music drips. It sounds good, it urges you to dance, it's raw and catchy at the same time.
Jurgen BRAECKEVELT
14/06/2022
---
De in Firenze (Italië) wonende Luigi Buonaiuto zat niet stil in Coronatijden. In maart '21 verscheen zijn eerste album Love Was Lies. Nu een goed jaar later doet hij daar de EP Gift For You bovenop.
Terminal Serious' sound is een blend van postpunk en darkwave. Wars van hokjesdenken is het opnieuw een juweeltje geworden.
I got a gift for you, but I can't give it to you… vlijmscherpe baslijnen, tot heupwiegen uitnodigend gitaarwerk en de 'typische' donkere stem. Het is er van song één boenk bovenop. De postpunk is de laatste jaren prominent aanwezig, en zo enthousiast ik was over zijn eerste album, des te enthousiaster ben ik over deze.
Ook Çagla Güleray, vocaliste van het Turkse Ductape, draagt bij tot zalige darkwave met een light-ethereal voices-gehalte. Niet dat het zo immens hoog is, maar het draagt substantieel bij tot een meer dan uitmuntend Nobody Sees Us. De nog diepere indrukwekkende vocalen van Luigi krijgen een extra punch in het contract met de breekbare stem van de Turkse Çagla.

Naast donkerte is er ook ruimte voor een wat meer smooth-sounding song als Not A Grain die mij bij de intro heel sterk laat denken aan Simple Minds. De riff krijgt de piano als bondgenoot. De basgitaar vormt de heel robuuste ruggengraat en dreunt onverstoorbaar als levensader door deze song.

Twisted Man doet ons uitgeleide op deze 5 songs tellende EP. Postpunkgewijs, met een riff die wat weg heeft van een melodie van één of ander kinderlied. Het zou een meezinger kunnen zijn. Het kon een dronkebroerslied zijn. Maar evengoed is het 'gewoon' een formidabele no-nonsense postpunk-song.
Terminal Serious levert alweer een EP af waar de liefde voor muziek van afdruipt. Het klinkt goed, het nodigt uit tot bewegen, rauw en pakkend tegelijk.
Jurgen BRAECKEVELT
14/06/2022
---