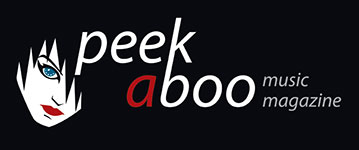 like this festival review
---
VARIOUS ARTISTS
DARKSIDE OF THE CON III
Music
•
Festival
Cybergoth
•
Dark Electro
•
Dark Pop
•
Dark Wave
•
EBM
•
Gothic
•
Gothic Rock
•
Horror Punk
•
Indie
•
Industrial
•
New wave
•
Post Punk
•
Synthpop
27/04/2019, Charles "Chuck" MOORHOUSE
---
Sure, as we approach the festival season this summer, there are other events that are bigger, have more attendees, and maybe larger acts. However none of those other events take the con approach with dozens of music acts, vendors, performers, panels, and demonstrations of all sorts, including multiple dance parties, all within one self-contained facility – in its own huge wing of a Castle hotel. It was like a giant goth sleep over but without the pillow fights (at least not to our knowledge - although other shenanigans certainly occurred at the fetish and burlesque events). And considering the daily headliners, Stabbing Westward on Friday, Aesthetic Perfection on Saturday, and Assemblage 23 on Sunday, this was an event to be reckoned with. For three days, Black clad and beautifully or interestingly attired or even costumed attendees congregated at the The Sheraton resort hotel in Parsippany New Jersey, which was, as the organizers called it, "A motherfucking castle." It was a casual, comfortable family reunion type of event where the artists and performers mingled with the audience throughout the weekend. Some were drawn there by the dozens of vendors in multiple conference spaces. Others wanted to listen or participate in the multiple panels. Still others wanted to dance the night away. Some wanted to participate in the costume ball or witness the burlesque or fetish demonstrations. For most, one suspects, the music was the highlight. At events like this, there always seem to be anticipated highlights that live up to expectations (Aesthetic Perfection and Assemblage23) and unanticipated highlights that offer wonderful surprise and discovery (Abbey Death, Glass Apple Banzai, nTTx). But each of the acts put on an intense show, laying their art bare before the enthusiastic and appreciative crowd.
FRIDAY
Friday kicked off with Spider Lilies setting the tone and the performance bar for the entire weekend. They brought a sonorous set of power cords, catchy melodies, and riffs layered over a brooding synths and solid live drums. Stacey Campbell's crystal clear vocals played nicely with Chad Van Pelt's near metal guitar work (complete with flying hair). Next, Panic Lift took the stage to get the crowd into full movement mode. Unfortunately, they were plagued by some minor sound issues (which was common early on) and the house lights coming. It was as if the band was still playing as bouncers shooed patrons out the door at 3am - but the festivities were only getting started. To their credit, the band played along and didn't miss a beat. The always compelling Ego Likeness followed. They delivered a rich, full, and complete sound teeming with energy and vocals right on point. Steven and Donna interacted with the crowd throughout their darkly powerful set. Theirs is not what one calls "dance music" but it's not possible to sit or stand still through it. The oh so dreamy Bella Morte came next as Andy Deane posed, gyrated, and danced like an extra from Michael Jackson's thriller video nearly the whole way through a very energetic goth-punk set. His vocals are deep, emotional, and noteworthy. The guitarist, Tony, doesn't use as much of stage, really, not any of it but his playing propels Mr. Deane back and forth across it. Apparently, they have a new album pending as well. Stabbing Westward closed out the live music on Friday. For the Friday Finale, Stabbing Westward warded off a bit of sound issues but the packed ballroom did not mind at all. Screaming in tune is a tough task, admirably fulfilled by Mr. Hall. The full band set was not as totally tight but it rocked that castle of a hotel nonetheless.
SATURDAY
Saturday would be a very long band day, to say nothing of the simultaneous panel discussions and vending taking place. Lorelei Dreaming took the stage first with a smooth and confident stage presence. She belted out spooky, fast-paced danceable tunes. Although one track gave the impression that she was a goth'ed up princess in a dark themed Disney film, the heavy beats never let up as she used the entire stage to entertain the crowd. As previously mentioned, Glass Apple Banzai, came next. He literally was a one man show, performing synths, programming, and mixing solo. Solid, full sounding synthpop vibes, catchy melodies, with smooth vocals and fun (yes, darkness can be fun - just add beach balls) audience interaction made his performance a standout. The Halloween-punks from New York City, The Long Losts came up to add some horror to the proceedings. Both Anka and Patrick have capable vocals that can fire on nearly all octaves. In fact, on this day, Anka was reminiscent of Juju-era Siouxsie. Their brand of thrashing goth is entirely different than but equally as entertaining as Glass Apple Banzai that came before them. Next came the Canadian (like GAB) industrial / EBM band, nTTx and they were another revelation live. With a live drummer, guitar, and synth track, they pulsed and rocked through a wonderful aggro set that included a cool cover of VNV Nation that ramped up the BPMs. Mr. Clement's commanding stage presence and, again, audience interaction, added to the family reunion-like nature of the entire event. Next came the sensual Amelia Arsenic. She nearly rapped like Blondie scatting over a heavy industrial beat. Her petite frame cranked out a fierce voice in sharp contrast to her squeaky speaking voice. Next came Helix (not to be confused with the Canadian metal band of the same name) with an almost mystical sounding rhythmic synthpop/industrial sound, as if Assemblage23 were fronted by a female singer, which is what this was. With Tom Shear on keyboards/synths, Mari Kattman conjured an electric but entirely romantic atmosphere that entranced all the lookers on. She has the rare ability to hold one's attention without seeming to even try. Together they created a pulsing, melancholic wave that filled the room. It was hard to believe that the spot on, structured performance was only their second live show ever. It seemed a daunting task to follow Helix. But Adoration Destroyed brought a truck full of rock and roll to meet the challenge. Backed by leaded, heavy synths they came across as genuine and unpretentious. When Laura from Lorelei Dreaming joined for two songs, including a cover of Voices Carry, the female vocals set a nice contrast against the gritty guitar-driven machine that assaulted the speakers. After all of that, we still were not done. If Adoration Destroyed assaulted the speakers, FGFC820 committed a full-on assault and battery with a deadly drum kit. Rexx Arkana was incensed and embarked on a brutal EBM attack. He also managed to extract serious emotion from a completely electronic performance and the crowd reacted accordingly. Finally finishing off the night, Aesthetic perfection, with drums and keyboard/guitarist facing each other parallel to the crowd, simply killed it. Daniel Graves was sublime, simultaneously fierce and understated. The drummer never stopped and the keyboardist went airborne off of the amps so often that he started to resemble Shaun White. It was a great way to finish the evening before resting for 10 minutes and then hitting the two dance floors before the burlesque shows started.
SUNDAY
Abbey Death started things off on Sunday afternoon at the not-so witching hour of 1pm. Even so, they sounded like the first true goth band of the weekend. And if all of their live shows are like that, they will not be kicking the bill off right after brunch for long. They will slide closer and closer to the headliner. The duo of one man and one woman shared the vocals while each shredded their guitars in their own style, played their own synths, and used a drum machine as the time keeper. Abbey Nex's vocals were deep and ominous while Valerie's voice reached for the rafters. They dialed up some dark, energetic, pulsating, swaying rock and roll meant for haunted hallways lit by candelabras. Indeed, the Nex looked like he should be wandering Hogwarts looking for his cat. In any case, he rocked out. Fog, which all of the artists lamented over the fire department's denial of the venue's ability to use, would have been a good compliment to this set. As for Valerie her waif-like appearance belied her ability to hammer away on her guitar. Veterans of other bands, they traveled the entire stage and made use of all of their space. It was a fluid, engaging performance, sonically and visually. Next came Stone Burner. And, you would not be faulted for thinking that the Predator just formed a pretty killer rock band. Whereas some previous appearances have had Steven Archer perform as a one-man show, controlling all of the synths and beats, this time it was a full band set. Two drummers kept things tribal and the entire aura evoked early Skinny Puppy. Interface took proceedings in a decidedly synthpop direction next, playing some older favorites and new tracks of their forthcoming album, Outside Looking In. It seems like it will be a must-buy. As Eric Eldredge crooned away over melodic synths and live drums, a person in the crowd was overheard asking the philosophical question, "Is that the goth Ed Helms," which became even more apropos when Eric mentioned that he was shaking off a hangover. The composition and orchestration of Interface's music shone through during this performance. Interface also injected a lot of love and emotion, ala VNV Nation into their digital set. Mari Kattman also performed with them as they recreated their collaboration for Electronic Saviors. Properly dark and bouncy without turning campy, Promised Land was great as was Destination. Eric yelled, "Let's see you move!" and the crowd obliged. The Rain Within, i.e., Bella Morte with synths, came next. His songs are well constructed, danceable and genuinely heartfelt, once one looks past his Michael-Jackson-in-the-Thriller-video dance moves. His cover of "Umbrella" should have been cheesy but, somehow, it worked. Saying that he never does two covers in one set, he then set off to cover Adele. Challenging vocal territory, that he made his own again. The finale of the entire weekend was Assemblage23. Tom Shear literally brought his fellow artists in the crowd to tears. His music and lyrics are powerful, a perfect written and sonic complement to one another evoking a depth of emotions that few electronic artists can achieve. His connection with the listener is heightened by his live performance. Although the drummer seemed like he couldn't be bothered, which was kind of cool in a disaffected kind of way, Mr. Shear had energy enough for all and was helped by the best lighting of the weekend.
We've said little here about the dance parties, in particular, "Stay Sick" and QXT's. Once one became used to dancing on carpet (some went in stocking feet), the DJs brought the noise in a big way and, between the simultaneous sessions, covered the entire spectrum of the dark genres. Then there were the panels on everything from Gothic History to EBM Bootcamp, a Live Bat lecture, Elder Goths, Dramcatchers, Paranormal, Women in Goth, Divination, Bondage, etc., etc., etc.
It was a full, wonderful, friendly, enjoyable, and, yes, dark (complete with the obligatory rainy/gloomy day) weekend.
Charles "Chuck" MOORHOUSE
27/04/2019
---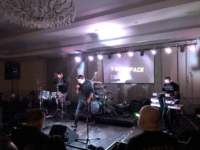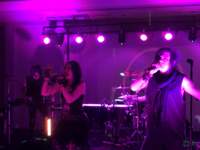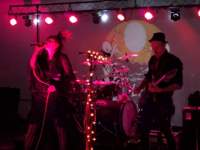 ---