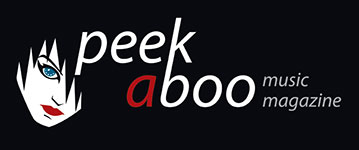 like this cassette / digital review
---
STAATSEINDE
Crazy Earthlings Collab Tape - Episode II
Music
•
Cassette / Digital
Drone
•
EBM
•
Electro
•
Synth Wave
•
Synthpop
[87/100]

Ende Der Zukunft Recordings
19/11/2021, Jurgen BRAECKEVELT
---
The Dutch synth-mechanical trio with a corner off, aka Staatseinde, released a second cassette on their private label Ende der Zukunft featuring collaborations with musical friends and acquaintances of the band. It contains 13 songs.
If you already know Staatseinde, you know that you can expect huge electronic musical outbursts in all directions. Their unearthly being is shot into space with analogue machinery. Here with the help of Celldöd, Endfest, HerrNia and others.
Just by seeing these names, you know it will be diverse. And it is. From early EBM to synthwave and darkwave. Celldöd, for instance, is the musical advisor to Overmeesterd. A stomping EBM-er. Leipzig-based Tilly Electronics takes care of the vocals on You En Mich. A nice eighties sound where the vocal blend is very catchy.
Then it goes more to the pure electro-sound with support from Endfest on Eigen Werken Des Duivels. Catchy danceable with dance influences, but still rancid enough to be 'black'.
And Staatseinde gets support from their own country. Dutchman Patrick Bossink, aka Apartle, gives Visione A Tunnel a house-like touch. The great sound palettes bend the song in such a way that it is again very enjoyable.
A song about the Virus could not be missing in these pandemic times. Belgian HerrNia, who lives in Ghent, put his musical stamp on the song Virus.
Staatseinde use their own private label to really do their thing and they don't shy away from really crazy songs with amazing soundscapes. Hexe is one of those and really stands out, not in the least because of Kalythos' witchy vocals.
There is also dancefloor material with Celldöd's Vi Aker Dit remix and Vos Con Vada, to which the sound masters of Aantrekkelijk Zwaktebod added some psychedelic guitars.
Poet Wout Waanders is also present. In Vertrek and Rebelse Revolutionairen, he provides an almost spoken word performance to music from analogue machines that sound very stretchy.
Staasteinde surprises again and again by just doing their own thing in a no-nonsense way. Their extraterrestrial nature gets a nice sequel in this second Crazy Earthlings Collab Tape. Nice collaborations, tight production and endless variation. Do you want a tape? Hurry, there are only 150 available. Or you can get it digitally. And the dance goes on...
Jurgen BRAECKEVELT
19/11/2021
---
Het Nederlandse synth-machinery-trio met een hoek af, aka Staatseinde, bracht op hun privé-label Ende der Zukunft een tweede cassette uit met samenwerkingen met muzikale vrienden en kennissen van de band. Het bevat 13 songs.
Als je Staatseinde al kent, weet je dat je je kan verwachten aan enorme elektronische muzikale uithalen in alle richtingen. Hun onaardse zijn wordt met analoge machinerie de ruimte in geschoten. Hier met de hulp van o.a. Celldöd, Endfest, HerrNia, Aantrekkelijk Zwaktebod e.a.
Bij het zien van de namen alleen al weet je dat het divers zal zijn. En dat is het ook. Van EBM uit de begindagen tot synthwave en darkwave. Zo verleent Celldöd muzikale spandiensten bij Overmeesterd. Een stoempende EBM-er. De uit Leipzig afkomstige Tilly Electronics neemt de vocalen op zich bij You En Mich. Een leuke eighties-sound waarbij de vocale blend heel aanstekelijk werkt.
Dan gaat het meer naar de pure electro-sound met steun van Endfest op Eigen Werken Des Duivels. Aanstekelijk dansbaar met dance-invloeden, maar toch nog ranzig genoeg om 'zwart' te zijn.
En Staatseinde krijgt nog steun uit eigen land. De Utrechter Patrick Bossink, aka Apartle, geeft Visione A Tunnel een house-achtige toets. De geweldige klankpaletten buigen de song in zo'n bochten dat het ook nu weer heel genietbaar is.
Een song over hét Virus kon niet ontbreken in deze pandemische tijden. De in Gent wonende Belg HerrNia heeft zijn muzikale stempel helpen drukken op de song Virus.
Staatseinde gebruikt hun eigen privélabel om écht hun zin te doen, en ze schrikken ook niet terug voor echt crazy songs met soundscapes om u tegen te zeggen. Hexe is er zo eentje en springt er echt uit, niet in het minst door het heksengezang van Kalythos.
Verder is er nog dansvloermateriaal met de Vi Aker Dit-remix van Celldöd en Vos Con Vada, waar de soundmasters van Aantrekkelijk Zwaktebod wat psychedlische gitaren doorheen mixen.
Dichter Wout Waanders is ook van de partij. In Vertrek en Rebelse Revolutionairen verzorgt hij de bijna spoken word-performance op muziek uit analoge machines die wel heel ver rekbaar klinken.
Staasteinde verrast telkens opnieuw door op een no-nonsense manier gewoon hun eigen ding te doen. Hun buitenaardse wezen krijgt in deze tweede Crazy Earthlings Collab Tape een mooi vervolg. Mooie samenwerkingen, strakke productie en eindeloze variatie. Wil jij een cassette? Haast je, er zijn er maar 150 beschikbaar. Of je kan het digitaal binnenhalen. And the dance goes on...
Jurgen BRAECKEVELT
19/11/2021
---