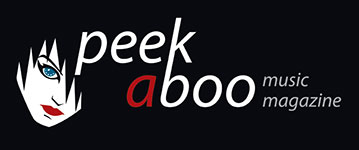 like this cassette / digital review
---
PARADOX OBSCUR
Intercourse
Music
•
Cassette / Digital
Electronics
•
Minimal
•
Synth Wave
[78/100]

Self-released
19/09/2022, Jurgen BRAECKEVELT
---
Toxic Razor, the man behind many minimal and electronics projects (including Metal Disco) and the driving force behind Werkstatt Recordings, and Kriistal Ann (Kriistal Ann, Paradox Onscur, Sine Silex) are releasing a new EP named Intercourse with Paraox Obscur, a project they started in 2014. They are familiar with many electro styles, from minimal to a more techno-like sound. However, their mutual predilection for analog old school machines remains as a rock.
Intercourse is a two track EP (Even also available on floppy disc but sold at the moment). In contrast to previous work, the track 'Intercourse' leans more towards minimal techno. The beats and melody have a lounge atmosphere. The vocals of both Toxic and Kriistal Ann give it just that little bit of a dark touch.
The second song 'Glow' is kneaded from the same dough but sounds a bit more nice retro-ish. The beats and retro sounding synths create a special atmosphere. Difficult to describe….
This EP shows that their love for hardware minimal material is still there but with a sort of techno touch. Personally, I'm more of a fan of their earlier, actually their first work, which was pure minimal. But who am I...
Jurgen BRAECKEVELT
19/09/2022
---
Toxic Razor, de man achter vele minimal- en electronische projecten (zoals Metal Disco e.a) en bezieler van Werkstatt Recordings en Kriistal Ann (Kriistal Ann, Paradox Obscur, Sine Silex) brengen met Intercourse een nieuwe Ep uit van Paradox Obscur. Dat project schoot in 2014 uit de startblokken. Ze zijn van alle electromarkten thuis. Van minimal tot meer techno-achtige sounds. Hun beider voorliefde voor analoge oldschool machines blijft echter overeind.
Intercourse is een EP met twee songs (ook te verkrijgen op floppy disc, intussen uitverkocht). In tegenstelling tot vorig werk leunt Intercourse meer aan bij minimal techno. De beats en melodie hebben een loungesfeer. De vocalen van zowel Toxic als Kriistal Ann geven het dan weer net dat velugje donkerte.
Glow is uit hetzelfde muzikale deeg gekneed, maar klinkt lekker retro. De beats en retro klinkende synths creëren een bijzonder sfeertje. Moelijk in woorden te vatten.
Deze EP toont aan dat hun liefde voor hardware-minimal-materiaal toch een technotintje kan krijgen. Ik ben persoonlijk meer fan van hun eerdere (eigenlijk éérste) werk, dat pure minimal was. Maar wie ben ik....
Jurgen BRAECKEVELT
19/09/2022
---