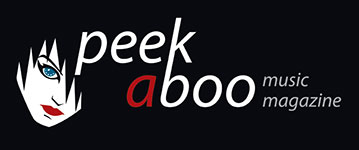 like this concert review
---
WULF7 + THE JUGGERNAUTS
11/06/2022 - LIVE AT THE BAROCK - BRUGGE
Concert
14/06/2022, Jurgen BRAECKEVELT
---
The Barock in Bruges, a nice dark pub with a small cosy concert hall, was the place to be on June 11th for an evening of unstoppable stomping beats. The danceable beats provided by two top bands from the Belgian EBM scene: Wülf7 and The Juggernauts.
The Barock turned quite into black. Armed with a fresh foamy beer, we shuffled towards the concert hall behind the café when the wolves of Wülf7 took the stage. The pack and the audience were ready! Despite the fact their frontman BWülf told me that he was a bit nervous at the start, we didn't notice any of this. The performance took off a bit like a slow freight train, this had nothing to do with the music itself, more with the fact the balance between the music and the vocals was a bit off. But after three songs this minor issue was soon a thing of the past. Then we were hit by the very tight performance, laced with their typical dark electro body melancholic sound of the wolfpack – which meanwhile expanded live into a trio. Solid dark beats, a mix of old school EBM, dark electro, with flirts of noisy sounds. The audience seemed to enjoy themselves very well, as did the threesome on stage. Their band shirt slogan bounced through the hall vividly: "Stay dark, EBM until you die". We cannot agree more!
After taking in some oxygen on the nice terrace in front of the Barock, we returned, armed with a fresh pint of beer, back to the hall for The Juggernauts. BORG (aka Peter Mastbooms) and his colleagues had already performed a great set at the Porta Nigra festival a few months ago so expectations were high for this one. Here, too, things started a little more cautiously. Just like with Wülf7, the overal sound really got better after a good fifteen minutes. Anyway: the EBM sound of the early days, which Belgium is notorious for, blasted through the speakers. "The Juggernauts are coming", and we couldn't resist. Although they are never really gone, still they invade earth time and time again. The helmeted threesome assimilated the house. People danced from front to back! Everyone knows The Juggernauts have a very strong live reputation and it lived up to it very well. The stomping EBM people went wild and seemed to enjoy it a lot!. The live set contained a nice selection of old and new, still unreleased, tracks. It is clear the pandemic has failed to penetrate the band members' space suits and helmets. Very convincing and tight performance. The dance went on until a little after 11 pm. And it was all fine for us, since our sweaty bodies, aching feet and knees (yes, we're getting older) started to take their toll.
Anyway, these were two very great concerts. Belgian EBM rules and is still alive!
Jurgen BRAECKEVELT
14/06/2022
---
Barock in Brugge, het fijne donkere café annex concertzaal, was the place to be op 11 juni voor een avondje stompende beats. Speelden ten dans: twee topnamen uit de Belgische EBM-scène: Wülf7 en The Juggernauts.
De Barock kleurde vrij zwart. Gewapend met een fris schuimend biertje, schuifelden we richting concertzaal. De wolfs van Wülf7 bestegen het podium. De roedel in de zaal was paraat. Ondanks het feit dat frontman BWülf me vertelde dat hij toch wat zenuwachtig was bij aanvang, was daarvan verder niet veel te merken. Het optreden trok zich als een diesel op gang. Dit had niets te maken met het muzikale, wel de klank die precies ten opzichte van de vocals ietwat achterop hinkte. Na een drietal songs, was euvel verholpen. Wat kregen we in de maag gesplitst: een heel strak optreden, doorspekt met hun dark electro body melancholic. Het intussen live tot trio uitgebouwde collectief, denderde onophoudelijk door. Stevige darkbeats, een mix van oldschool EBM, dark electro, her en der een flard eerder noisy sounds. En het publiek vermaakte zich, evenals de drie op het podium. Hun bandshirt werd doorleefd tot in de zaal gebracht: Stay dark, EBM until you die. We cannot agree more.
Na even een teug zuurstof op het terras voor de Barock te hebben genomen, gewapend met een verse pint terug voor The Juggernauts. BORG (aka Peter Mastbooms) en de zijnen hebben een paar maanden terug een geweldige set neergezet op Porta Nigra. De verwachtingen waren bij deze hoog gespannen. Ook hier kwam het iets voorzichtiger op gang. Precies als bij Wülf7 werd de sound pas echt goed na een goed kwartier. Anyway: de EBM van de begindagen, waar België zich nog steeds mee op de kaart zet, knalde door de boxen. The Juggernauts are coming, en het zal geweten zijn. They were never gone and invade earth every time again. De gehelmde drie pakten de zaal in. Er werd gedanst van vooraan tot achteraan. Iedereen weet dat The Juggernauts een heel sterke live reputatie hebben en die werd heel goed waargemaakt. Het stampvoetende EBM-volk ging los dat het een lust was. De set was een mooie mix van alles wat ze al maakten plus enkele nieuwe tracks. Het was duidelijk dat de pandemie er niet in geslaagd is doorheen de spacepakken en -helmen van de bandleden te dringen. Héél erg overtuigend en strak. The dance must go on. The dance eindigde om iets na 23 u. En het was best, gezien bezwete lichamen, pijnlijke voeten en knieën (ja, we worden wat ouder).
Anyway: dit waren twee heel goede concerten. Belgian EBM rules and is still alive!
Jurgen BRAECKEVELT
14/06/2022
---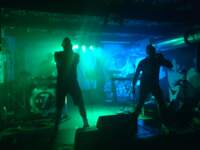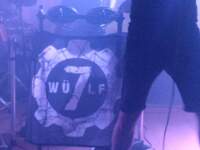 ---