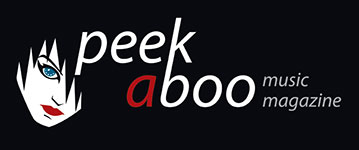 like this cd / digital review
---
MAGNETIC RUST
Multicolor
Music
•
CD / Digital
Synth Wave
•
Synthpop
[80/100]

Self-released
27/11/2021, Peter DOLPHEN
---
Sometimes, scrolling through some facebook groups can result in new 'digital friends' as in: connections. With some mutual friends, I received a message from Kévin Depoorter with an invite for the first official release-presentation of his latest product in Lille (France) for next year in February. A pity that I had to decline but we started chatting. Some moments later, Kévin sent me a link to my mailbox…
Magnetic Rust is the solo-project of Kévin, a North-French DIY-artist who is (clearly once you listen to the album) influenced by Jean-Michel Jarre, Kraftwerk and other pioneers in the electronic world (he also mentions Front 242, Gesaffelstein and Depeche Mode).
If you wander around through this album, you notice these influences are obvious. For example: the intro-track "Robotic Beats" as the title track "Multicolor" could come straight off the 80s samplers Synthesizer Greatest.
The tracks are very easy listening, laidback tracks. Ideal for a chill-out moment with some fancy drink that lights up in the dark. But still they have a different style. "Blue" for example gives me the shivers. Such an intense, emotional sad song.
Further on on the album there's a great track "Funny Dance". Clearly a Depeche Mode moment Kévin had there. Synthpop as it should sound.
The album slowly ripples and takes you further into Kévin's dreamworld.
The final highlight is "Ca bouge encore", with guest vocals by Bertrand Betsch, decidedly a well-known name especially in the French 'scene'.
Multicolor is the fourth album by Magnetic Rust and you notice this is not an album which came falling from the sky. The tracks are layered, nicely arranged and full of passion. It's all electronics, all beats and bleeps but what a great discovery.
It was released in October 2021 but is going to be officially presented to the audience on 26th February 2022. Curious? Meet Kévin at the Médiathèque of Vieux-Lille, at 17:30 where he will play a 1h30 DJ-set presenting the album and of course, some other similar tunes. Now I'm even more disappointed not to be able to make it to the release night…
Peter DOLPHEN
27/11/2021
---