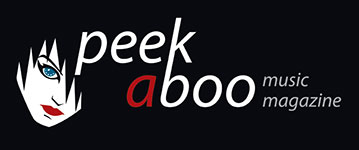 like this vinyl / digital review
---
STAATSEINDE
Fehlerlinie
Music
•
Vinyl / Digital
Electronics
•
Minimal
•
Synth Wave
[91/100]

Medical Records
02/11/2022, Jurgen BRAECKEVELT
---
The three ETs of Staatseinde have dropped a new chunk of violence on planet Earth while passing by. It was given the name Fehnerlinie. After their summer visit to the Kinky Star (Ghent), where we got a live preview of a couple of new songs which were conceived on a black star, they have now released the brand new LP containing 10 songs.
In terms of their line-up there is also news: the trio became a duo again after Metzger Pat left the band to continue on his own musical path.
Over a beer brewed by the band during Corona times, Der Neo already mentioned the new album would again take a somewhat more minimalist direction and that the choice was also made to limit the hardware rather than expand it live.
Anyway, anyone who has already experienced these Dutchies live, knows that there is no lack of energy and musical pleasure when they perform. This is a band that effortlessly takes any stage and even more the audience. Curious about what the new disc brings… More of the same, but different. In the first sense meaning they stay true to their hardware-driven blissful minimal with the occasional swipe of sturdier EBM. In the second sense it does indeed feel a bit more minimalistic, while the madness we know from them has calmed down a bit. However it's not gone, not less… more … erm … Different!
What has remained is the danceability, the cutting sequences in the basses, the typical sound of old school synths that they happily drag on stage. Also an abundance of variation: from modest and drenched in minimal songs as 'Es Gibt So Tage', 'Elítisti' and 'Ferienpalast' to danceable songs as 'Die Ferne' and 'Vi Är Hubots', permeated with EBM fragments. If you prefer something more fluffy and psychedelic, but still firm enough to make your legs move, listen to 'Neuer Rückfall'.
'Land Aller Freunde' proves once more electronic roads can also lead to synth-pop land. A somewhat more driven rhythm, an uptempo track without really erupting completely.
The vocoder is assigned to appear on several tracks. The spacey sounds are typical of the foreign folks of Staatseinde. '2023' sounds as futuristic as possible and, as track 5 on the B-side, takes us to the end of this extremely great vinyl.
In recent years, Staatseinde has already provided us with some fine releases and ditto performances. But, as stated before, you have to experience them live, because their strong minimal synth-wave songs sound even stronger live than they do on vinyl. This 'Fehlerlinie' is anything but a "Fehler", but again an excellent feat by these traveling-light-years-at-dizzying-speed great Dutchmen. Buy that shit through Medical Records or at their gigs, many of which I hope will be on Belgian soil.
Jurgen BRAECKEVELT
02/11/2022
---
De drie ET's van Staatseinde hebben een nieuwe brok geweld op planeet Aarde gedropt. Het kreeg de naam Fehnerlinie. Na een zomerse passage in de Genste Kinky Star, voor een live voorsmaakje van enkele nieuwe songs, verschijnt nu nagelnieuwe LP met 10 nummers.
Qua line-up is er ook nieuws: het trio wordt weer een duo nadat Metzger Pat de band verlaat om zijn eigen muzikale weg te volgen.
Bij een door de band in Coronatijd gebrouwen biertje vertelde Der Neo al dat het nieuwe album weer ietwat minimalistischer zou zijn en dat ook de keuze werd gemaakt om live de hardware eerder in te perken dan uit te breiden.
Anyway: wie de Nederlanders al live mocht beleven kent hun bakken energie en hun muzikale plezier. Dit is een band die zonder moeite elk podium inneemt en het publiek nog meer. Benieuwd naar wat de nieuwe schijf brengt… Wel, meer van 'hetzelfde', maar anders. Ze blijven trouw aan hun hardwaregedreven minimal met af en toe een veeg uit steviger EBM-pan. Anders, want klinkt het inderdaad wat minimalistischer en hun waanzin is wat gekalmeerd. Lees niét: verdwenen. Lees ook zéker niet 'minder'. Anders.
Wat volledig hetzelfde bleef is de dansbaarheid, de snijdende sequences in de bassen, de typische sound van de oldschool synths die ze met plezier ook nog mee het podium op flikkeren.
En ook overvloed qua variatie: van ingetogen en in minimal gedrenkte songs als Es Gibt So Tage, Elítisti en Ferienpalast tot eerder van EBM-flarden doordrongen dansbare liederen als Die Ferne en Vi Är Hubots. Heb je het liever iets meer fluffy en psychedelisch, maar toch nog stevig genoeg om de beentjes hun plezier te gunnen, luister dan naar Neuer Rückfall.
Dat elektronische wegen ook naar synthpopland kunnen leiden bewijst Land Aller Freunde. Een wat meer uit de kluiten gewassen ritme en uptempo zonder echt uit de voegen te barsten.
De vocoder krijgt in verschillende nummers een rol toegewezen. De spacy sounds zijn eigen aan het uitlandse volkje dat Staatseinde is. 2023 klinkt dan ook zo futuristisch als kan en doet ons uitgeleide als song 5 op de B-zijde van deze uitermate lekkere vinyl.
De afgelopen jaren stond Staatseinde al garant voor fijne schijfjes en dito optredens. Je moet ze aan het werk zien, want dat maakt hun sterke minimal synthwave zoveel sterker nog dan op vinyl. Deze Fehlerlinie is allesbehalve een Fehler, maar alweer een uitmuntend huzarenstukje. Aanschaffen die handel bij Medical Records of tijdens optredens, waarvan ik hoop dat er vele op Belgische bodem zullen zijn.
Jurgen BRAECKEVELT
02/11/2022
---
---