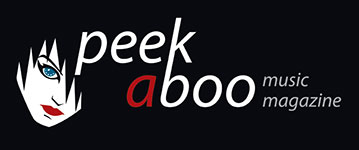 like this cd / vinyl / digital review
---
THE BLACKHEART ORCHESTRA
Mesmeranto
Music
•
CD / Vinyl / Digital
Electro Rock
•
Electro Wave
•
Electronics
[95/100]

Cherry Red Records
17/10/2019, Kevin BURKE
---
It is refreshing when word filters through of the latest release by The Blackheart Orchestra, their execution of beautifully spellbinding, abstract works which paint soundscapes of infinite colours. Following on from 2017's divine and applauded Diving For Roses, the next long-player by The Blackheart Orchestra titled Mesmeranto dropped to earth on the11th of October. Already the temperature gauges for the ultra prowess are hitting a high.
At times their music verges closer to an art installation than an album, which is why this October 11, the emotive fruits from the labour of Chrissy Mostyn and Rick Pilkington goes cinematic in scale. It is a 60-minute piece of music split into 14 songs, a progressively layered 14 scenes honed to an adventurous soundtrack for the lows and highs projected by Chrissy Mostyn. Through the 14 stages she takes the listeners hand and guides them through the realities of life, the concentrated emotions, from heartfelt pleas of hopelessness to the effervescent screams of joy.
From the opening conversational "Ennikur", and the loss of a friend, to the life-affirming, anthemic "I Am" the recording shifts gracefully through emotive themes. Subjecting audience to the brilliance of focused peace with "Left To Right" to the surging resentment of "Good Weather", and as if a reaffirmation of life after death with the hope of another existence in "Another Lifetime". Mesmeranto contains a powerful trajectory which will stir inner feelings, just as the music is meant to.
All these themes are presented within the landscape of fused electronic experimentation, classical nuances and the multilayered haunting harmonies surrounding Mostyn's heartfelt vocals. This makes for both an exciting and appealing recording which questions our views on existence.
TRACK LISTING;
1. ENNIKUR
2. DROWN ME OUT
3. WOLVES
4. ALL OF ME
5. I AM
6. BACK TO EARTH
7. GOOD WEATHER
8. YOU AND I
9. LEFT TO RIGHT
10. MORE
11. NEVER DO, DO I
12. TRY
13. VIOLET
14. ANOTHER LIFETIME
Facebook;
https://www.facebook.com/theblackheartorchestra/
Website;
http://www.theblackheartorchestra.com/
Kevin BURKE
17/10/2019
---