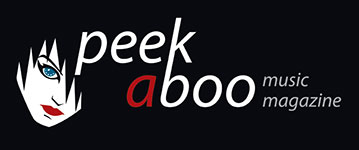 like this digital review
---
PORTION CONTROL
SEED EP3
Music
•
Digital
Dark Electro
•
EBM
•
Electronics
[90/100]

Self-released
16/04/2021, Fred GADGET
---
Portion Control is on the roll! This is their third EP release within one year! And if you are concerned the quantity is affecting the quality of these releases, you can rest reassured! In fact, I would even dare to say these three most recent EP releases are among the strongest outputs this band has ever released. According to the accompanying info from the band, this 3rd EP should be the last of their SEED EP series. Although this EP features 13 tracks, the band refuses to call it an album....
Anyway, this extended-play kicks-off strong right away with the opening track 'Possession', "You belong to me" chants singer Dean through-out this great song which features all recognizable Portion Control ingredients. But everything can be done better and these two gentlemen prove it right away with the following pounding song "Traitor", which fully confirms the aggressiveness that the title already gives away. And so it continues with "Move", another very strong track. What follows next is not something you would expect in these times, maybes from a Punk band, but from an electronic act? Anyway, Portion Control took up the challenge to put no less than nine short tracks on this release barely lasting two minutes. And yet they did a very good job of turning almost each and every one of these short tracks into as good as fully-fledged songs. Not a negligible album, or in this case EP filling, but noteworthy pieces of works. Some of these short tracks are even dance proof! Very well done! But they conclude this very extended play with even more style! As an outro we get "Chain_longform", an almost 20-minute long track that itself seems to be composed of different short tracks, which makes us enjoy every second of those 20 minutes, without any interruption. Portion Control has become a sort of DIY band by choice, one that deserves your utter respect! So visit their website and buy that sh*t now!
Fred GADGET
16/04/2021
---
Portion Control is an the roll! Dit is hun derde EP in minder dan een jaar tijd! En mocht u vrezen de kwantiteit de kwaliteit van deze releases zou beïnvloeden, kan ik u gerust stellen! Meer zelfs, ik zou zelfs durven stellen dat deze drie meest recente releases tot bij het sterkste behoren wat deze band ooit uitbracht. Volgens de bijgevoegde info van de band zou deze 3 de EP, de laatste van hun SEED EP reeks zijn. Waarom deze EP met 13 tracks door de band niet als album wordt beschouwd leest u later … Maar goed, deze extended-play begint zet er meteen de beuk in met de track 'Possession', "You belong to me" scandeert zanger Dean" doorheen een kei-goed nummer met alle herkenbare Portion Control ingrediënten. Maar alles kan beter en dat bewijzen deze beide heren met het meteen daaropvolgende nummer 'Traitor' dat de agressiviteit die de titel al doet vermoeden, volledig bevestigd. En zo gaat zo verder met 'Move', ook een ijzersterk nummer. Wat dan volgt is wat je in deze tijden niet meteen verwacht, misschien van van een Punk band maar van een elektronische act? In ieder geval ging Portion Control de uitdaging aan om niet minder dan negen nummers op deze release te plaatsen die amper twee minuten lang zijn. En toch zijn ze er heel goed in geslaagd om bijna van elk van deze short-tracks volwaardige nummers te maken. Geen verwaarloosbare album of in dit geval EP vulling maar noemenswaardige werkjes. Enkele onder deze short-track zijn zelfs dansvloer-waardig! Zeer straf! Afsluiten doen we op deze wel heel extended play met nog meer stijl! Zo krijgt u als uitsmijter 'Chain_longform', een bijna 20 minuten lange track dat zelf ook weer lijkt samengesteld uit verschillende songs en ons zonder ophouden van elke van die 20 minuten doet genieten. Portion Control is een DYI band (geworden) die ook uw respect verdiend! Dus bezoek hun website en kopen die handel!
Fred GADGET
16/04/2021
---