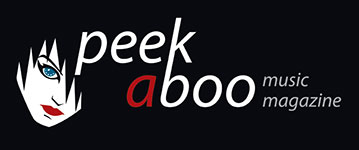 like this cd / vinyl / digital review
---
STATIQBLOOM
Asphyxia
Music
•
CD / Vinyl / Digital
Dark Electro
•
Electro
•
Electronics
•
Post Industrial
[86/100]

Metropolis Records
17/08/2019, Jurgen BRAECKEVELT
---
Statiqbloom is the brainchild of musician Fade Kainer, who was born in Germany but is now based in Brooklyn, New York. He is familiar with many styles, like for instance his work with Theologian and the metal band Tombs. He started Statiqbloom in 2012 and released his debut EP Mask Vision Poison in 2013.
While another EP and a couple of limited cassettes followed, he found a musical partner in Denman C. Anderson, with whom he released the album Blue Moon Blood in 2017 and the six-track EP Infinite Specter in 2018.
Now they present us their brand new album Asphyxia.
What is noticeable after listening to a couple of songs is difficult to grasp in the correct terms here. End of the review then? No, at least we should try...
In moments this album is uncompromising and brilliant, it takes you on a journey through 40 years of electronic musical escapades. From Front 242 to Ministry, from industrial to harsh electro, from fat EBM to electro-punk.
Not surprising also some Metal, even without the mandatory guitar violence, comes to the fore to some extent.
'Ceaseless' is not fast in terms of tempo... Dark black (yes! yes!)n, while it creaks and squeaks the noisy sound is treated with some dry drum beats that hit our stomach a couple of times.
There are also somewhat more digestible and more melodic driven dark electro songs, such as 'Until Oblivion'. Or a bit more due to industrial, distortion and some noise-tinged songs such as 'Possession or Eight Hearts Eight Spikes' that in an somewhat modest way wears an industrial coat.
And then something else, a somewhat psychedelic twist and some soundscape fragments, interspersed with melodic dark wave and a pinch of minimal synth are presented with 'Painted Red'. It is quite clear that these men managed to put together a whole range of styles in a damn inventive way.
No matter how complicated it sometimes might sound, there is also beauty in simplicity and a more limited instrumental commitment. In 'Silver Face' the machinery is brought to use soberly, or so it sounds.
'Figure Behind The Door' is build-up from more aggressive and noisy ingredients. It evokes a creepy image, full of hungry and creepy zombies that are wandering around, eagerly looking for some leftover meat on some disintegration bodies. 'No Providence' is more an epic sounding jumble of noise, eighties influences and yet more danceable EBM drumming.
'Descent' creates a grim and perverse atmosphere and has something threatening. As if being chased by a ghost, who despite its non-solid shape, you still feel bumping into you.
If you are looking for very diverse sounding album, in which both the old electro and the more contemporary influences can be discerned, then this is an album that has it all. Get carried away... and yes... buy that Sh*t!
Jurgen BRAECKEVELT
17/08/2019
---
Statiqbloom is het geesteskind van de in Duitsland geboren maar in Brooklyn, New York, gevestigde muzikant Fade Kainer. Hij is van diverse markten thuis, onder andere om zijn werk bij Theologian en de metalband Tombs. Hij begon anno 2012 met Statiqbloom. In 2013 verscheen de debuut EP Mask Vision Poison
Er volgden nog een EP en een paar gelimiteerde cassettes. Hij vond een compagnon in Denman C. Anderson, met wie hij in 2017 het album Blue Moon Blood en in 2018 de zes nummers tellende EP Infinite Spectre uitbracht.
Nu brengen zij het album Asphyxia.
Wat na het beluisteren van een aantal nummers opvalt is moeilijk in de juiste bewoordingen te vatten. Einde review dan maar??? Of toch een poging…
Het is compromisloos, briljant met momenten, en het neemt je op tijdreis door 40 jaar electronische muzikale escapades. Van Front 242 tot Ministry, van industrial naar harsh electro en vette EBM en electro-punk.
Het zal niet verbazen dat de metal, zonder het gitaargeweld, ook wel in enige mate de kop opsteekt.
Ceaseless is niet snel qua tempo, donkerzwart (jup jup !), het kraakt en piept en krijgt op gezette tijden doorheen de noisy sound een aantal kurkdroge drumbeats in de maag gesplitst.
En er zijn ook ietwat verteerbaardere en meer door melodie gedreven dark electro-songs te vinden, zoals Until Oblivion. Of wat meer door industrial, distortie en wat noise getinte songs als Possession of Eight Hearts Eight Spikes die op een ietwat ingetogen manier dan toch een industrieel kleedje draagt.
En dan weer iets anders, met een ietwat psychedelische inslag en wat soundscape-flarden, afgewisseld met melodieuze darkwave en een snuifje minimal synth met Painted Red. Het is vrij duidelijk dat de heren een scala aan mogelijkheden op een verdomd inventieve manier aan elkaar weten te rijgen.
En hoe ingewikkeld het soms ook klinkt, er zit ook schoonheid in eenvoud en een beperktere instrumentele inzet. Silver Face bedient zich sober van de machinerie. Of zo klinkt het althans.
Figure Behind The Door tapt dan weer uit heel wat agressieve en noisy vaten. Het roept een griezelig beeld op, vol creepy zombies die hongerig en gretig op zoek zijn naar wat resterend vlees aan één of ander in ontbinding zijnd lichaam. No Providence is dan weer een episch klinkend allegaartje van noise, eighties invloeden en toch wat dansbaarder EBM-drumwerk.
Descent zorgt voor een grimmig pervers sfeertje en heeft iets dreigends. Alsof je door een schim wordt nagezeten die je toch, ondanks zijn niet vaste gedaante, tegen je aan voelt lopen bij momenten.
Als je nu wil spreken over een heel divers klinkend album, waar zowel de oude electro als de meer hedendaagse invloeden in te ontwaren zijn, dan is dit een album die het allemaal hééft. Laat u meeslepen… en ja… aanschaffen die handel!
Jurgen BRAECKEVELT
17/08/2019
---
---