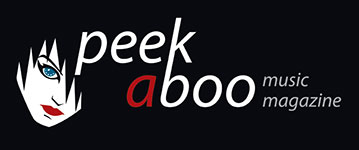 like this cd / vinyl / digital review
---
ROSE MCDOWALL AND SHAWN PINCHBECK
Far From The Apple Tree
Music
•
CD / Vinyl / Digital
Alternative Rock
•
Ambient
•
Soundtrack
[90/100]

Glass Modern / Glass Records
17/10/2019, Kevin BURKE
---
In recent times the movie soundtrack album has become something of a collection of well-known tracks, pieced together as if a compilation. An idea coming to the fore in the nineties with the rise of the Tarantino era, luckily there are some which prefer to build a soundtrack specifically to suit a visual outing. This one in particular belongs to the Grant McPhee (Big Gold Dream) movie Far From The Apple Tree. A movie structured as a ghostly, adult fairytale, becomes the perfect vehicle for the combination of Scottish songstress Rose McDowall (Strawberry Switchblade, Coil) and Canadian composer Shawn Pinchbeck.
The soundtrack is an exceptional piece of work, an electro-acoustic affair of enthralling textures and alluring lyrics. From the opening "Forever", a soundscape is built of effervescent instrumentation firing colours of sound in every direction. The haunting voice of Rose builds with tension, slowing rising with a raw beauty as the human themes are explored and reflected from this pop-art indie movie into the audio arts. There is a varied musical shifting with "Drown Me", it is more abstract with the flow of water and electronics before the song bursts through. The chanting vocal against organic sounds, hypnotic in its structure that pulls the audience into the theme further.
"Bittersweet" perhaps one of the standouts, with the chirping of birds and the clean picked guitar strokes creates a simple, inspired atmosphere. A soothing track with a more sweet tone than a bitter, leading into "Storm", a menacing eerie and brilliant track with cascades of sound against a half spoken delivery, nailing the subject matter with awe. Whereas "Spirit Flesh" is Rose McDowall at her very best, submerged within this gothic fairytale resulting in an incredible song of beauty that is as engrossing as it is unsettling. The lead track "Gem" is both ethereal and majestic in equal measure, filling the atmosphere from which it stems with caustic noise.
"Nocturne" is again more abstract nuances, with sounds clashing against a building wave of drones. The spell of injected melodies become frighteningly intense as it unfolds. "Butterfly Hawk" lifts the album again, the instruments present a John Carpenter feel with a sci-fi-horror, stylish delivery. Closing out with poignant and mournful "Waves", with its flourishes of guitar patterns and the rolling sounds of the sea, the outstanding beauty of the music is astonishing and at times overwhelming.
This is a work which stands exclusively from the film which it is based upon, an extension of that outing and one which works independently. It is not by any means an afterthought to form a backdrop, instead it is the result of two musical forces combining their passion. Hopefully there is more to come from this duo of eclectic artists.
Tracklist;
1. Forever
2. Drown Me
3. Bittersweet
4. Storm
5. Spirit Flesh
6. Gem
7. Nocturne
8. Butterfly Hawk
9. Waves
Released November 8th on Vinyl & CD.Via Glass Records Modern;
https://glassmodern.bandcamp.com/album/far-from-the-apple-tree
Kevin BURKE
17/10/2019
---