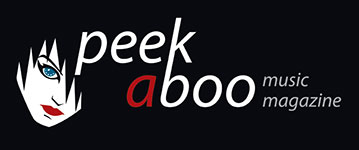 like this cd / vinyl / digital review
---
LISA GERRARD & JULES MAXWELL
Burn
Music
•
CD / Vinyl / Digital
Ambient
•
Dance
•
Electro
•
Ethereal / Heavenly Voices
•
Mystical
Atlantic Curve
17/05/2021, Tom PLOVIE
---
My discovery of the album 'Burn' begins with the music video for the title track 'Noyalain (Burn)'. Immediately a money shot! Shivers. It is impossible to see the video, made by the Pole Jacob Chelkowski, apart from corona. At its heart is the concept of touch. How a small gesture can become so grand. The tears in people's eyes, very soberly portrayed in black and white, simply summarizes our humanity. There is the epic music of Maxwell and the mystical voice of Gerrard: danceable and sacred. I immediately watch the clip a second time.
The duo Gerrard and Maxwell know each other from Dead Can Dance. The Irish composer has been playing keyboards there for years. The seed for this musical collaboration was sown some seven years ago. Maxwell wrote songs for their project 'Le Mystère des Voix Bulgares'. In between, the musical ideas for their own, organically grown collaboration were born. Producer James Chapman then gave the actual starting signal to realize this album.
The fact that the 7 songs literally grew one by one and both artists took their time (a project of years!) results in a musical grand cru. Maxwell described the early collaboration with Lisa as a wild horse full of untamed potential that, with a very specific approach, is capable of amazing achievements. It would be inappropriate to say that he has tamed the horse, but let me say how nice it is to hear Lisa Gerrard's voice on every track of a record.
Opener is 'Heleali (The Sea Will Rise)', a song that builds up gently but gradually swells and finds the perfect tone to introduce the whole album. Let me give away the essence right away: this album tastes best when taken in as a whole. It is one big, monumental musical story, told in 35 intense minutes. This meditation on the eternal coming and going of the tides immediately acquires the epic and cinematic character that remains present in the rest of the album.
'Deshta (Forever)' also received an intriguing video as its second single. The song begins in a haze, tentative, but quickly blossoms open. The beat sets a ritual in motion, accompanied by Gerrard's mystical chanting. Images from the clip, this time created by Michal Sosna, again put man at the centre. On the one hand we see the earth (to be taken literally) giving birth to a man, on the other hand there are the stylized close-up images of the body tightly enveloped by a wet sheet. Focus on breathing and again: touching. In the final image, when two people, each wrapped under a sheet, want to kiss each other, corona comes into play again. Like a ghost that keeps on spreading fear and gets in the way of real intimacy.
That the album has a danceable character is made explicit with 'Aldavyeem (A Time To Dance)'. Ideal for evoking trance. A highlight of the album can be found on 'Orion (The Weary Huntsman)'. The song starts rather quietly with a lamentation that begins a solid build-up after one minute. Gerrard's track record is filled to the brim with contributions to various soundtracks, and this song is certainly one of them - even without a movie. It's not difficult to imagine grand and expansive images yourself to go with it. The hero coming home purified after a long journey. It may seem cliché, but it is masterfully made and it works. Immerse yourself in all the bombast!
There is some introspection with 'Keson (Until My Strength Returns)' that opens soberly with the warm and healing alto of Gerrard. Her meaningless words are full of emotion and feel timeless. Maxwell again complements with layered electro. The vocal outbursts in the second half of the song reverberate for a long time. Intense.
Closing song 'Do So Yol (Gather The Wind)' sounds like a real folk song that everyone can happily sing along to. And so ends a true feast for lovers of Gerrard's unique voice. A singing voice that Maxwell masterfully gives all the shine it deserves and still has after a career of 40 years. Great in all respects.
The LP is out since May 7 and a first release of the Atlantic Curve label. It is also available on CD and through various streaming platforms: https://orcd.co/lisajulesburn
Tom PLOVIE
17/05/2021
---
Mijn ontdekking van het album 'Burn' begint met de videoclip van de titeltrack 'Noyalain (Burn)'. Meteen een schot in de roos. Rillingen. Het is onmogelijk om de video, gemaakt door de Pool Jacob Chelkowski, los te zien van corona. Centraal staat de aanraking. Hoe een klein gebaar zo groots kan worden. De tranen in de ogen van de figuranten, heel sober in zwart-witbeeld gebracht, vat ons mens-zijn eenvoudig samen. Daarbij is er de epische muziek van Maxwell en de mystieke stem van Gerrard: tegelijk dansbaar en sacraal. Ik bekijk de clip meteen een tweede maal.
Het duo Gerrard en Maxwell kent elkaar van bij Dead Can Dance. De Ierse componist bespeelt er sedert jaren de keyboards. De kiem voor deze muzikale samenwerking ontstond zo'n 7 jaar terug. Maxwell schreef toen songs voor hun project met 'Le Mystère des Voix Bulgares'. Tussendoor ontstonden de muzikale ideeën voor hun eigen, organisch gegroeide samenwerking. Producer James Chapman gaf vervolgens het eigenlijke startschot om dit album te realiseren.
Dat de 7 nummers letterlijk één voor één gegroeid zijn en beide artiesten er hun tijd voor namen (een project van jaren!) resulteert in een muzikale grand cru. Maxwell omschreef de prille samenwerking met Lisa als een wild paard vol ongetemd potentieel dat mits een zeer specifieke aanpak tot wonderlijke prestaties in staat is. Het zou ongepast zijn te zeggen dat hij het paard getemd heeft, maar laat mij wel zeggen hoe fijn het is om de stem van Lisa Gerrard nog eens op élke track van een plaat te horen.
Opener is 'Heleali (The Sea Will Rise)', een nummer dat zacht weet op te bouwen maar stilaan aanzwelt en de perfecte toon weet te vinden om het geheel in te leiden. Want laat ik meteen de clou weggeven: dit album smaakt het best als één geheel. Het is één groot(s) muzikaal verhaal, vertelt in 35 intense minuten.
Deze meditatie op het eeuwig komen en gaan van de getijden krijgt meteen het episch en filmisch karakter dat in de rest van het album aanwezig blijft.
'Deshta (Forever)' kreeg als tweede single ook een intrigerende video mee. Het lied begint in nevelen gehuld, aftastend, maar bloeit vlug open. De beat zet een ritueel in gang met daarbij de mystieke zang van Gerrard. Beelden van de clip, ditmaal gemaakt door Michal Sosna, stellen de mens opnieuw centraal. Enerzijds zien we de aarde (letterlijk te nemen) die een man baart, anderzijds zijn er de gestilleerde close-upbeelden van het lichaam strak omhuld door een (nat) laken. Focus op de ademhaling en opnieuw: aanrakingen. Als in het slotbeeld twee personen, elk onder een laken, elkaar willen kussen, komt corona weer in beeld. Als een spook dat angst blijft zaaien en de échte nabijheid in de weg staat.
Dat er een dansbaar karakter aan het album kleeft mag met 'Aldavyeem (A Time To Dance)' expliciet benoemd worden. Ideaal om de trance op te roepen. Daarna is het de beurt aan 'Orion (The Weary Huntsman)'. Beginnen doet het nummer vrij rustig met een lamentatie die na één minuut aan een stevige opbouw begint. Het palmares van Gerrard is flink gevuld met contributies aan diverse soundtracks, maar deze song kan er zeker bij – zelfs zonder film. Moeilijk is het niet om er zelf grootse en weidse beelden bij te zien. De held die na een lange reis gelouterd thuiskomt. Het mag cliché overkomen, maar het is meesterlijk gemaakt en het wérkt. Lekker onderdompelen in alle bombast!
Enige introspectie is er met 'Keson (Until My Strength Returns)' dat sober opent met de warme en helende alt van Gerrard. Haar betekenisloze woorden zitten vol emotie en voelen tijdloos. Maxwell vult opnieuw aan met gelaagde elektro. De vocale uithalen in de tweede helft van het nummer zinderen lang na. Intens en een absoluut hoogtepunt.
Afsluiter 'Do So Yol (Gather The Wind)' klinkt als een heuse folksong waarbij iedereen vrolijk kan meezingen. En daarmee eindigt een waar feest voor de liefhebber van Gerrards unieke stem. Een zangstem die Maxwell meesterlijk alle glans geeft die ze verdient én nog steeds heeft na een carrière van 40 jaar. Groots op alle vlakken.
Oh ja: tijdens het ganse opnameproces bleef Lisa in Australië en Jules in Frankrijk. Producer James legde de laatste hand aan het finaal geluid vanuit Engeland. Drie aparte werelden die hierop wondermooi samenkomen.
De LP is uit sedert 7 mei op het Atlantic Curve label. Ze is ook verkrijgbaar op CD en via diverse streamingplatformen: https://orcd.co/lisajulesburn.
Tom PLOVIE
17/05/2021
---
---