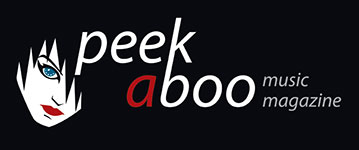 like this cd (ep) review
---
PESCH
Melba
Music
•
CD (EP)
EBM
[91/100]

Apricot Records
05/05/2021, Jurgen BRAECKEVELT
---
Melba is the title of the first maxi-single by PESCH, a new band with Red Zebra singer Peter Slabbynck, Sam Claeys (Red Zebra, Der Klinke, Elements, a.o) and Geert 'Chesko' Vandekerhof (Der Klinke, Story Off, a.o). Both the title of the record and the name of their self-managed label, Apricot Records, are expressions of the typical Slabbynck selfrelativating humor.
But PESCH also delivers EBM with an eccentric lyrical approach. Quite eccentric which makes this band / release very different from the "average'.
This Maxi-single contains 4 songs. And they are not always about what we would normally cover. For example 'No Handshake' which, unlike what you might think, is not about Covid-19, but about polarization and extremes … About our own hands that no longer seem to find each other, let alone find the hands of others.
'Low Libido' already suggests that it is about bed and other secrets. A low libido leaves little urge to perform, let alone suspect possibilities. The song therefore sounds rather painfully slow. With a very nice beat, deep basses and a lot of electronic suffering. Then, 'Let's Invade America' shifts up a gear … Very danceable and agile! Sam and Chesko provide a very nice uptempo atmosphere. Not only in this song, but also on the three other tracks theses musicians show their versatility. 'What's Wrong With People' again questions humanity. Wars, corruption, murders, lies and other cheerful themes that are typical of the homo sapiens, are put through the mangle on this song. Overal, it's a style singer Peter Slabbynck is less familiar with being a (post) punk adept from the first hour. So how they will put this on stage, in comparison with their other bands / projects, still remains to be seen. Their agenda will have to be coordinated, but if it is up to them, they want to take the stages and indulge the audience asap. On this strictly limited edition of 300 copies, which are all unique by the orange and red colored vinyl print reflecting a peach's texture, it sounds very nice and promising. What am I saying?! It does sound VERY promising!
With this release, PESCH is putting an additional high-quality EBM-style project in the Belgian scene and hopefully their map will expand beyond. So score your unique copy as soon as possible and keep an eye on those peaches. They will conquer the world….
Jurgen BRAECKEVELT
05/05/2021
---
Melba, zo heet de eerste maxi-single van PESCH, de nieuwe band van Red Zebra-zanger Peter Slabbynck samen met Sam Claeys (Red Zebra, Der Klinke, Elements e.a.) en Geert 'Chesko' Vandekerhof (Der Klinke, Story Off e.a.). Zowel de titel van de plaat als de naam van hun label in eigen beheer, Apricot Records, zijn uitingen van de typische zelfrelativerende Slabbynck humor.
PESCH brengt dan ook EBM met een tekstuele hoek af. Een ferme hoek. En dat maakt het anders dan de 'doorsnee'.
Op deze maxi staan 4 songs. Die gaan niet steeds over wat we doorsnee zouden denken. Zo bijvoorbeeld No Handshake. Dat gaat niet over Covid-19, maar wel over polarisatie, over uitersten, over onze eigen handen die elkaar al niet meer vinden, laat staan de hand van anderen.
De titel Low Libido doet vermoeden dat het gaat over bed- en andere geheimen. Het nummer klinkt dan ook eerder pijnlijk traag slepend. Met een heel lekkere beat, diepe bassen en veel electronisch leed.
Let's Invade America schakelt een stevige versnelling hoger. Heel dansbaar en wendbaar. Sam en Chesko zorgen voor een heel lekkere uptempo-sfeer. Niet enkel in dit nummer, maar ook in de drie andere tonen de muzikanten hun veelzijdigheid, in een genre dat Peter Slabbynck als (post)punk- adept minder eigen is. Hoe ze dit op een podium zullen neerzetten, gecombineerd met hun andere bands/projecten, zal nog moeten blijken. De agenda's zullen moeten worden afgestemd, maar als het aan de lieden zelf ligt willen ze podia inpalmen en het publiek inpakken. Op de strikt gelimiteerde oplage van 300 exemplaren, allemaal uniek door oranje en rood vinyl in een perziktextuur, klinkt het in alle geval heel fijn en veelbelovend. Wat zeg ik: het is veelbelovend.
In What's Wrong With People wordt de mensheid opnieuw in vraag gesteld. Oorlog, corruptie, moord, leugen en andere vrolijke thema's die eigen zijn aan de homo sapiens, worden door de mangel gehaald.
De 300 unieke exemplaren door de willekeurige perzik-aandoende – en overigens niét eerbare' vinyls kan je scoren via een e-mail naar pesch.ebm@gmail.com. De plaat zal ook te vinden zijn in een beperkt aantal platenwinkels.
Pesch zet met deze maxi-single alweer een bijkomend kwalitatief hoogstaand EBM-project op de Belgische - en hopelijk daarbuiten uitdeinende - kaart. Scoor zo snel mogelijk jouw unieke exemplaar en hou ze in de gaten. They will invade the world….
Jurgen BRAECKEVELT
05/05/2021
---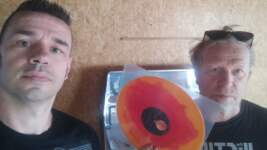 ---