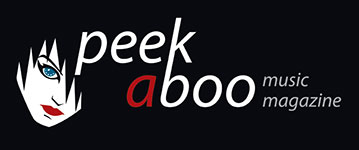 like this concert review
---
HEILUNG
Live at The Islington Assembly Hall
Concert
Ambient
•
Dark Folk
•
Ethereal / Heavenly Voices
•
Folk / Ethnic / Tribal
•
Neofolk
•
Soundscape
[100/100]

16/11/2018, Claudia BLACK
---
HEILUNG
With Jo Quail
The Islington Assembly Hall, London.
9/11/2018
Well what can I say about tonight's experience?? I, like many people, have waited for months to experience the ritual invocations of Heilung and finally that wait came to a well-received end!! My mind prepared and fortified for the night proceedings. I walked 10 minutes from my home to the venue and took my place in the queue, which at 6:20pm was not that long. By 6:55pm the queue was snaking its way up the pavement towards the bus stop, everyone in an anticipatory frame of mind!! The doors open!! The experience commences!!
I must say that I did have feelings that the sound would not do the performance justice, in the past I've found it a bit hit and miss, a bit tinny or flat, lacking in richness!! Not tonight though!! We had a fine opening from a cellist I'd not heard of before. Her name was Jo Quail. A friend informed me that she played Wave Gotik Treffen this year but alas my radar had not pinged back to me the existence of such fine music!! Jo took to the stage and positioned herself between all the Heilung tools of magic and set up her cello right in front of me!! Katie, one of the photographers in the pit turned to me and said ''She's really good she supported Mykur a while back!!'' Hmmm I thought. Her cello was intriguing, I wondered who's pelvis she had commandeered to create such a fine instrument! Anyway, the soundscapes were fascinating!! Using loops to create textures and beats she bowed that cello to create haunting and evocative impression on the mind that I am already hooked on. Remember Katie Tunstall when she came on stage using loops etc?? Like that but better, way better!! The set did not last long, ending with a piece inspired by a goddess of water whom I assume must be Bylgia! Jo Quail is engaging and I want to experience her sonic resonations again!!
Appetite well and truly wetted we await for the main course...
Roars and screams emanate from the crowd as a mist slowly creeps out from the back of the stage towards the acolytes behind the barriers. A hooded man prowls the stage wafting incense to all corners to focus the senses in preparation for what is to come:-
Remember, that we all are brothers
All people, beasts, trees and stone and wind
We all descend from the one great being
That was always there
Before people lived and named it
Before the first seed sprouted
And the drums start, the hypnotic drums that pull you out of your body and connect you with the spirits and the dead. In Maidjan has made me head bopping and wishing I could dance up and down in a circle. Images of prehistorical people and native Americans replete in finery, arms heavenwards gyrating in trance like states fill my mind. I can feel the vibration of the throngs behind me rhythmically moving in unison! Wow!!I A friend just responded with ''Wow'' in regards to the photos I posted on Instagram nearly in sync with me as I type this! And then we take a big breath before the drums recommence with Alfadhirhaiti (Names of The Allfather) that maintains the trance and has made me body hopping to other realms. I am here and I am there, I am everywhere!! Carpathian Forest slows things down a bit as we go for a jaunt through the trees. Krigskaldr, a lament on war has a tone to it that to me says ''Humans are stubborn, they will always be stubborn and because of this seeds will be sown for war!! We will learn a lesson and then go deaf, again!! The visual and aural spectacle continues through Fylgija Ear and Othan until we get to the finale of tonight's proceedings!! Every part of tonight's performance was spine chilling, awe inspiring and an assault on the senses. Hamrer Hippyer was all that and more!! It is a piece that commands attention and requires participation. Emancipated from the constraints of this world and this body I let loose in a sway of movement. The Shamans on the stage melded with the throngs, we became one, the one great being that was always there!!
It was an honour and a privilege to witness this ritual, I will be at rituals in the future!! You can count on it!!
10/10
https://www.facebook.com/amplifiedhistory/
https://www.facebook.com/JoQuailCello/
https://youtu.be/h1BsKIP4uYM
Claudia BLACK
16/11/2018
---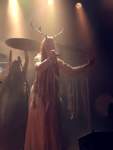 ---