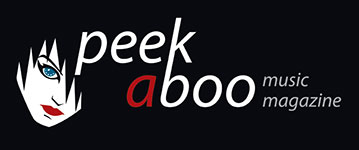 like this cd / vinyl / digital review
---
YOU, VICIOUS!
You, Vicious!
Music
•
CD / Vinyl / Digital
Electro Rock
•
Electronics
[70/100]

Manic Depression
10/11/2018, Kevin BURKE
---
The French electro-rock scene is pumping with a lifeblood of creativity, You Vicious! are the very definition of what the future of industrialized and forged sounds will bring, the band comprise of duo Max Balquier and Bren Costaire, both men perform, by all accounts, very intensely, with Costaire on drums while Balquier handles synthesizer and guitars.
Their self-titled album has landed on all formats, although the market of synthesizer driven rock might be flooded at present, here though, across the nine-album tracks You Vicious! rage a very passionate war, the depth and vision is perfectly balanced making it very appealing and there is a lot to like here.
The album opens with "The Distance From The Sea", an ambient-fuzz erupts before breaking into beats, the vocals work very well, the hypnotic rhythm along with phased effects is a delight. There is a mix of guitar over the synth, "Pretty Is All You Have" with its Kraftwerk-style intro and strained vocals make for an enjoyable track.
The jewels on the album come thick and fast, the instrumental "Dance W/ The Shamen" certainly stands out as a highlight, the production throughout is excellent but there is an extra-ambient sparkle here, this is not the boring mass-produced trance that has dominated the market, this a beast of it own design, highly addictive and very enjoyable.
On "No More (Us)" you enter a time-machine back to the eighties, the more modern beats lift to remind you of the era but for nostalgic purposes even the vocal is old-school. As "Trapped Mind" opens with a bell overplayed with an electronic chime, the album shifts into a more rock-orientation, certainly more guitar instrumentation than previously on the album, it is a nice break in between the electronic-machine music.
The other instrumental to take note of "Death Rays From Heaven" manages to shift gears throughout the tracks as instruments layer one on top of the other, squeezing as much technique into four-minutes as possible.
As the album closed with "Burn The House+It's Ghosts", the track winds with its ghostly vocals, guitar lines, minimalist ambient sounds, this is an almost summary of the album, the testament to its strength is you want to hear more and you will, luckily there is two-bonus tracks on some editions, the guitar-based "The Last Pathfinder" and "Somewhere (In Paris), two extremely heavy tracks and maybe a glimpse into the exciting direction You, Vicious! will take, a good quality listen indeed.
Kevin BURKE
10/11/2018
---