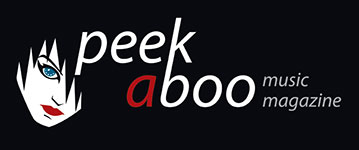 like this cd review
---
THE DEVIL & THE UNIVERSE
Benedicere
Music
•
CD
Dark Ambient
•
Darkwave
•
Electronics
•
Soundtrack
[84/100]

Rustblade Records
28/01/2016, Benny CALUWE
---
If you're a fan of band or you follow an artist with interest, then it's always great if they frequently release new material. It usually is, because sometimes artists prefer quantity above quality. Ashley Dayour is a busy bee. Next to his main band Whispers In The Shadow, he also is involved in Near Earth Orbit with Seth Artaud (Garden Of Delight, Merciful Nuns). Benedicere by The Devil & The Universe is the seventh album Dayour releases since 2012. And no, Dayour always considers quality as a high priority, because all of the seven albums are (fairly) strong ones!
Benedicere is the third album by The Devil & The Universe. The original duo Dayour and Pfister (Black Manna) became a trio when percussionist Stefan Elsbacher joined the project. Benedicere is Latin for to bless. Just like the cover art suggests, it's an album about Christian mysticism and in particular about the Virgin Mary. The band went on a pilgrimage to Lourdes, the Vatican and Santa Maria de Montserrat for inspiration. The latter is a Benedict abbey on a mysterious mountain close to Barcelona. In the monastery you see a statue of the Virgin of Montserrat, a black Madonna.
The Devil & The Universe labels its style as goat wave. You can describe the music as a mixture of dark wave and dark ambient. The dark ambient sounds often are cold. However, that's not the case on TD&TU because of the use of folkloristic elements and exotic instruments. Benedicere reminds me of an instrumental Dead Can Dance or Sopor Aeternus, but then menacing like their former label mates In Death It Ends.
The opening track Ascension is a slow and bombastic piece. Because of the organ and church bells, it reminds me of Lacrimosa during the days of Angst. Dei Genetrix has a mysterious atmosphere with its sinister drones. The electronic Immaculata sounds hypnotic and scary. This fantastic track certainly will do well on the dark dance floor with its uplifting rhythm. That's why this track reminds me of Goathead by Haunted Summer. Hail Mary! uses religious movie samples, just as the ritualistic Ora Pro Nobis Deum with its great industrial sequence. The cinematic Elousa contains ambient elements. Mater Dolorosa tempts with its striking percussion, obscure chants and cold keyboards. The folkloristic Nikopaia contains eastern elements. Benedicere ends in style with the bleak and menacing Road To Damascus.
Benedicere is a multi layered, varied and vivacious album. The Devil & The Universe did more than just confirm. A recommended album, but keep in mind there's only a limited amount of copies availble. Don't hesitate!
Benny CALUWE
28/01/2016
---
Als een band waarvan je fan bent of een artiest die je met interesse volgt, frequent nieuw werk uitbrengt, dan valt dat doorgaans aan te moedigen. Doorgaans, zeg ik, want af en toe slaat een artiest – om welke reden dan ook – aan het "produceren" en verliest hij daardoor de kwaliteit uit het oog. Ashley Dayour is een bezig baasje. Hij is actief in drie projecten. Sinds de release van The Rites Of Passage van Whispers In The Shadow uit 2012, is Benedicere van The Devil & The Universe het zevende album dat Dayour uitbrengt. Ashley is ook nog samen met Artaud Seth (Garden Of Delight en Merciful Nuns) lid van Near Earth Orbit, Je kan Dayour er niet van betichten dat hij kwaliteit niet hoog in het vaandel draagt, want de 7 albums zijn stuk voor stuk (vrij) sterke platen die over het algemeen goed ontvangen werden. Ashley Dayour bevindt zich dan ook in een creatieve hausse.

Benedicere is de derde langspeler van The Devil & The Universe. Het oorspronkelijke duo Dayour en Pfister (Black Manna) is ondertussen met percussionist Stefan Elsbacher een trio geworden. Benedicere is Latijns voor zegenen. Zoals de hoes laat vermoeden is het album gebaseerd op het christelijke mysticisme en in het bijzonder op de Maagd Maria. De band liet zich inspireren door pelgrimsstochten naar oorden zoals Lourdes, het Vaticaan en Santa Maria de Montserrat. Laatstgenoemde is een Benedictijnse abdij op een mysterieus uitziende verweerde berg net buiten Barcelona. In het klooster bevindt zich het beeld van de Maagd van Montserrat, een zwarte Madonna.

The Devil & The Universe bestempelt zijn stijl als goat wave, wat eigenlijk een mix van dark wave en dark ambient is. Dat laatste klinkt vaak onderkoeld, wat bij TD&TU minder het geval is wegens het gebruik van folkloristische elementen en exotische instrumenten. Op Benedicere herinnert de Oostenrijkse band me wat aan een instrumentale Dead Can Dance of Sopor Aeternus & The Ensemble Of Shadows, met de dreigende atmosfeer van In Death It Ends.

Ascension, de openingstrack, is een traag en bombastisch stuk. Wegensn het orgel en de kerkklokken doet het nummer mij denken aan Lacrimosa in de Angst-periode. Dei Genetrix ademt met zijn sinistere drones eveneens een mysterieuze atmosfeer. Het elektronische Immaculata klinkt hypnotisch en eng. Deze fantastische track zal het met zijn opzwepende ritmes ongetwijfeld goed doen op de dansvloer. Daarom herinnert het mij aan Goathead van Haunted Summer. Hail! Mary maakt gebruik van religieuze filmsamples, net zoals het ritualistische Ora Pro Nobis Deum dat tevens een heerlijke industrial sequence bevat. Het filmische Elousa gaat de ambienttour op. Mater Dolorosa bekoort met zijn opvallende percussie, obscure zang en koude keyboards. Het folkloristische Nikopaia is oosters geïnspireerd. Benedicere eindigt in stijl met het sombere, onheilsspellende Road To Damascus.

Benedicere is een gevarieerde, veel gelaagde en meeslepende plaat geworden. The Devil & The Universe doet meer dan bevestigen. Een aanrader in een gelimiteerde oplage. Een goed verstaander heeft maar een half woord nodig.
Benny CALUWE
28/01/2016
---