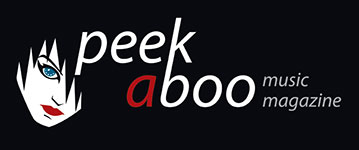 like this concert review
---
WHISPERING SONS, CHARNIER, RADAR MEN FROM THE MOON
Vorst, Le Brass (24/01/16)
Concert
27/01/2016, Didier BECU
---
Three bands that are working hard on a career, that is what we saw in the Brass in Forest (Brussels) yesterday. The venue was rather small, but ideal for these upcoming bands. It was no coincidence that also a record fair was organised, because the Belgian tape label Wool-E Tapes was the red line in this music festival. Both Whispering Sons and Charnier recently released a cassette on the Ghent based label, and they both are Belgian post-punk revelations!
Of course Peek-A-Boo readers know that Whispering Sons consists of five young Belgians who fill the gap between the classic cold wave of The Cure and modern post-punk bands such as The KVB or She Past Away. You can sum up a thousand bands when trying to describe the sound of this quintet, but the more you hear and see, the more you realize that they're just Whispering Sons. This is surely the merit of front woman Fenne Kuppens, whose stage behaviour is unique. She is nervous, but confident and in an almost frightening way she frees herself from all her inner demons! The sound of Whispering Sons is simply gorgeous, wistful, simultaneously retro and innovative, and even though we know we're using big words: the best band we heard in Belgium since years! Whispering Sons is a growing band and how crazy it may sound today: this is just the beginning!
People who follow the Brussels underground scene are familiar with Charnier. This trio released a cassette on Wool-E Tapes, and a vinyl version on Weyrd Son Records follows soon. This gig was a kind of home match for them, as the audience knew the sound of this post-punk band quite well. The singer was struggling with a sick throat, but fortunately you didn't notice that on stage. Musically, you hear that the cold sound of Joy Division forms the main influence, but this trio does something new with it and Charnier's music definitely can compete with international acts like Lebanon Hanover. Tightly played, addictive melodies and a set full of energy (despite the sore throat!)
The small festival ended with Radar Men From The Moon. This Dutch quartet has some records out on the popular British shoegaze label Fuzz Club Records. All songs are instrumental and the sound is between the experimental Krautrock of Can, the psychedelics of Hawkwind and the repetitive structures of Spacemen 3. Although their style is completely different from the two previous acts, we saw three bands that deserve that step higher!
Didier BECU
27/01/2016
---
Drie groepen die volop bezig zijn aan de opbouw van een carrière, dat is wat we gisteren in de Brass in Vorst zagen. Het zaaltje is klein en toch ideaal voor deze bands. Het was geen toeval dat er vooraf een platenbeurs was, want het Belgische tapelabel Wool-E Tapes was een beetje de rode draad in dit muziekfestijn. Zowel Whispering Sons als Charnier hebben onlangs een cassette op het Gentse label uitgebracht, en deze twee groepen mogen zich zonder blozen een Belgische postpunkrevelatie noemen!
Wie onze pagina's netjes bijhoudt, weet natuurlijk al een tijdje dat Whispering Sons uit vijf jonge Belgen bestaat die zonder veel nadenken het gat tussen de klassieke cold wave van The Cure en de hedendaagse postpunk van bands als The KVB of She Past Away opvullen. Je kan wel duizend bands verzinnen om het geluid van dit vijftal te (proberen te) omschrijven, maar hoe meer je hoort en ziet, hoe meer je beseft dat het gewoon om Whispering Sons gaat. Dat is de verdienste van frontvrouw Fenne Kuppens wier podiumgedrag uniek is in België. Ze is zenuwachtig, maar zelfzeker en op een bijna angstaanjagende manier laat ze alle innerlijke demonen op het podium los! De klanken van Whispering Sons zijn prachtig, weemoedig, retro en tegelijkertijd innoverend, en ook al zijn het grote woorden: deze band bevat het beste en het mooiste van wat we sinds jaren uit België hebben gehoord. Whispering Sons is een groep die groeit en hoe subliem alles op dit moment ook lijkt, dit is slechts een begin!
Wie het Brusselse concertleven van dichtbij beleeft, zal zonder twijfel al van Charnier hebben gehoord. Ook zij hebben een release op Wool-E Tapes, en de tape die onlangs werd uitgebracht, verschijnt weldra op vinyl op Weyrd Son Records. Voor de drie Brusselaars was dit concert bijna een thuismatch, en ook al sukkelde de zanger met een zieke keel, merkte je daar op het podium weinig van. Muzikaal hoor je natuurlijk het koude geluid van Joy Division, maar al gauw merk je dat dit trio er zijn eigen ding mee doet en gerust kan wedijveren met internationale acts als Lebanon Hanover of She Past Away (met wie ze overigens ooit het podium deelden). Strak gespeeld, verslavende melodielijnen en boordevol energie (ondanks die keelpijn!)
Het festivalletje werd afgesloten met Radar Men From The Moon. Dit Nederlandse viertal zit ondertussen op het hippe Britse shoegazelabel Fuzz Club Records. Alle nummers zijn instrumentaal en houden ergens het midden tussen de experimentele Krautrock van Can, de psychedelica van Hawkwind en het repetitieve karakter van Spacemen 3. Ook al verschilde hun stijl volledig met die van de twee vorige acts, zagen we gisteren in Vorst drie groepen aan het werk die de stap naar hoger verdienen!
Didier BECU
27/01/2016
---
---