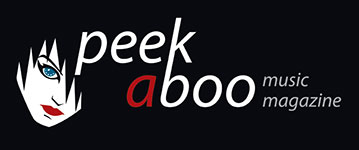 like this cd review
---
PROMISE & THE MONSTER
Feed The Fire
Music
•
CD
Dreampop
•
Folk
•
world music
[80/100]

Bella Union
26/01/2016, William LIÉNARD
---
Promise & The Monster is the project of the Swedish musician Billie Lindahl. She debuted in 2007 with the album Transparent Knives, followed by Red Tide (2011) and after an long interval she is back with Feed The Tide. Billi Lindahl will not blame us if we situate her repertoire between Loreena McKennitt and Joanna Newsome, because she has very much in common with both ladies, though she has clearly developed a very personal style within the genre. The new album contains ten tracks in which Billie Lindahl takes the listener to her own wonderland, though the dark atmosphere of the stories she tells (about violence and serial killers) will surely surprise you, because it strongly contrasts with the angelic voice and instrumentation.
Feed the Fire rolls out of the speakers as a beautiful ballad that opens the door to a unique dreamland. We hear soft humming synths and gentle guitars, percussion that sometimes sounds as quietly trotting horses, bells, a dark violin and heavenly vocals. The soundscape is finished with a gentle acoustic guitar. In Hunter we hear emphatic instruments with bell-like synths like passing cloud formations, and the voice, supported by a siren-like choral passage like a fragile bridal veil, dominates the soundscape. In Time of the Season the pace is higher, the trumpet-like synths sound dark and dangerous, but that takes only a moment, because then the artist unfolds a fairytale setting in which the guitars come to the fore, bell-like and reverberating, with Billie Lindahls golden voice in the middle: dream pop or synth pop or just a heavenly composition.
The World of Promise and The Monster is one of light and darkness, of mystery and imagination, birth and death, of intimacy and intense feelings, expressed in an attractive way in Slow & Quiet, which is deployed quietly and explodes shortly afterwards into a thousand colors, an orgy of sounds and impressions, again with the bell-like guitars at the fore and a reverberating aha-choir. Apartment Song, with whispered vocals and dark synth effects, sounds at the same time dark and cheerful as the fantasy of a girl of 16 about the prince she hopes to meet. You can't escape the beautiful melody: the soundtrack for a journey through the land of elves and fairies, and the synths sound a bit like electronic bagpipes! Julingvallen gets wordless vocals in the style of Lisa Gerrard, but the Australian never sounded so dark and fatalistic: the soundtrack for a video with besotted Sirens, forever chained to a rock overlooking the dark waters of the sea.
Hammering on the Nails ties in closely with the equally peaceful Slow & Quiet. The bell-like guitars reappear, assisted by emphatic percussion and the sound of a choir. A dark violin buzzes sporadically through the soundscape and the vocals lift the composition to the heavenly spheres. The Weight of it All sounds a bit darker and retains the fragile and fairytale atmosphere, occasionally supported by an intimate piano. The percussion sounds like the trampling of horseshoes, suggesting movement, and it leads the listener to the penultimate track Machines, in which Billie Lindahl's silken voice lures us into her dreamland again. Fine Horsem gets click-like percussion, a dark bass sound, synths that sound like an Arab flute, bells, and again a beautiful vocal line.
Magical and exotic, that's how this album sounds.
Tracklist:
1 Feed the Fire
2 Hunter
3 Time of the Season
4 Slow and Quiet
5 Apartment Song
6 Julingvallen
7 Hammering the Nails
8 The Weight of it All
9 Machines
10 Fine Horsem
https://soundcloud.com/bella-union/01-feed-the-fire
https://itunes.apple.com/gb/album/feed-the-fire/id1041952531
https://bellaunion.greedbag.com/buy/feed-the-fire-6/
William LIÉNARD
26/01/2016
---
Promise & The Monster is het project van de Zweedse muzikante Billie Lindahl. Ze debuteerde in 2007 met het album Transparent Knives, gevolgd door Red Tide (2011) en na een lange rustperiode is er nu Feed The Tide. Billi Lindahl neemt het ons beslist niet kwalijk als we haar repertoire situeren tussen Loreena McKennitt en Joanna Newsome, want met deze twee dames heeft ze compositorisch en qua geluid heel veel gemeen, al heeft ze wel duidelijk een heel eigen stijl binnen het genre ontwikkeld. Het nieuwe album bevat tien tracks waarin Billie Lindahl de luisteraar meeneemt naar haar eigen sprookjesland, al zal wie naar de teksten luisteren verrast zijn door de donkere sfeer van de verhalen (over geweld en seriemoordenaars) die fel contrasteren met de engelachtige aanpak.
Feed the Fire rolt uit de speakers als een prachtige ballade die de deur naar haar unieke droomland opent. We horen zacht zoemende synths en voorzichtige gitaren, percussie die soms klinkt als rustig dravende paarden, belletjes, donker vioolgeluid en hemelse vocalen. Het soundscape wordt afgewerkt met een voorzichtig aangestreken akoestische gitaar. Hunter krijgt een nadrukkelijker instrumentarium met belachtige synths als passerende wolkenformaties, maar het is opnieuw de stem, gesteund door een sirène-achtige koorpassage, die als een fragiele bruidsluier het soundscape domineert. In Time of the Season wordt het tempo opgevoerd, de trompetachtige synths klinken donker en gevaarlijk, maar dat duurt maar even, want vervolgens ontvouwt de artieste een sprookjesachtig decor waarin de gitaren dit keer nadrukkelijker op de voorgrond treden, belachtig en galmend met Billie Lindahls gouden stem in het midden: dreampop of synthpop of gewoon een hemelse compositie.
De wereld van Promise & The Monster is er eentje van licht en donker, van mysterie en verbeelding, geboorte en dood, van intimiteit en heftige gevoelens, en die verwoordt de artieste op een aantrekkelijke manier in Slow & Quiet dat vrij rustig wordt ingezet, maar kort nadien explodeert in duizend kleuren, een orgie van geluid en impressies, opnieuw met de belachtige gitaren op de voorgrond en een galmend aha-koortje. Apartment Song, met gefluisterde vocalen en donkere syntheffecten, klinkt tegelijk donker en opgewekt als de fantasie van een meisje van 16 over de prins die ze hoopt te ontmoeten. Aan de prachtige melodie valt niet te ontkomen: de soundtrack voor een reis door het land van elfen en feeën en de synths klinken echt wel een beetje als elektronische doedelzakken! Julingvallen krijgt een woordloze zanglijn in de stijl van Lisa Gerrard, met dat verschil dat de Australische nooit zo donker en fatalistisch klonk: de soundtrack voor een videoclip over verstoten Sirenes, voor eeuwig vastgeketend aan een rots met uitzicht op het donkere water van de zee.
Het verhalende Hammering on the Nails sluit nauw aan bij het al even rustige Slow & Quiet. Belachtige gitaren doen opnieuw hun intrede, bijgestaan door nadrukkelijk slagwerk en koorgeluid. Een donkere viool zoemt sporadisch door het soundscape en de vocalen tillen de compositie op naar hemelse sferen. The Weight of it All klinkt net iets donkerder maar behoudt de fragiele en sprookjesachtige sfeer, af en toe op de tonen van een intimistische piano. De percussie klinkt als paardenhoefgetrappel, suggereert beweging en leidt de luisteraar naar de voorlaatste track met de weinig poëtische naam Machines, waarin Billie Lindahls zijden stem er toch weer in slaagt om ons naar haar droomland te lokken. Fine Horsem krijgt klik-achtig slagwerk, donker basgeluid, oosters aandoende synths die klinken als een Arabische fluit, bellen en wederom een prachtige zanglijn.
Sprookjesachtig en exotisch, zo klinkt dit album van Promise & The Monster.
William LIÉNARD
26/01/2016
---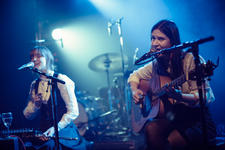 ---