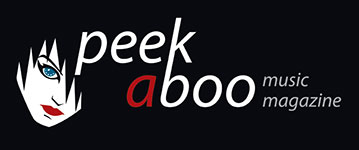 like this concert review
---
CANNAERTS & VAN CUTSEM
Mechelen, Theater M/Moonbeat (08/10/2016) CD-presentation
Concert
Folk
•
Jazz
•
Singer Songwriter
11/12/2016, Mark VAN MULLEM
---
We're not going to play too much from the new album, but there are more beautiful songs to chose from, singer Patricia Van Cutsem told a surprised audience at the beginning of the concert during the releaseparty of the new CD Morning Light by Cannaerts & Van Cutsem, Saturday evening, October 8th at Moonbeat Mechelen. This of course makes the listener curious, wanting to hear the new songs as soon as he or she returns home with the CD that was given for free after the gig, don't you think?
We've played two really good rehearsals Patrica joked, referring to the previous two gigs during the release weekend, now it's the real deal! New and old compositions by Jan Cannaerts were played, mostly sung by Patricia, with her sweet, warm and powerful voice, guided by the intimate, accurate and fragile guitar playing by Jan Cannaerts who also played the blues harp and did the backing vocals. The combination of Jan's songs, voice and guitar turned the concert into a hearthwarming evening on this 'Night of Darkness'.
Amongst the new songs we heard A Smile, Ain't no girl, the sublieme Nothing Wrong, which was the opener of the set, and the very moving Lament, with a very high goosebumps factor, with the strong lyrics and Patricia's lovely voice as the main elements. The title track of the new album, Morning Light, was saved for the finale.
The new material fits quite well with older songs like The Land of the Falling Leaves, This House, This Great Life, Fireplace and Because Of You, all written by Cannaerts, who took a step back and left the singing to Patrica. In the meantime Jan concentrated more on his exquisite guitar playing.
The evening was a blend of jazzy folk, folky blues and pure pop, coming straight from the heart. We want more! In the end all seven compositions from the new album were played during the concert, and the album itself sounds really good too. This is music that will get you through some cold winter nights...
Setlist:
Nothing Wrong* / A Smile* / Lament / The Land of Falling Leaves / This House / Because of You / This Great Life / Welcome / Fireplace / We Have Sailed / Ain't No Girl / Boy* / Yellaba
Encore:
You've Got Me* / Matter of Time / Morning Light*
(*) songs from the new cd
Mark VAN MULLEM
11/12/2016
---
Van de nieuwe cd gaan we niet veel spelen, hoor, wel veel andere mooie liedjes, een ietwat verrassende aankondiging van Patrica Van Cutsem bij aanvang van de cd-voorstelling van Morning Light, zaterdagavond 8 oktober 2016 in Theater M. De luisteraar kon natuulijk bij thuiskomst nog wat nieuws ontdekken; elke aanwezige melomaan kreeg immers de fonkelnieuwe cd mee naar huis...
We hebben twee goede repetities gehad en geven nu een topconcert, grapte Patrica. Over de concertjes op vrijdagavond en zaterdagmiddag kan ik me niet uitspreken, maar we hoorden inderdaad een heel erg sterk concert. De nieuwste, minder nieuwe en al wat oudere composities van Jan Cannaerts, diens fraaie en gevoelige gitaarspel en de zoetgevooisde warme en krachtige stem van Patrica Van Cutsem waren de garantie op deze erg mooie en hartverwarmende avond, tijdens deze Nacht van de Duisternis.

Bij de nieuwe songs was het een aangenaam kennismaking met A Smile, Ain't No Girl, het sublieme Nothing Wrong waarmee geopend werd, en het pakkende Lament met een hoge kippenvelfactor, wat zowel met de mooie tekst als de prachtige stem van Patrica te maken heeft. The sun goes down and we all trust that the sun will be back in the morning. De sfeervolle title track Morning Light werd opgespaard als ultieme afsluiter van een mooie concertavond.
De nieuwe liedjes vertoefden in het uitstekende gezelschap van toppers zoals The Land of Falling Leaves, This House, This Great Life, Fireplace, Yelaba, en Because Of You, stuk voor stuk composities van Jan Cannaerts die het zingen aan Patrica overlaat en zich in rol van uitstekend begeleider aanmeet en daarvan evengoed geniet en dat merk je. De stem van Patrica past bijzonder goed bij de sterke en oprechte, vaak pakkende liedjes van Jan.

De avond had een intimistisch karakter, we hoorden jazzy folk, folky blues en pure pop recht uit het hart. Nog van dat, graag!

De CD van Cannaerts & Van Cutsem, waarvan uiteindelijk álle zeven composities gewoon in de show zaten, is een echte aanrader en de ideale soundtrack voor de komende koude winteravonden!

Setlist:
Nothing Wrong* / A Smile* / Lament / The Land of Falling Leaves / This House / Because of You / This Great Life / Welcome / Fireplace / We Have Sailed / Ain't No Girl / Boy* / Yellaba

Encore:
You've Got Me* / Matter of Time / Morning Light*

(*) liedjes van de nieuwe cd
Mark VAN MULLEM
11/12/2016
---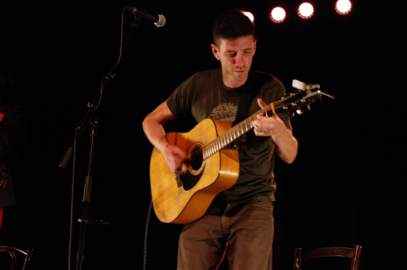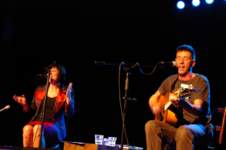 ---