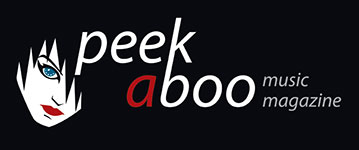 like this concert review
---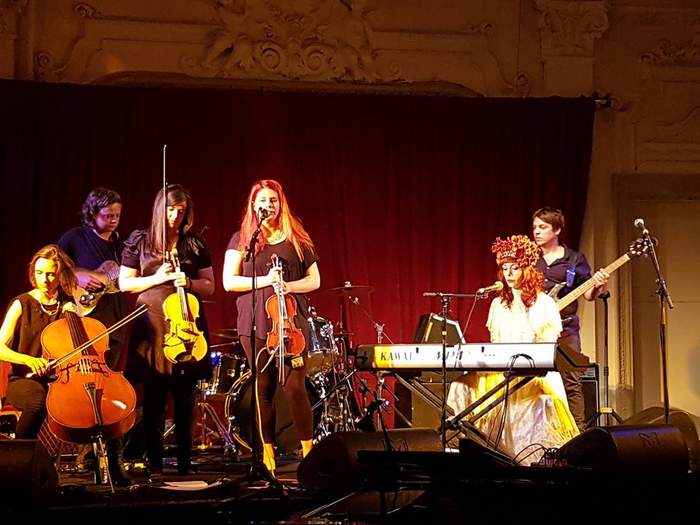 THE ANCHORESS + FIONA BRICE
London, Bush Hall (15/06/2016)
Concert
Pop
•
Singer Songwriter
10/12/2016, Mark VAN MULLEM
---
Let's go back to april 7th, 2015 and the Simple Minds gig in Edinburgh. It was there and then that I decided: Whenever Catherine Ann Davies is going for a solo career, I'll be one of the first to buy the music and wherever she's playing I want to be at that very gig! The Welsh singer-songwriter toured with Simple Minds, singing backing vocals and playing additional keys and guitars on their Big Music Tour. She then also got a solo spot, performing an astonishing goosebumps version of the band's song 'Rivers of Ice'. I, if I dare say so, prefer her version over the original, sorry Jim Kerr. Anyway, discovering the lovely extremely talented Catherine Anne Davies then, I was a fan.

The Anchoress, Catherine's artist name, released her first full album earlier this year, reviewed by yours truly. On june 15th it was time for me to keep my promise to myself; The Anchoress performed the album Confessions of a Romance Novelist in it's entirety with full band an strings at Bush Hall in London. Probably the only time, allthough The Anchoress is doing supports for several acts, including the mighty Manic Street Preachers, here and there.

I'm not f#@'in' doing this again! Catherine told us at some point in the performance, talking about the complexity of playing the complete album and the technicity and organisation that goes with it. Never say never, Catherine! Anyway, she did and it was a truly magical experience, that Wednesday night at Bush Hall.

Before The Anchoress would hit the stage, British violinist Fiona Brice performed a short set, only armed with the violin and some electronics. If the name vaguely rings a bell: Brice is most known for het contribution to Placebo, providing string arrangements on Meds and Battle for the sun. Brice is also composer and just released her first studio album: Postcards From (june, 2016). Brice combined live violin with the looping technique.

This was no easy listening music and it was drowned in melancholy and drama but it worked and apart from Brice's violin and effects there was nothing but silence. Difficult music, maybe, but people took the time to acatually listen to it.

Scheduled for 21.15 ten minutes early, at 21.05 The Anchoress' musicians walked on stage, three ladies (strings) and two gentlemen (bass and guitar). And then there she was, wearing wedding dress and crown, just like on the album cover of Confessions of a Romance Novelist.

Catherine sat herself down behind the keyboards to hit the first keys of the album's opening track Long Year, one of my faves on the album. For those of you that have the album the setlist won't really be a surprise, we're perorming the whole album from a to z, Catherine said. There were some minor issues with the sound but those were solved quickly and there was nothing left that could harm our listening pleasure. Oh, and a pleasure it was!

Then The Anchoress gave us the two heavenly pop tunes that follow on the album, the motown-ish What Goes Around and Doesn't Kill You, currently the excellent new single. For You and Only You Catherine took place behind the grand piano, playing the song as it was originally intentend. And what a version! There's something you should know, I'm your worst case scenario, and I know you think I'm ok, but I guess you caught me on a good day, Catherine admitted the songs on the albums are not the most happy ones. This You and Only You, now in a more stripped down version, is another high light from the album, and gig!

Catherine threw off her wedding dress and continued the gig in a paintsuit. One for Sorrow sounded very powerful and rich and it was difficult not to move to this gem. This is kind of my theme song, Catherine said and with P.S. Fuck You, she continued. Definately a big kick in the balls to someone who surely must have deserved it big time, one would think! His bad luck, we've got the great music that is the result.

Time for some public participation, Catherine must have thought. During Popular, she divided the venue in two halves. One was to play the bully part and sing na na na na na the other one then had to shout bastard! Catherine directed it and these audience choirs worked rather well. I'm not Popular, no no no, but a very popular tune this is, Catherine! Would make an ideal single, me thinks.

Then two absolute goosebumps moments followed, one after the other. I wonder if anyone kept it dry during the absolute lump in the throat selections Waiting to Breathe, with just Catherine and the stings, and certainly Bury Me. Oh my.

Before heading into the opus mangum of the album, Catherine and her musicians played the up tempo Chip on Your Shoulder. Top class, no less, and another one that made you move your feet, well I surely did!

All You bleeding hearts, o how times have changed.., a majestic Confessions of a Romance Novelist concluded the gig, a song that perfectly showcases the many talents of this young Welsh artist, both lyrically and musically, and both title track as flag ship of the very strong debut album by The Anchoress.

Those of you that bought the album know what's coming, and we got one more song; the Simple Minds song Rivers of Ice Catherine so elegantly made her own. Only Catherine's lovely voice and the piano, and the lyrics that sound very much more touching when Catherine sings them.

However difficult Catherine thought it would be, she surely succeeded in bringing Confessions of a Romance Novelist in all of it's complexity, to life, backed up by brilliant musicians and armed with her own talents. The strings, guitar and bass, Catherine's beautiful voice and piano playing, it all worked perfectly.
That wednesday night at Bush Hall was wonderful celebration of music. And the only criticism one might have is that this lasted far too short!

Catherine mentioned the great Kate Bush as one of her influences, during her performance. I earlier boldly wrote that both Bush and Tori Amos could pack there bags, having The Anchoress around. Of course they can stay, but they beter be warned: there's some strong competion now, that's for sure!

Setlist:
Long Year / What Goed Around / Doesn't Kill You / You And Only You / One For Sorrow / P.S. Fuck You / Popular / Burry Me / Waiting ti Breathe / Chip on Your Shoulder / Confessions of a Romance Novelist

Encore:
Rivers of Ice (Simple Minds cover)
Mark VAN MULLEM
10/12/2016
---
Op 7 april 2015 speelden Simple Minds een memorabel concert in Usher Hall in Edinburgh. Het was toen dat ik besliste: als Catherine Anne Davies ooit een solo-carièrre overweegt, moét ik haar volgen en maken dat ik ze live kan meemaken. De Welshe singer-songwriter tourde met de Schotse band op hun Big Music Tour en verzorgde extra gitaar- en keyboardpartijen én backing vocals. Catherine kreeg ook een solo-spot waarin ze Simple Minds' Rivers of Ice vertolkte en naar een nieuwe hoogte tilde. En eigenlijk vind ik haar versie zelfs beter dan die van Simple Minds, sorry Jim. Enfin, het was gebeurd: ik was fan!

Een paar maand geleden bracht Catherine, onder haar artiestennaam The Anchoress, met Confessions of a Romance Novelist haar eerste album uit, de cd-bespreking van ondergetekende lees je hier.
Op woensdag 15 juni 2016 was het tijd om de belofte aan mezelf waar te maken. The Anchoress speelde dan in Bush Hall in London en voerde er het debuut album integraal uit. Een éénmalige vertoning al toert Catherine nog wel als support act voor verschillende bands, waaronder de machtige Manic Street Preachers.

I'm not f#@'in' doing this again zei Catherine op gegeven moment, nadat ze had verwezen naar de moeilijkheid om het album van a tot z live uit te voeren en hoe dat georganiseerd te krijgen. Maar Catherine deed het en het werd een magische ervaring, die avond in Bush Hall.

Maar eerst kregen we nog een niet van dramatiek en een hoge dosis melancholie gespeende set van de Britse violiste Fiona Brice. Voor wie de naam vaag wat zegt, dat kan: Brice schrijft string arrangements voor diverse rock acts, waaronder Placebo, voor wie ze arrangementen schreef voor Meds en Battle for the Sun. De violiste componeert ook en bracht net haar eerste full album uit dat ze woensdag aan ons voorstelde; Postcards From. Brice combineerde live viool-spel met de looping-techniek, je hoorde dus live stukken, ondersteund met net eerder gespeelde, meteen opgenomen muziek. Behalve de viool (en effecten) van Brice was er absolute stilte. Om maar te zeggen: niet bepaald makkelijke muziek, maar het publiek luisterde aandachtig.

Om 21.05; een kleine tien minuten vroeger dan op het schema stond, wandelden de muzikanten van The Anchoress de zaal in, het podium op; drie dames (de strijkers) en twee jongeheren (bas en gitaar). En daar was ze dan, gehuld in trouwkleed en kroon, net zoals afgebeeld op de albumhoes. Catherine zette zich achter de keyboards en er werd uitgepakt met de albumopener Long Year, meteen ook een van mijn absolute favorieten van het album. Met het geluid zat het niet meteen goed maar het euvel werd gelukkig snel verholpen zodat we ongestoord konden genieten van Confessions of a Romance Novelist, van a tot z.

Voor wie het album kocht zal de setlist weinig verrassingen bieden, zei Catherine, we spelen het volledige album van het begin tot het einde. Daarna schonk The Anchoress ons de twee hemelse pop songs die volgen op de album opener, het Motown-esque What Goes Around en de nieuwe single Doesn't Kill You.

Catherine installeerde zich achter de grand piano zette You And Only You in, hier gespeeld zoals het oorspronkelijk bedoeld was. En wat een versie. There's something you should know, I'm your worst scenario, and I know you think I'm ok, but I guess you caught me on a good day. Catherine bekende: Ik maakte nu niet meteen het meest vrolijke album. Alleszins deze versie van You And Only You, live een ietsje naakter, is één van de veel hoogtepunten op het album en in de live set, zoveel is duidelijk.

Catherine smeet haar trouwjurk uit en vervolgde het concert in stijlvol mantelpakje. One For Sorrow klonk enorm krachtig en rijk en het was haast onmogelijk om niét te bewegen tijdens dit topnummer. Dit is zowat het lieflied op Confessions, zei Catherine en P.S. Fuck You volgde. Tot wie het ook gericht mogen zijn, dit is overduidelijk een harde en pijnlijk schop in diens edele delen. Ongetwijfeld verdiend en jammer voor hem, het resulteerde wel in een top song.

Tijd voor een moment van publieksparticipatie moet Catherine gedacht hebben. Tijdens Popular verdeelde ze de zaal in twee, de ene helft mocht het pesterige na na na na zingen, het andere delen mocht antwoorden met bastard!. Catherine dirrigeerde en het verliep vlekkeloos met dat publiekskoor. I'm not popular, no no maar populair kan deze song zeker worden, ideale keuze voor een single, zo lijkt mij.

Toen volgden twee absolute kippenvelmomenten, een na een. De vraag is maar of iemand het wel kon drooghouden tijdens de krop in de keel nummers Waiting to Breathe en vooral Bury Me. Amai. Slik.

Vooraleer aan het meesterlijke orgelpunt van het album te beginnen, bracht The Anchoress nog het swingende Chip on Your Shoulder. Topklasse en nog zo eentje dat op de dansbeentjes mikt, de mijne deden alleszins hun werk.

All you bleeding hearts, o how times have changed... een majestueus Confessions of a Romance Novelist, titeltrack én vlaggenschip van het album, besloot het ei zo na perfecte optreden. Deze sterke song is het perfecte visitekaartje voor The Anchoress, toont het grote talent aan van deze jonge Welshe artieste, die zowel tekstueel als muzikaal erg sterk staat.

Catherine zou nog even terugkomen. Alleen. Diegenen onder jullie die het album in huis hebben, weten natuurlijk dat er nog één song overblijft. En we kregen een weerom fenomenale versie van Rivers of Ice, de Simple Minds song die Catherine zich op zulke elegante wijze eigenmaakte. Enkel de o zo mooie stem van Catherine en de piano. Genieten.

Catherine dacht dan wel dat het een haast onmogelijke of toch moeilijke opdracht zou worden, ze slaagde er alleszins in om Confessions of a Romance Novelist tot leven te brengen op een podium, ondanks de complexiteit. Ze werd erg goed gesteund door uitstekende muzikanten, de strijkers, de gitarist en bassist en ze is natuurlijk gewapend met haar eigen talenten. Het resulteerde in een fijne muzikale woensdagavond in Bush Hall. De énige kritiek die je zou kunnen uiten is dat het van veel te korte duur was.

Kate Bush werd door Catherine genoemd als één van haar invloeden. Eerder schreef ik al, met enige zin voor overdrijving: Kate Bush en Tori Amos kunnen hun spullen pakken. Ze mogen blijven natuurlijk maar dat ze maar weten dat er met The Anchoress serieuze competitie is, zoveel is zeker.

Setlist:
Long Year / What Goed Around / Doesn't Kill You / You And Only You / One For Sorrow / P.S. Fuck You / Popular / Burry Me / Waiting ti Breathe / Chip on Your Shoulder / Confessions of a Romance Novelist

Encore:
Rivers of Ice (Simple Minds cover)
Mark VAN MULLEM
10/12/2016
---