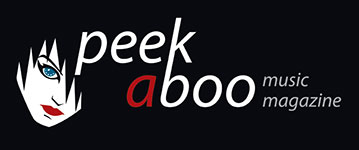 like this concert review
---
MATMOS
Hasselt, Kunstencentrum België (11/06/2016)
Concert
Abstract
•
Electronics
•
Experimental
•
Noise
[85/100]

10/12/2016, William LIÉNARD
---
About 20 years ago, Drew Daniel and Martin C. Schmidt founded Matmos. Since then they have released 10 full-length albums. If you do not know them, we are glad to tell you that they have contributed to the albums Vespertine (2001) and Medúlla (2004) by Björk. But Matmos does not need such references, as the duo played an amazing concert at the Art Center België, thanks to a washing machine that was shipped from Baltimore to Hasselt. In the small venue, Drew Daniel and Martin C. Schmidt held the audience spellbound for 45 minutes and they were rewarded with a thunderous applause.
Matmos had brought its own support act. The young American Adam Rosenblatt would contribute to the concert later that evening, but first he was on stage with a performance of about half an hour. He is from Baltimore - the residence of Matmos since 2007 - where he is part of the improvisation theater, and he is an excellent percussionist, trained in Brussels and Ghent. For the execution of his first performance, Mani.Mono (for spring drum and metal sheet) written by Pierluigi Billone, he used a beveled cylinder (for a rolled poster) with a metal wire of about fifty cm and created a soundscape of musical sounds and noise, in which rhythm was given an important function. A unique experience.
Then he sat down on a chair for a perfectly timed performance called Home Work (for body percussion), written by François Sarhan, a spectacle for which he not only used his hands, but his feet and voice too. Another unique achievement of an artist with an incredible discipline and coordination. To end the performance, he did the same with a soundtrack (Aphasia, for tape and hand gestures) by Mark Applebaum. The audience watched with bated breath, because what Adam Rosenblatt does is not only unique and original, it is executed in a perfect way. No, it had little to do with music, but it fits in with the philosophy of Matmos to blur the boundaries between different artistic disciplines.
And then it was time for the washing machine. Those who know Matmos, will not be surprised, because in the past these two gentlemen were often on stage with strange attributes. Martin C. Schmidt assured the fans that it was not a joke that they had brought the washing machine from Baltimore, and he added that all the sounds of the concert were made with the device, even the recorded sound clips on the laptop. That was initially the sound of running water. Drew Daniel cautiously added other sounds, which even sounded melodic later on, but the sound of the washing machine retained a central place in the concert: clicks and synth-like sounds, and of course a lot of mechanical sounds and a generous portion of noise, while Martin C. Knight and Adam Rosenblatt used the washing machine as a drum machine and the wet sides of the device to produce shrill, shrieking, squealing and hissing noises. It sounded weird, but at the same time it was exciting and never boring. After 45, the laundry cycle was finished and the concert was over. Our expectations were surpassed. We add Matmos and Adam Rosenblatt to our list of successful concerts of the past season.
The combination Matmos/Adam Rosenblatt was an excellent choice of Arts Centre België in Hasselt,
a location that is too often overlooked because of the distance to the central triangle Antwerp-Leuven-Ghent. Those who were there will agree with us: a very enjoyable evening!
William LIÉNARD
10/12/2016
---
Drew Daniel en Martin C. Schmidt vormen sinds 20 jaar het project Matmos dat sinds 1997 zo'n 10 full albums heeft uitgebracht. Mocht u ze niet kennen, dan vertellen we graag dat ze meewerken aan de albums Vespertine (20014) en Medúlla (2004) van Björk. Maar die referenties heeft Matmos eigenlijk niet nodig, want het project bewees andermaal in Kunstencentrum België in Hasselt dat het tot grootse dingen in staat is, zelfs als daarvoor een wasmachine helemaal vanuit Baltimore moet voor worden aangesleept. Vijfenveertig minuten lang hielden Drew Daniel en Martin Schmidt het publiek in de kleine Limburgse zaal in hun ban, met een daverend applaus als apotheose.
Matmos had z'n eigen voorprogramma meegebracht. De jonge Amerikaan Adam Rosenblatt zou na de pauze de percussie tijdens het Matmos-optreden voor zijn rekening nemen, maar eerst mocht hij z'n eigen ding doen. Rosenblatt komt uit Baltimore – de woonplaats van Matmos sinds 2007 – waar hij verbonden is aan het improvisatietheater. Daarnaast is hij een uitstekend percussionist, opgeleid in Brussel en Gent. Voor z'n eerste act, Mani.Mono (for spring drum and metal sheet) van Pierluigi Billone, gebruikte hij een schuin afgesneden cilinder (zo eentje waarin je een opgerolde poster stopt) waarin een metalen draad was bevestigd die er zo'n vijftig cm uithing. Omringd door een aantal microfoons bracht hij met dat bizarre instrument een soundscape van muzikale geluiden en noise waarbij ritme een belangrijke functie kreeg. Het was niet duidelijk in hoeverre het om een improvisatie ging, want voor hem lag een groot stuk papier waarop hij regelmatig keek alsof het een partituur betrof. Een unieke ervaring en een spektakel dat je nooit eerder zag.
Vervolgens nam hij plaats op een stoel en bracht de perfect getimede voorstelling Home Work (for body percussion) van François Sarhan waarvoor hij niet alleen z'n handen, maar ook z'n voeten en z'n stem gebruikte. Opnieuw een unieke ervaring van een artiest met een onwaarschijnlijke discipline en coördinatie. Nadien deed hij hetzelfde met een geluidsband (Aphasia, for tape and hand gestures, van Mark Applebaum). Het publiek keek ernaar met ingehouden adem, want wat Adam Rosenblatt doet is niet alleen uniek en origineel, het wordt ook op een perfecte manier uitgevoerd. Nee, het had weinig met muziek te maken, maar het past wel in de filosofie van Matmos om de grenzen te vervagen tussen verschillende artistieke disciplines.
En dan was het tijd voor de wasmachine. Diegenen die Matmos kennen verbaast het niet, want de beide heren stonden al eerder met vreemde attributen op een podium. Martin C. Schmidt verzekerde de fans dat het geen grapje was dat ze de machine uit Baltimore hadden meegenomen, en hij vertelde erbij dat alles wat we te horen kregen met het geluid van het apparaat werd gerealiseerd, ook de opgenomen fragmenten op de laptop. Dat was in eerste instantie het geluid van stromend water. Drew Daniel voegde voorzichtig andere geluidjes toe en later klonk het zelfs af en toe melodisch, maar de geluiden van de wasmachine behielden lange tijd een centrale plaats in het concert: kliks en synthachtig geluid, maar ook gewoon mechanische geluiden en uiteraard een flinke portie lawaai, terwijl Adam Rosenblatt en Martin C. Knight de wasmachine als drummachine gebruikten en de natte zijwanden van het apparaat om schrille, snerpende, piepende en sissende noise te produceren. Het klinkt bizar en dat was het wellicht ook, maar tegelijk was het boeiend en het verveelde geen moment. Na 45 was het de wasprogramma afgelopen en het concert ten einde. Onze verwachtingen waren overtroffen. We schrijven Matmos én Adam Rosenblatt bij op ons lijstje van geslaagde concerten van het afgelopen seizoen.
De combinatie Matmos/Adam Rosenblatt was een opsteker voor het Kunstencentrum België in Hasselt, een locatie die té vaak over het hoofd wordt gezien wegens de afstand tot de centrale driehoek Antwerpen-Leuven-Gent. Diegenen die erbij waren zullen het bevestigen: dit was een zeer geslaagde avond!
William LIÉNARD
10/12/2016
---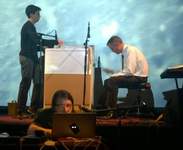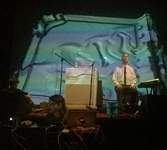 ---