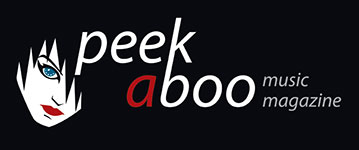 like this vinyl review
---
VIRGIN IN VEIL
The Glory Hole (EP)
Music
•
Vinyl
Death Rock / Batcave
•
Gothic
•
Post Punk
[80/100]

Fairy Dust Records
10/12/2016, Wim GUILLEMYN
---
If you don't know what a Glory Hole is, I recommend to google and you will understand. It is also the title of the new EP by the Finnish band Virgin in Veil. In 2015, we got a demo with three songs and now an EP with four tracks has been released. And again we get an album with an explicit sexual photo on the cover. The titles of the songs are very sexually inspired too: Lovestains, Sexual Sin, Decay and Seduction.
Musically, we can situate the music somewhere between death rock, gothic rock and batcave, played with a punk attitude. Short songs that last no longer than two minutes. Musically, it sounds a bit like the demo, but the vocals are better and the same goes for the production and the team play. Lovestains is uptempo and floats on a gothic/wave guitar riff. The same goes for Sexual Sin, that contains a nice little bridge while the synths determine the atmosphere. A strong track. Decay does remind me a bit of The Whispers in the Shadows during the Arms in Chaos period: vocals, guitar and drums. A fine song. Seduction sounds rather as a post-punk track.
Virgin in Veil was founded in January 2015 and on this EP, the band shows its own style with upbeat songs that will surely convince the fans of death rock, gothic rock… A fulll album next time and some gigs around here?
On vinyl through Fairy Dust Records or as a download on bandcamp.
Wim GUILLEMYN
10/12/2016
---
Voor diegenen die niet weten wat een Glory Hole is, gelieve te googelen en je zal snel begrijpen waarover het gaat. Het is ook tevens de titel van de nieuwste ep van de Finse band Virgin in Veil. Verleden jaar kwam er al een demo met drie songs uit. Op Glory Hole staan 4 tracks en net zoals de demo, is deze ep voorzien van een niets aan de verbeelding overlatende sexueel geladen cover. Ook de songtitels laten niets aan de verbeelding over: Lovestains, Sexual Sin, Decay en Seduction.
De muziek situeren we ergens tussen deathrock, gothicrock en batcave in, met een punkattitude gespeeld. Het zijn telkens korte songs van om en bij de twee minuten. Muzikaal ligt alles in het verlengde van de vorige release. De zang klinkt wel iets beter in de mix en ik hoor toch wat evolutie in het samenspel alsook in de productie. Zoals gezegd zijn het korte en bondige songs. Lovestains is uptempo en drijft op een gothic en wave klinkende gitaarriff. Hetzelfde geldt voor Sexual Sin, behalve dat op de achtergrond een synth sfeer oproept en dat de track een korte en leuke bridge bevat. Een toptrack. Decay doet mij wat aan Whispers in the Shadows ten tijde van Arms in Chaos denken: de zang, de gitaar en het drumspel. Een fijne song. Seduction gaat muzikaal eerderin de richting van post-punk.
De band bestaat nog maar sedert januari 2015, maar op deze ep etalerenwordt een eigen stijl geëtaleerd met puntige uptempo songs die zeker gehoor zullen vinden bij de liefhebbers van deathrock, gothicrock, etc… Mogen we de volgende keer hopen op een full album hopen en een gig in onze contreien?
Verkrijgbaar via Fairy Dust Records op vinyl of via bandcamp als download.
Wim GUILLEMYN
10/12/2016
---