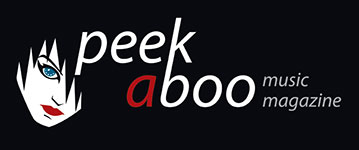 like this concert review
---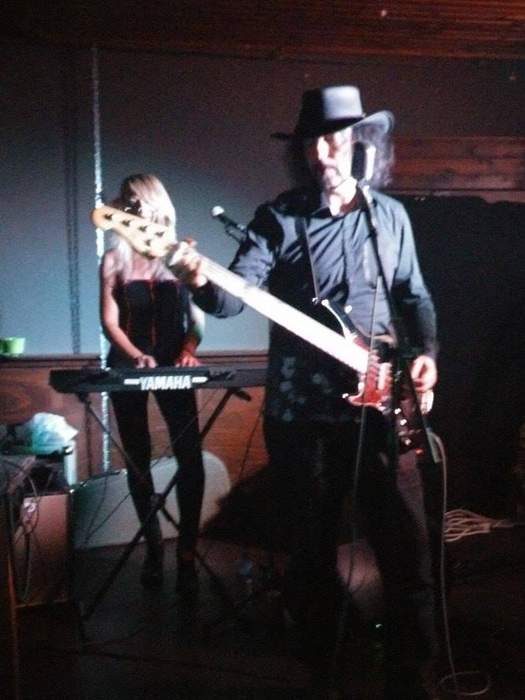 SWAN DEATH
Dendermonde, Mina's Irish Pub (24/09/2016)
Concert
Death Rock / Batcave
•
Gothic Rock
11/12/2016, Jurgen BRAECKEVELT
---
After seven years of silence, Swan Death is back, celebrating its 30th anniversary. The guys jumped on stage in Mina's Irish Pub, a small but fine concert club in Dendermonde. Ashes & Dust put the band on stage for the release of the new CD.

At 22:15 hrs the band came on stage. The question was if the music would be alive as many years ago and if the new songs would touch the audience. First thing I saw: Swan Death is still rocking, alternating solid material, gorgeous solo guitar work and vocal variations with male and female voices. Although the terrible sound of the PA partially ruined the show. The band did all it could, tried to perform well, it did not affect the public: much buzz and an almost empty venue by the end of the set. Swan Death did not deserve this....

We cannot complain about the compositions, they still are good in terms of structure: witty bass lines, synths that are responsible for the melodic part, guitars that rock hard and then sound intimate. It must be said that the guitarist really did great things on his instrument. Tracks such as Egypt, long drawn out with an alternation between good vocal work (by the keyboard player) and very hard, almost noisy sounding guitars were a relief.
I wished I could see the same performance again with a good sound, because this could have been a good goth rock concert. Too bad the band had to make a comeback in such circumstances after seven years of absence...
Jurgen BRAECKEVELT
11/12/2016
---
Na 7 jaar stilte stond Swan Death, dat z'n 30ste verjaardag viert, op de planken van Mina's Irish Pub, een kleine maar fijne concertclub in hartje Dendermonde. Ashes & Dust zette de band op het podium voor de release van de nieuwe cd.
De band stond omstreeks 22.15 uur het podium. Het was maar de vraag of het nieuwe werk zou aanslaan na 7 jaar stilte. Dat Swan Death nog steeds rockt, werd gauw duidelijk: de afwisseling tussen stevige stukken, schitterend sologitaarwerk en de vocale varitaties met mannelijke en vrouwelijke stemmen, al dan niet in samenzang. Hoewel dit laatste, mede door de verre van schitterende PA, heel veel te wensen overliet. Hoe goed de band ook zijn best deed, het kwam bij het publiek niet over, getuige het geroezemoes en een zaal die tegen het einde van de set bijna leeg was. Dit verdient Swan Death niet, maar de band ging echt de mist in door de slechte sound in de zaal. De drumsectie die uit de synths kwam was in een paar tracks nagenoeg onhoorbaar, de gitaren kwamen alleen uit de versterkers, niet uit de boxen. Dit had een fijn optreden kunnen zijn, los van de technische problemen.
Over de tracks valt niét te klagen. Die zijn nog steeds goed qua opbouw: snedige baslijnen, synths die instaan voor het melodieuze gedeelte, gitaren die snoeihard en dan weer intiem klinken. Het dient gezegd dat de gitarist echt geweldige dingen uit zijn instrument toverde. Qua riffs en solowerk een topper en hij leverde dan ook een wezenlijke bijdrage tot de show.
Tracks zoals Egypt, lang uitgesponnen met een afwisseling tussen goed vocaal werk van de toetseniste en snoeiharde, haast noisy klinkende gitaren, waren een verademing.
De band staat er nog en ik wenste dat ik hetzelfde optreden nog eens kon zien, met een goede geluidsinstallatie, want dan was er sprake geweest van een goed gothrockoptreden. Jammer dat de band in deze omstandigheden voor te weinig mensen een rentree moest maken na 7 jaar afwezigheid....
Jurgen BRAECKEVELT
11/12/2016
---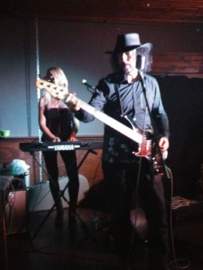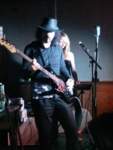 ---