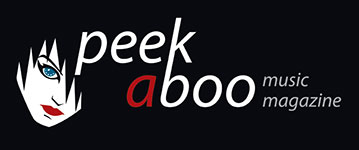 like this vinyl / digital review
---
SYGO CRIES
Talking about walls
Music
•
Vinyl / Digital
Gothic Rock
•
Post Punk
[89/100]

Self-released
23/12/2021, Jurgen BRAECKEVELT
---
When passion drives you, when musical paths cross, when everything adds up … beautiful things can happen!
This happend in June 2020, when Wim Guillemyn (The Other Intern) read the message from Mika Goedrijk (This Morn' Omina, Nebula-H, Pow(d)er Pussy) that he was looking for a creative, motivated bass player for his Sygo Cries project. Wim saw the band perform as support for Your Life On Hold. His bass playing fingers itched and also musically Wim could relate to the post-punk/goth-rock atmosphere Sygo Cries brought.
After some chats they had their first meeting, where musical ideas immediately turned into songs. Call it chemistry …
During the summer, Olivier Moulin (The Mars Model) also joined the band to perform live keyboards/synths. The attraction soon made the young and eager Brooklyn Machet request to take up the guitar parts. One year later this resulted in a 12 inch that listens to the title Talking about Walls. A limited edition of 100 copies on clear blue vinyl produced by John Wolf (Your Life On Hold, Mildreda, Mildred in Oblivion).
On the A-side we find the rather melodic 'Spiders (in our head)', a sturdy post-punk song/goth rock song with nice prominent basses and stinging guitar work. There are mouth-watering passages that are reminiscent to early U2 and the Mission cues. Even a bit of Joy Division can be heard. 'End Of The Century' is a goth rock song of the better kind, one on which the black dressed can relax on dance floor, shrouded in fog. Or even better in front of a live stage, because Sygo Cries is more than happy to storm the stage.
On the B-side we hear 'The Parting Glass' as a first song … Slowly a ballad unfolds into a rather burly song that leans more towards the dark-wave style. The bass line carries the whole track and that makes this entire Talking About Walls a blissful 12 inch. Then, with 'Ship Of Friends', we get a post-punk song weaned by solid electro that made me dance happily through my living room. Over and over again… On Sygo Cries' Bandcamp you get 'Surrender' as a bonus track.
The fun and musical chemistry from the band shines off this 12 inch. It all fits, It sounds great and it touches. We demand more live shows and more releases like this!
Jurgen BRAECKEVELT
23/12/2021
---
Wanneer passie je drijft. Wanneer muzikale wegen elkaar kruisen. Wanneer iets klopt, ontstaan mooie dingen.
Zo ook in juni 2020. Wim Guillemyn (The Other Intern) las het berichtje van Mika Goedrijk (This Morn' Omina, Nebula-H, Pow(d)er Pussy) dat hij een creatieve, gemotiveerde bassist zocht voor Sygo Cries. Wim zag de band spelen in het voorprogrammma van Your Life On Hold. Zijn bassistenvingers jeukten en muzikaal kon Wim zich vinden in de postpunk/gothrockerige sfeer die Sygo Cries laat horen.
Een aantal chats later kwam het tot een eerste treffen, waarbij muzikale ideeën zich ontpopten tot songs. Noem het chemie.
In de daaropvolgende zomer vervoegde Olivier Moulin (The Mars Model) de band om live de keyboards/synths voor zijn rekening te nemen. En de aantrekkingskracht was groot: kort nadien kwam jong geweld Brooklyn Machet op de proppen met de vraag de gitaar ter hand te mogen nemen. Een jaar later resulteert dit in een 12 inch met de titel Talking about Walls. Een gelimiteerde uitgave op 100 exemplaren op clear blue vinyl. John Wolf (Your Life On Hold, Mildreda, Mildred in Oblivion) tekende voor de productie.
Op de A-side vinden we het eerder melodieuze Spiders (in our head). Een kloeke postpunksong/gothrocksong met lekker prominent aanwezige bassen en striemend gitaarwerk. Er zitten passages in die doen watertanden en zowel een zweem van de vroege U2 als the Mission in zich dragen. Zelfs Joy Division klinkt erin door. End Of The Century is gothrock van de bovenste plank, waarbij het zwarte volk half ineengeplooid zalig kan verwijlen op een in mist gehulde dansvloer. Of nog liever voor een live podium. Want Sygo Cries wil de podia meer dan graag onveilig maken.
Op de B-side horen we als eerste The Parting Glass. Langzaam ontvouwt een ballade zich tot een toch wel potige song die wat meer richting darkwave neigt. De baslijn draagt het geheel en dat maakt deze hele Talking About Walls een zalige 12inch.
Met Ship Of Friends krijgen we een stevige electro postpunksong die mij alvast vrolijk doorheen mijn woonkamer deed dansen. Over and over again…
Op bandcamp krijg je als toemaatje Surrender cadeau.
Op deze 12 inch zijn het speelplezier en de muzikale chemie voelbaar. Het klopt. Het klinkt. Het raakt. Het is hoog tijd voor vele optredens en méér van dit.
Jurgen BRAECKEVELT
23/12/2021
---
---