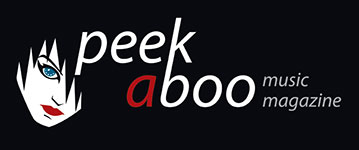 like this vinyl review
---
MASQUERADE
Blood is the New Black
Music
•
Vinyl
Gothic
•
Gothic Rock
•
Post Punk
[90/100]

Fight Records
11/11/2015, Luki PUKI
---
I saw the four piece band Masquerade at Return to the Batcave Festival and it blew me away. Superb Gothpunks loving playing to the crowd. Singer Suzi Sabotage is great live, lots of odd panting, screaming and generally having fun with the rest of the band… so, I was a bit worried the magic wouldn't translate onto a recording. As a guy I rarely admit this, but I was wrong.
The five track EP Blood is the New Black doesn't disappoint. Guitars, bass and drums are as good as anything that came out of the original gothpunk scene. Suzi's stage antics carried over without loosing any of the live charm.
The title song touches on media sexualisation, but my favorite is All Things Hurt which, judging from the video, is about the red wine hangover from hell. We all know it looks cool contrasting blood red with your porcelain white makeup, but red wine is basically hangover in a bottle. Other lyrics touch on more cliché goth elements like funerals and unrequited love.
Hats off to Finlands finest gothrockers for a great release.
Luki PUKI
11/11/2015
---
Toen ik Masquerade aan het werk zag tijdens het Return To The Batcave Festival, blies het mij onmiddellijk van mijn sokken. Schitterend gothpunks die met volle overgave voor hun publiek spelen. Zangeres Suzi Sabotage is geweldig op het podium: ze hijgt, ze schreeuwt en heeft volop plezier met de rest van de band... dus was ik een beetje bang dat ze deze magie niet op een plaat zou kunnen brengen. Een man geeft het niet graag toe, maar ik had het mis.
De vijf nummers op Blood is the New Black stellen helemaal niet teleur. De gitaren, de bas en de drums klinken net zo goed als tijdens de hoogdagen van de gothpunk. En ja hoor, wat Suzi op een podium presteert, klinkt even sterk op plaat.
De titelsong gaat over de seksuitbuiting in de media, terwijl All Things Hurt (ten minste dat denk ik toch als ik de video zie) over de kater die je krijgt als je rode wijn uit de hel drinkt. We weten allemaal dat bloedrood een mooi contrast vormt met porseleinwitte make-up, maar vergeet niet dat rode wijn nog altijd een kater in flesvorm is! De andere teksten gaan meer over clichés die je wel meer in het gothgenre aantreft zoals begrafenissen of onbeantwoorde liefde.
Petje af voor Finlands beste gothrockers voor deze prachtige release!
Luki PUKI
11/11/2015
---