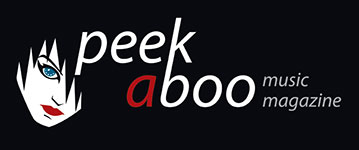 like this article review
---
HORTUS BOTANICUS
(NL, Leiden)
Article
11/11/2015, William LIÉNARD
---
In 2015, the Dutch city of Leiden celebrates the four hundred twenty-fifth anniversary of the Hortus Botanicus, the botanical garden which was created in 1590 by the University of Leiden. In early 1587, the university filed a request to the municipality, but only three years later (February 1590) it was allocated a piece of land measuring 35 by 40 meters, behind the White Nunnery on the Rapenburg. That was an important addition to the faculty of medicine, because at that time drugs were still primarily extracted from plants and it was important to medical students to study them in detail. Unfortunately, the new acquisition was anything but a useful piece of garden and a search was started for a botanist who could build the collection. Carolus Clusius (born in Arras, France, in 1526 as Charles de l'Écluse), and Theodore Clutius (born in Delft in 1546, as Dirck Outgaertsz. Cluyt) were appointed in 1594 and they rebuilt the brackish terrain in one season into a Renaissance garden, divided into four so-called quadrae, with long narrow beds, divided into smaller sections. From the original plan of the garden (Leiden University Library) we learn that Clutius and Cluyt not only planted medicinal plants, but everything they could lay their hands on: no hortus physician, but a real botanical garden, and because the garden ought to be accessible to people who were not affiliated with the university (according to the contract with the city), the Leiden botanical garden is not only a place for education and research, but also a public space where ordinary people can walk and enjoy the beauty of flowers and trees.
Clutius and Cluyt's Hortus Botanicus was a hodgepodge of surpluses from their own gardens, supplemented with what they got from travelers and nature lovers. In the inventory of 1594, they listed 1585 plants, including medicinal plants such as foxglove and alum, but no poppy. For the rest, many garden plants such as roses and primulas, herbs such as rosemary and thyme, and a striking number of bulbs and tubers: tulips, daffodils and hyacinths, but also exotic plants such as ginger, sugarcane, tomatoes, tobacco and nasturtiums, all from America, and 62 pot plants, including prickly pear from Mexico. Potatoes are not listed in the inventory, although Clutius knew the Papas Americanorum from a drawing that was sent to him in 1588. The list of plants on which the potato is listed for the first times, is still missing. Many believe that Clutius brought the tulip to the Netherlands, but research has shown that tulips were kept in private collections much earlier. The tomato was already known in the Netherlands since 1544. She was imported from the Andes via Spain. People did not know how to prepare the new plants. Initially, the tomato was cooked. The Hortus Botanicus has two kinds: the yellow Fructu Luteo and red Fructu Phoeniceo, both of the genus Poma Amoris (love apple).
Around 1600, a kind of shed was built in the garden to shelter exotic plants from the winter cold. It was used for teaching and housed a collection of objects from distant countries: maybe it is the oldest museum in the world. In 1609, the Northern Gallery was erected on the opposite side of the garden, facing south, with a small laboratory. Meanwhile, the collection grew to more than 3,000 plants, but only in 1736, prefect Adriaan van Royen managed to extend the garden with a stone Orangery (which still stands). In 1817, the Hortus Botanius got its present form by multiplying the surface. The catalog of 1871 contains the names of 5100 species and varieties. Halfway the 19th century, the first glass greenhouses were built to accommodate the large exotics. By the early 20th century, they were replaced by new structures that were better adapted to their purpose. And in the last century, the garden was expanded to create room for the so-called Clutius garden. Luckily, a plan from the 70s to transfer the garden to the west of Leiden, to a place called Leeuwenhoek, was abandoned for financial reasons. Lack of money can be a blessing, and so the Hortus Botanicus still lies in the heart of Leiden University.
Today, the Hortus Botanicus of Leiden is a place for education, research and tourism. Right after the entrance, a new rectangular glass house is built that acts as exotic garden, bar and café, where visitors can wander along a part of the collection (including carnivorous plants, cacti and succulents). Along heated greenhouses (for a large collection of orchids) and a path through the Chinese and Japanese garden, the visitor reaches the area along the water with a gigantic Fagaceae Quercus Libani Oliver close by. In spring and early summer, the Hortus Botanicus is at its best, because with some luck, the orchids are in bloom. But whenever you are in Leiden, you realize that this Dutch town has one of the oldest botanical gardens in the world, where people have cared for plants for more than 400 years to maintain their heritage, which is why a visit to the Hortus Botanicus is much more than a walk along a beautiful collection of plants.
Opening hours:
Summer (April 1 to October 31): 1000 to 1800 hrs
Winter (November 1 to March 31): 1000 to 1600 hours – Closed on Monday!

And also closed:
on October 3 (Leiden Aghast)
between December 25, 2015 and January 1, 2016
between December 24, 2016 and January 2, 2017

Admission (2015): 7 euro adult/euro child
William LIÉNARD
11/11/2015
---
Dit jaar viert men in het Noord-Nederlandse Leiden de 425ste verjaardag van Hortus Botanicus, de botanische tuin die op initiatief van de Universiteit van Leiden is aangelegd. Begin 1587 diende de universiteit een verzoek in bij de gemeente, maar pas drie jaar later (februari 1590) werd haar een stuk land van 35 bij 40 meter toegewezen achter het Witte Nonnenklooster op de Rapenburg. Dat was een belangrijke aanwinst voor de faculteit geneeskunde, want in die tijd werden medicijnen nog hoofdzakelijk uit planten gewonnen en dus was het belangrijk dat medische studenten die in detail konden bestuderen. De nieuwe aanwinst was jammer genoeg alles behalve een bruikbaar stukje tuin en dus ging men op zoek naar een plantenkenner die tevens de collectie kon opbouwen. Die vond men in Carolus Clusius (geboren in Arras/Atrecht in 1526 als Charles de L'Écluse), en Theodorus Clutius (geboren in Delft in 1546 als Dirck Outgaertsz. Cluyt) die in 1594 aan de slag gingen en het brakke terrein in één seizoen tot een renaissancetuin ombouwden, verdeeld in 4 zgn. quadrae, met lange smalle bedden die op hun beurt in secties waren opgesplitst. Uit de originele plannen van de tuin die in de bibliotheek van de Leidense universiteit worden bewaard, blijkt dat Clutius en Cluyt niet alleen medicinale planten in de tuin plantten, maar alles waarop ze de hand konden leggen: dus geen hortus medicus, maar een echte hortus botanicus, en omdat volgens het contract met de gemeente de tuin toegankelijk behoorde te zijn voor lieden die niet aan de universiteit waren verbonden, is de Leidse botanische tuin niet alleen een plek waar aan educatie en research wordt gedaan, maar ook een plek waar gewone mensen kunnen wandelen.
De Hortus Botanicus van Clutius en Cluyt was evenwel een samenraapsel van overschotten uit hun eigen tuinen, aangevuld met wat ze via via op de kop konden tikken. Op de inventarislijst van 1594 staan 1585 planten vermeld, waaronder medische planten zoals vingerhoedskruid en aluin, maar geen papaver. Voor de rest veel tuinplanten zoals roos en primula, keukenkruiden zoals rozemarijn en tijm, en opvallend veel bol- en knolgewassen: tulpen, narcissen en hyacinten , maar ook exotische planten zoals gember, suikerriet, tomaten, tabak en Oost-Indische kers, allemaal uit Amerika, naast 62 potplanten, waaronder cactusvijg uit Mexico. Aardappelen groeiden er nog niet in de Leidense tuin, hoewel Clutius de Papas Americanorum wel kende van een tekening die hem in 1588 was toegestuurd. De plantenlijst waarop de aardappel voor het eerst voorkomt, is nog niet teruggevonden. Clutius wordt ook vaak genoemd als diegene die de tulp naar Nederland bracht, maar uit onderzoek is gebleken dat er al veel eerder tulpen in privécollecties aanwezig waren. De tomaat was al bekend in Nederland sinds 1544. Ze was via Spanje uit de Andes ingevoerd. Vaak wisten mensen niet hoe ze de nieuwe planten moesten bereiden. De tomaat werd aanvankelijk gekookt. In de Hortus Botanicus groeiden destijds twee soorten: de gele Fructu Luteo en de rode Fructu Phoeniceo, allebei van het geslacht Pomum Amoris (liefdesappel).
Rond 1600 werd er in de tuin een soort schuurtje gebouwd om exotisch planten tegen de winterse kou te beschutten. Men kon er ook les geven en men bewaarde er een collectie objecten uit verre landen: misschien is dit wel de oudste museumcollectie ter wereld. In 1609 werd aan de tegenoverliggende zijde van tuin de zgn. Noordelijk Galerij opgetrokken, die uitkeek op het zuiden en waarin een klein laboratorium was ondergebracht. Ondertussen groeide de collectie tot ruim 3000 planten en barstte de tuin uit z'n voegen, maar pas in 1736 slaagde prefect Adriaan van Royen erin de tuin uit te breiden en een stenen Orangerie op te laten trekken (die er nog steeds staat). In 1817 kreeg de Hortus Botanicus z'n huidige vorm, waardoor de oppervlakte verveelvoudigde. De catalogus van 1871 bevat namen van 5100 soorten en variëteiten. Halfweg de 19de eeuw verschenen de eerste glazen serres in de tuin om de grote exoten te huisvesten. Tegen het begin van de 20ste eeuw werden ze vervangen door nieuwe constructies die beter aangepast waren voor hun doel. En in de vorige eeuw werd de tuin nog uitgebreid om plaats te creëren voor de zgn. Clutiustuin. Een plan uit de jaren 70 om de tuin naar het westelijk gelegen stadsdeel Leeuwenhoek over te brengen ging gelukkig niet door om financiële redenen. Soms is geldgebrek een zegen en dus ligt de Hortus Botanicus waar hij altijd heeft gelegen: in het hart van de Leidense universiteit.
Vandaag is de Hortus Botanicus van Leiden een plek waar onderwijs, research en toerisme elkaar probleemloos ontmoeten. Rechts na de toegang is een nieuw rechthoekig glashuis gebouwd dat fungeert als exotische tuin, balie en café, waar de bezoeker via metalen trappen langs een deel van de collectie (o.a. vleesetende planten, cactussen en vetplanten) kan slenteren. In de tuin zijn er eerste de warme kassen (met o.a. een grote collectie orchideeën) en dan het pad via de Chinese en Japanse tuin naar de tuindelen langs het water waar o.a. een gigantische Fagaceae Quercus Libani Oliver de wandelaar in het najaar met zijn donkerkleurige eikels bekogelt. Maar de Hortus Botanicus moet u beslist in het voorjaar en de vroege zomer een bezoekje brengen, want dan staat de tuin er op z'n paasbest bij en staan de orchideeën met een beetje geluk massaal in bloei. Maar vooral het besef dat je in één van de oudste botanische tuinen van de wereld staat, waar mensen zich meer dan 400 jaar hebben opgeofferd om het patrimonium in stand te houden, dat maakt van een bezoek aan de Hortus Botanicus veel meer dan een loutere kennismaking of een wandeling langs een mooie plantencollectie.
Openingstijden:
zomer (1 april tot 31 oktober): 1000 tot 1800 uur
Winter (1 november tot 31 maart): 1000 tot 1600 uur – maandag gesloten!
En ook gesloten:
op 3 oktober (Leiden Ontzet)
tussen 25 december 2015 en 1 januari 2016
tussen 24 december 2016 en 2 januari 2017
Toegangsprijs (2015): 7 euro volwassene/3 euro kind
William LIÉNARD
11/11/2015
---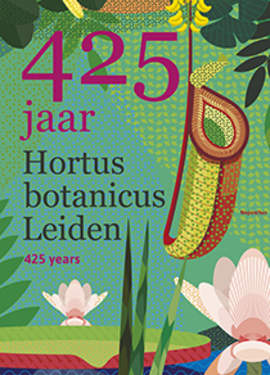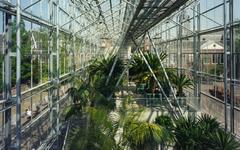 ---