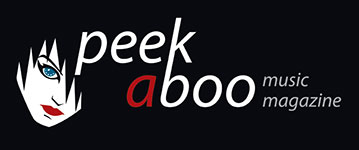 like this cd review
---
MATT ROCK
Get Blank
Music
•
CD
Glamrock
•
Indie
•
Lo-fi
•
Pop
•
Rock
[85/100]

Self-released
09/11/2015, William LIÉNARD
---
For three years, Matt Rock locked himself in his home in South London to find out where he wanted to go with his life and his career, and the sabbatical paid off since his debut Get Blank is a sincere and strong album with appealing melodies and meaningful lyrics, which may be diverse in terms of musical selection and production, but interesting from beginning to end as well. The single Gimme a Sign is a smooth rocker with a thumping beat that sounds like clapping, and a lot of guitars as support. It is a lighthearted upbeat electronic indie track, but the lyrics are dark and laden and they cover topics such as depression and addiction, self-esteem, self-control, uncertainty and the need to adapt. In Need a Victory, the artist addresses depression and addiction: I need a drug to take away the sting of life, Matt Rock sings, and his voice sounds wonderful, rough and sometimes silky, while the guitars provide a solid background, the percussion provides explicit support and noise occasionally fills the holes. Just Like Me floats on a firm, but warm and melodious guitar sound over which Matt Rock drapes his vocals: a simple, yet catchy rock ballad, again with lively percussion and dark guitars for the instrumental interlude.
Outta Control begins with dark drones and high-pitched synths, followed by waterfall-like vocals, doubled voices and then striking guitars for support, again with bell-like synths and playful guitar strumming: a catchy track that invites you to dance. Nowhere Else to Go sounds psychedelic at the start, with guitars that sound like a sitar, followed by staccato synths, a voice that wraps around the melody like ivy, and beautiful harmonies in the chorus. I've been running all my life, it sounds in The Realisation, not exactly the most pleasant prospect, but it does result in a beautiful dance-like ballad with a simple accompaniment of synths and dual vocals. Eventually, guitars and other noise are added, but that doesn't spoil the fun at all. Everybody is Acting continues at the same level, but it has a very cynical and funny lyrics about not being part of and pretending, while Paralysed & Resigned again gives priority to the guitars: a well-oiled pop song that reveals influences from the sixties.
Spontaneously we think of the multi-layered vocals and light-hearted approach of the Beach Boys.
To Dream gets organ-like synths and a slow pace, and turns into an atmospheric and semi-religious track, which is also influenced by music from the sixties. The voice sounds wonderful, the harmonies cause goose bumps. A favorite. And the organ is also present on My Future, although it sounds more like a Hammond organ, nervous and pushy, rather Bach than Sweelinck, and Matt Rocks again on top with a beautiful and slightly rough, yet velvety voice. Later, percussion and other instruments are added and they blow away the vocals. We can't resist: a favorite. The reverberating Life's Insane has psychedelic influences and sounds like an indie song from the 90s, a boy band-like composition with heavy guitars, buzzing synths, and percussion over multilayered vocals. Well... very beautiful. Music, Sex & Wine connects almost seamlessly with emphatic percussion and whining guitars, and closes the album in a nice manner.
Get Blank by Matt Rock contains 12 attractive compositions between pop and rock music, with influences from punk, electronics, sixties and nineties, psychedelics, and is flavored with classical music ingredients. Not exactly an experimental album, but a very personal story of a young musician in search of himself.
Tracklisting:
1 Gimme a Sign
2 I Need a Victory
3 Just Like Me
4 Outtacontrol
5 Nowhere Else to Go
6 The Realisation
7 Everybody is Acting
8 Paralysed & Resigned
9 To Dream
0 My Future
1 Life's Insane
2 Music, Sex & Wine
https://soundcloud.com/mattrockrulesok/gimme-a-sign-1/s-J9rn5
https://www.facebook.com/mattrockrulesok
William LIÉNARD
09/11/2015
---
Drie jaar sloot Matt Rock zich op in z'n huis in Zuid-Londen om erachter te komen waar hij met z'n leven en z'n carrière naartoe wilde, en die lange sabbatical levert op, want z'n debuutalbum Get Blank is een doorleefd en sterk album met aantrekkelijke melodieën en zinvolle teksten, dat qua muzikale omlijsting en productie misschien van verschillende walletjes eet, maar net daardoor 12 tracks lang interessant blijft. De single Gimme a Sign is een vlotte rocker met een dreunde beat die klinkt als handgeklap en met flink wat gitaren ter ondersteuning. Een luchthartige upbeat elektronische indietrack, zo lijkt het wel, maar wie naar de teksten luistert, die merkt dat ze vaak donker en beladen zijn en thema's behandelen zoals depressie en verslaving, eigenwaarde, zelfbeheersing, onzekerheid en de noodzaak om zich aan te passen. In Need a Victory zijn depressie en verslaving aan de orde. I need a drug to take away the sting of life, zingt Matt Rock en z'n stem klinkt wondermooi, ruw en dan weer zijdeachtig, terwijl de gitaren voor een stevige achtergrond zorgen, de percussie nadrukkelijke ondersteuning biedt en noise af en toe de gaatjes opvult. Just Like Me drijft op stevig, maar warm en welluidend gitaargeluid waarover Matt Rock z'n vocalen drapeert: een eenvoudige en toch catchy rockballade, opnieuw met levendig slagwerk en een donkere gitaarsolo voor het instrumentale tussenspel.
Outta control begint met donkere drones en high-pitched synths, gevolgd door watervalachtige vocalen, dubbele stemmen en dan opvallende gitaren ter ondersteuning, opnieuw huppelende en belachtige synths en speels gitaargetokkel: een aanstekelijke track die uitnodigt tot een dansje. Nowhere Else to Go klinkt aanvankelijk psychedelischer, met gitaren die klinken als een sitar, gevolgd door staccato synths, een stem die zich als klimop om de melodie wikkelt en prachtige harmonieën in het refrein. I've been running all my life, klinkt het in The Realisation, niet meteen het prettigste vooruitzicht, maar het resulteert wel in een mooie dance-achtige ballade met een eenvoudige begeleiding van synths en dubbele vocalen. Uiteindelijk komt er ook nog wat gitaar- en andere noise aan te pas, maar die kunnen de pret niet meer bederven. Everybody is Acting gaat op datzelfde niveau door en heeft wel een zeer cynische en tegelijk grappige tekst over er niet bij kunnen horen en doen alsof, terwijl Paralysed & Resigned weer voorrang geeft aan de gitaren voor een gesmeerd lopende popsong die invloeden verraadt uit de jaren zestig. We denken spontaan aan de meerlaagse vocalen en de lichtvoetige aanpak van de Beach Boys.
To Dream krijgt orgelachtige synths en een traag tempo, en ontpopt zich tot een atmosferische en semireligieuze track die eveneens beïnvloed is door muziek uit de jaren zestig. De stem klinkt prachtig, de harmonieën veroorzaken kippenvel. Een favoriet. En het orgel heeft het ook voor het zeggen in My Future, zij het dat het meer als een hammondorgel klinkt, nerveus en opdringerig, eerder Bach dan Sweelinck, met opnieuw Matt Rocks prachtige en ietsjes ruwe en toch fluwelen stem bovenop. Later worden slagwerk en andere instrumenten toegevoegd en verwaaien de koortjes. We kunnen het niet laten: een favoriet. Het galmende Life's Insane bevat psychedelische invloeden en klinkt als een indietrack uit de jaren 90, een boysbandachtige compositie met stevige gitaren, zoemende synths, ruim slagwerk en meerlaagse vocalen. Tja…, heel mooi. Music, Sex & Wine sluit bijna naadloos aan met nadrukkelijkere percussie en jengelende gitaren en sluit het album op een mooie manier af.
Get Blank van Matt Rock bevat 12 aantrekkelijke composities tussen pop- en rockmuziek, met invloeden uit punk, elektronica, de jaren zestig en negentig, psychedelica en is op smaak gebracht met klassiekemuziekingrediënten. Niet meteen een experimenteel album, maar een zeer persoonlijk relaas van een jonge muzikant op zoek naar zichzelf.
William LIÉNARD
09/11/2015
---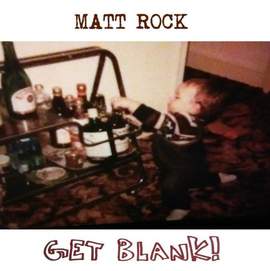 ---