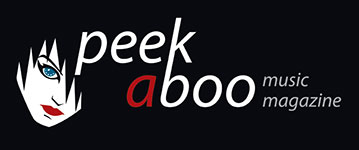 like this concert review
---
IAMX
Brussels, AB (07/11/2015)
Concert
09/11/2015, Wim GUILLEMYN
---
IAMX, the band of Chris Corner, has a new album: Metanoia, that was presented at the AB in Brussels. Normally, performances by IAMX are very energetic. I was wondering if this would be the case now, as the new album is indeed a lot more introverted than the previous ones.

Four screens are scattered across the stage on which visuals are projected. This time there is no guitarist with them on tour, but next to Chris synths there are two keyboardists, a drum and sometimes a bass.

The concert immediately starts at full speed with the powerful I Come With Knives, followed by The Alternative and the very well-received new song Happiness, just like Mercy,coming from their debut album. Whoever, anyone who thought that after his illness Corner would be restrained or quiet on stage was wrong! He is energetic and fully showcases his vocal and entertaining talents.

From his latest album we hear No Maker Made Me and Oh Cruel Darkness Embrace Me among classics such as Volatile Times, Bernadette and Spit It Out. We notice that almost all the songs are reworked, as they all have an uniform sound so they fit better as a whole. There are some problems with his microphone stand, for which he apologized, but for the rest everything goes well.

Just when I get the feeling that gig is losing its power, Corner launches three bombes after Surrender: After Every Party I Die makes the public outrageous (a track that was already available on Bloodsport by Sneaker Pimps in Japan, and later on The Alternative), Aphrodiasiac, that sounds better live and a long, but dazzling version of Your Joy Is My Low. In addition, he asks a handful of fans to join him on stage to dance, it is a beautiful climax.

For the encores the band returns with Bring Me Back A Dog, Kiss + Swallow, that remains a public favorite and with I Am Terrified a brilliant concert is closed. You never notice the introverted character of his latest album on stage. On the contrary, IAMX provided a boost of energy that clearly was appreciated by the audience.
Take a look at Xavier's photoshoot.
Wim GUILLEMYN
09/11/2015
---
IAMX, de band rond Chris Corner, heeft een nieuw album uit: Metanoia, dat ze in de AB kwamen voorstellen. Tot nu toe waren optredens van IAMX altijd heel energiek. Ik was benieuwd of dit nu ook het geval zou zijn, het nieuwe album is immers heel wat introverter dan het vorige.
Een viertal schermen staan over het podium verspreid waarop visuals worden geprojecteerd. Deze keer is er geen gitarist mee op tournee, maar wel twee keyboardspelers naast de synths van Chris, een drum en soms een bas.
Het concert begint meteen op volle snelheid met het sterke I Come With Knives, dat wordt gevolgd door The Alternative en de bijzonder goed onthaalde nieuwe song Happiness, net als Mercy dat uit hun debuutplaat komt. Wie dacht dat Corner na zijn ziekte eerder ingetogen of rustiger zou zijn op het podium, komt bedrogen uit. Hij is energiek en etaleert volop zijn vocale en entertainende talenten.

Uit zijn nieuwste album horen we No Maker Made Me en Oh Cruel Darkness Embrace Me tussen klassiekers zoals Volatile Times, Bernadette en Spit It Out. Wat opvalt is dat zowat alle songs herwerkt zijn, ze zijn uniform en zijn goed op elkaar afgestemd. Behalve wat problemen met zijn microfoonstandaard, waarvoor hij zijn excuses aanbiedt, verloopt alles goed.

Net als ik het gevoel krijg dat het optreden een beetje stil dreigt te vallen, laat hij na Surrender drie bommen op het publiek los: After Every Party I Die, dat het publiek uitzinnig maakt (een track die in Japan al op Bloodsport van Sneaker Pimps stond, en later ook op The Alternative), Aphrodiasiac, dat live beter tot zijn recht komt dan op plaat en een uitgerekte, maar schitterende versie van Your Joy Is My Low. Daarbij roept hij een handvol fans op het podium om mee te dansen, het wordt een mooie climax.
Voor de bisronde komt hij terug met Bring Me Back A Dog, Kiss+Swallow, dat duidelijk een publiekslieveling blijft en I Am Terrified, waarmee een schitterend concert wordt afgesloten. Het introverte karakter op zijn laatste album viel nauwelijks op. Alle nummers waren wat bewerkt en zorgden voor een energieboost die duidelijk door het publiek werd geapprecieerd. Onbegrijpelijk toch dat IAMX minder bekend is bij het Nederlandstalige publiek dan bij het Franstalige…
Neem ook een kijkje op de fotoreportage van Xavier.
Wim GUILLEMYN
09/11/2015
---